There are nail polishes in every color possible and that is why there are so many versatile nail designs to choose from. When you choose a nail design, you either opt for a color that will match with your outfit or maybe you pick one that is trendy for the season. The fall and winter seasons are best for wearing dark and bold colors, like black, grey, brown, burgundy and the wonderful jewel tones – emerald green, purple and royal blue. Today, we have made a photo collection of 15 Beautiful Royal Blue Nail Designs that may get you inspired to wear this royal shade on your nails.
Royal blue is an intense, classic and elegant shade that instantly draws the attention. It can look good in combo with black, white, silver, grey etc. Just like any other color, there can be found glossy royal blue nail polishes, as well as matte and glitter. Glossy nail polishes are the most common ones, matte are perfect alternative if you are in a hurry because they dry super fast, and the glitter ones are perfect for some special occasions, like the New Year's Eve. The following nail designs are quite versatile, including different color combos and patterns. Check them out and get inspired to wear this jewel tone on your nails.
SEE ALSO: Life-Saving Nail Hacks That Every girl Would Want To Know
Lighting Glitter Nail Design
Royal Blue and White Striped Nail Art
Grey, Beige and Royal Blue Matte Nail Design
Royal Blue And Beige Nail Design
Matte Royal Blue Nail Design With Rhinestone Accent Nail
Faberge Egg Nails
Gold and Royal Blue Nail Art
Geometric Nail Art
Whether you choose to match it with your outfit or not, a royal blue nail design can draw the attention. These nail designs are just some of the many ways to wear this shade on your nails. Try to copy some of them or at least paint your nails with such nail polish, because royal blue is one of the colors that will be trendy this winter.
Shimmer Winter Nail Design
Glitter Royal Blue Nail Design
Royal Blue and White Nail Design
Royal Blue And Silver Glitter Nail Design
Christmas Tree Nail Design
Royal Blue Nails With Silver Glitter Topper
Royal Blue And Green Glitter Gradient Nail Art
These were the 15 Beautiful Royal Blue Nail Designs that we have chosen for you today and we hope that you liked them. Tell us in the comments which one from them would you like to copy.
Now provide your audience with essential Nail design tutorials by streaming live videos into the cloud with high performance hosted citrix xendesktop from CloudDesktopOnline available at an affordable xendesktop pricing powered by one of the leading providers of QuickBooks Cloud Hosting – Apps4Rent.
In addition, the nail art series of stickers recently launched from Customsticker.com has also become a hot favorite among the DIY crowd. Nail salons will order these nail stickers to give back to their customers, promote their salon, or use them to decorate their storefront, etc., and nail lovers will also order them to decorate their own items such as computers, and drinking glasses, and phone cases. If you like these nail stickers too, you can click custom stickers to order your own styles such as die-cut stickers, kiss-cut stickers, clear stickers, or circle stickers. Customsticker.com will give you great support and help on your order, including free design and shipping for you.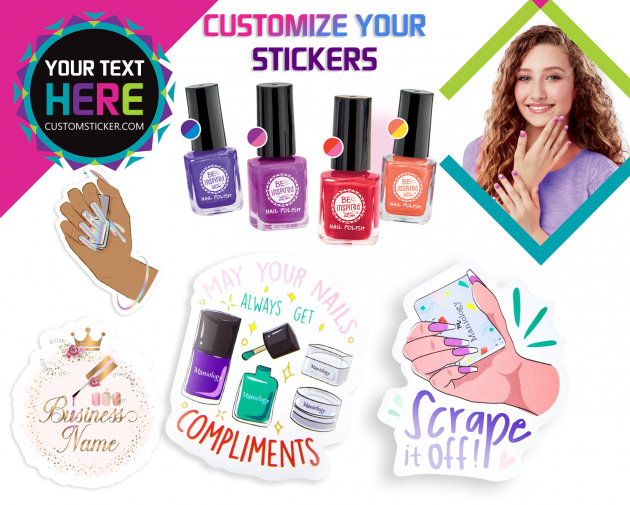 Thank you for reading and don't forget to stay up to date with our content to find many other nail design ideas for your inspiration.