Coats can be found in different colors and that is why all of you face the tiny problem of choosing the right color. Black is a color that you can never be wrong with and that is why a black coat is considered as a timeless classic. Also another shade that goes well with everything is the camel, so you may love to choose some camel coat for this season. Today, we have made a photo collection of 15 Stylish Polyvore Combos With Camel Coats that you can try to copy.
Classic camel is incredibly easy to work with, since this neutral shade can pair with almost everything. Depending on the style of the coat and your outfit combo, a camel coat can be styled with leather pants, all types of jeans, dresses and skirts. When it comes to color combos, this neutral color looks good with black, navy, white, burgundy, emerald green etc.
SEE ALSO: A Black Coat is The Must-Have Piece For Every Woman's Wardrobe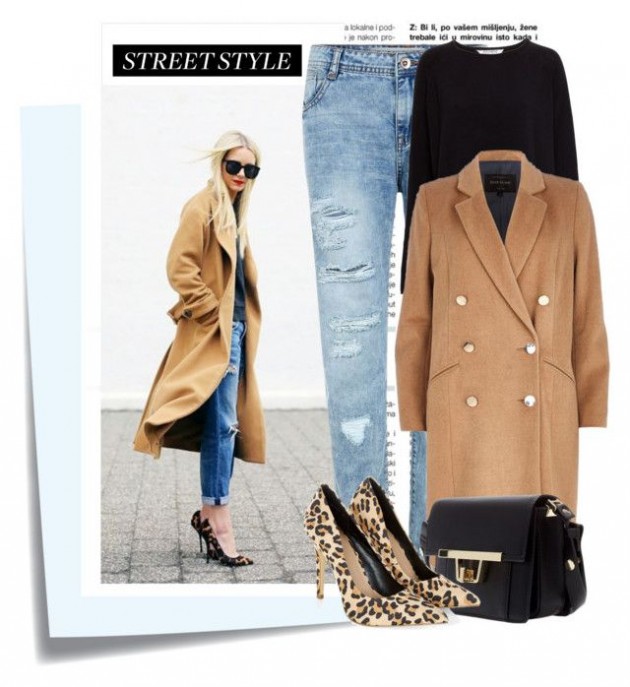 Photo via: polyvore.com
Camel coats can be found in versatile styles, so you will for sure find the right one for you. Since you are going to wear it during the cold days, you should make sure that you choose a quality one that will protect you from the cold temperatures. Choose some classic style, if you want to look more sophisticated. A classic camel coat is the perfect outerwear to complete your office looks. Or if you want to wear your camel coat with flat boots or even with sneakers, opt for some less classic design.
Bold and dark shades are the best ones for the fall and winter seasons, but throwing a camel coat over an all black outfit is a great way to make your look less boring. Camel coat can also look good in combo with leopard print, so instead of pairing it with some brown or black heels, how about you put on some eye-catching leopard heels. Scroll down now to see the rest of the polyvore combos that we have chosen for you today and get inspired of how to style your camel coat this season.
These were the 15 Stylish Polyvore Combos With Camel Coats that we have chosen for you today and we hope that you liked them. Tell us in the comments which one from the above outfit looks is your favorite and if you would love to add a camel coat to your wardrobe. Thank you for reading and don't forget to stay up to date with the content of Fashionsy to find many other polyvore outfit combinations that you can try to copy.