The summer time is officially here, which means that is time to go to the beach. And of course your beach outfit cannot be complete without a beach inspired nail design. So, because of that, today, we have made a collection of 20+ Beautiful Beach Nail Designs You Will Love To Copy.
These nail designs are quite versatile, so you will for sure find some that you can copy. Summer time is all about colors, so you can choose any color you like to polish your nails. Create a sunset inspired nail design, add some palm trees or maybe go for some ocean wave nail design. You can also paint some other symbols that are associated with the beach, such as seashells, stars, sharks, anchors etc. And no need for panic if you cannot paint these symbols well, because there are many such nail stickers that you can get and apply on your nails. Scroll down now to see the beach nail designs that we have chosen for you today and choose which one of them you will try to copy. Enjoy!
SEE ALSO: Beach Polyvore Combos You Can Get Inspired From
Stormy Beach Nail Art
Sunset Nail Design
Ocean Inspired Nail Design
Palm Trees And Sunset Nail Art
Epic Sunset Beach Nails
Hobart Docks Nail Design
Sunset Palm Nail Design
Beach Embellished Nail Art
Besides drawing some patterns on your nails, you can also add some embellishments such as pearls, seashells and stars and thus make your nails look more eye-catching. Also, you can go for some colorful  beach ball inspired nail design, like this one below.
Playful Beach Nail Design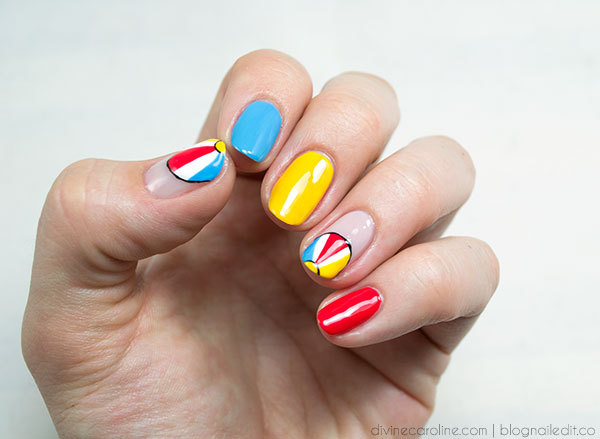 Fun Sun Beach Nails
Beach Wave Nail Design
Beach Sunset Nail Art
Glitter Beach Nail Design
Summer Nail Design
Shark Nail Art
Shimmering Sands Nail Art
Beach Nails With Pretty Shell And Starfish Embellishments
Beach Party Nail Art
Mismatched Beach Inspired Nail Design
Palm Tree Nail Art
Tropical Sunset Nail Art
These were the beach nail designs that we have chosen for you today and we hope that you will try to copy them. tell us in the comments which one of them did you like the best. And of course, don't forget to stay up to date with the content of Fashionsy to find many other nail designs for your inspiration.