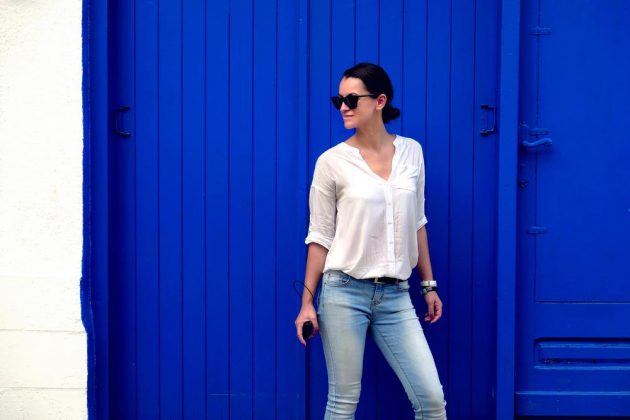 As someone who's interested in fashion, you might delight in having (or merely dreaming about having) a massive wardrobe filled with stylish outfits for each season of the year.
The size of your closet and budget, however, might have other ideas. In addition to not having the room to store a ton of clothes for spring, summer, fall and winter, you haven't won the lottery and know you must be practical about the items you buy.
Here's some great news: There are several pieces of clothing you can wear year round, with some specific accessorizing and layering. This way, you'll have a fresh look for each season and still get a big bang for your buck with the wardrobe you purchase.
For example, the following four pieces of apparel are versatile and just right for every season of the year:
1. A White Button-Down Shirt
If you want a classic piece of clothing you can wear no matter what Mother Nature has in store, look no further than a white button-down shirt. According to WardrobeFocus.com, you can wear this shirt to work, school or to visit with friends in the spring, with a colorful T-shirt underneath and paired with light-colored pants.
In the summer, bring the shirt out again, roll up the sleeves slightly, and wear it with your favorite capri pants or shorts and strappy sandals. In the fall, you can wear the white shirt underneath a sweater and under a black leather jacket in the winter.
2. A Lightweight Jacket
A lightweight jacket is another item of apparel you'll find yourself reaching for in the spring and fall seasons. In particular, Columbia sells a variety of lightweight jackets for men and women that will keep you warm and dry on a rainy and cool spring afternoon, while also offering protection from the summer sun.
Once fall rolls around, a light and comfortable jacket will fit nicely over a sweatshirt with your favorite football team logo on it, and in the winter it can be paired with heavier sweaters or layered with a down coat over it.
3. Black Pants
As JustPostedBlog notes, a pair of black pants with an elastic waist will not only be comfortable during any season but it can also be worn with a colorful short-sleeved T-shirt in the spring or summer, along with wedge-style shoes. It can also be paired with a long-sleeved, striped T-shirt in the fall, with either flats or tennis shoes.
In the winter, the black pants will complement any color turtleneck or sweater you choose. Just add a scarf and hat for warmth and go for knee-high black boots.
4. Classic Denim Jeans
Shopping for jeans isn't always easy. In fact, it can take quite a while to find a pair that fits you perfectly, looks great and has an ideal color. Once you find the Holy Grail of jeans, don't keep them in your closet for most of the year.
Like the black pants we mentioned above, you can easily wear jeans year round. Guys and gals alike can wear jeans in the spring with T-shirts or a long-sleeved cotton shirt for work. Conversely, they can put on a pair of jeans in the summer with tank tops or T-shirts or wear a pair in the winter with a sweatshirt or sweater.
Shop Once for Year-Round Style
It must be good to know you don't have to spend a ton of money on clothing to look great throughout the year. Simply shop for these four essential and versatile pieces in one shopping trip, and then enjoy wearing them during every season.