Your destination wedding plans are killing the environment.
Well, not yours alone. Collectively, everyone planning to throw a destination wedding this year, and the next, and the year after that — yeah, these carbonaceous nuptials are doing real damage to the planet.
Actually, it's worse than that. As an event that compels dozens or hundreds of guests to travel dozens or hundreds or thousands of miles for (at most) two nights of memory-making, any wedding is a needless drain on Earth's finite resources.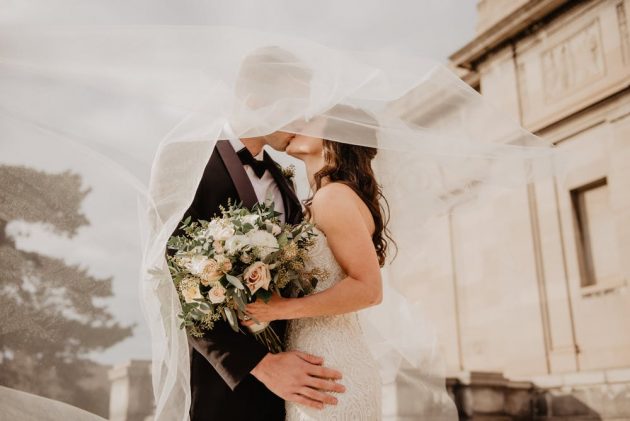 So it's clear, then — you should substitute your long-dreamed-of knot-tying for a courthouse affair? 
Nah, you deserve this. Keep the date. But wring the excess out of it. Collectively, these six tips make for a good start.
Keep It Exclusive
You…don't need to invite all those people to your wedding. You just don't. Without indulging in illusions of grandeur, take comfort in the knowledge that your big day will be a very exclusive affair. The fewer guests to remember that one really embarrassing toast, right?
Opt for a Low-Key Wedding Band
According to ethical-sourcing specialist Larson Jewelers, you should make sure that what you wear to symbolize your union matches your values. For example, consider lab-grown diamonds instead of conflict diamonds. Or opt for a low-key tungsten wedding band with a lower carbon (and social) footprint than the typical gold affair. 
Find a Big Enough Backyard
Rather than a power-hungry (as in, electricity-hungry) hotel or weddings-only venue, hold a cozy backyard affair. If natural light is an issue, move up the ceremony by a few hours and call an end to the festivities not long after sundown. For party-hardy guests, there's always the afterparty.
Hoe Down at the Campground
If a backyard wedding won't cut it, hold a campground ceremony-and-reception instead. After the festivities end, many of your guests will retire to their tents or hammocks, reducing the number of carbon-intensive hotel rooms your party will fill. 
Use Compostable Dinnerware and Cups, Cost Notwithstanding
And it will cost a bit more. But it's a small price to pay for keeping all that disposable dinner- and drinkware out of the landfill. 
Ditch the Destination Shebang (And Encourage Donations in Lieu of Airfare and Gifts)
Destination weddings are memorable, it's true. They're also really carbon-intensive, especially when the destination is hundreds of miles from the nearest guest's home.
In other words: If you live in Hawaii, by all means hold your wedding in Hawaii. But don't ask guests to fly in from the mainland without purchasing carbon offsets. Alternatively, ask any guest planning to fly to your wedding to stay home and donate to an eco-friendly cause in place of your wedding gift. Really, it's the least you can do.
The Future Is Counting on You
Maybe you're planning to have kids. Maybe you're not. 
The latter choice is gentler on the environment, to be sure. Then again, kids are cute, and we're hardwired to love them.
Whichever path you choose, you know that someone's kids will follow in your footsteps. Consciously or not, they're counting on you to make environmentally responsible choices — or will, when they exist and are old enough to think critically.
Don't let them down.