Being mother of the bride is such a great thing to be able to do on such a proud day. So, how do you look your best. Here are some great tips for you to ensure you look great.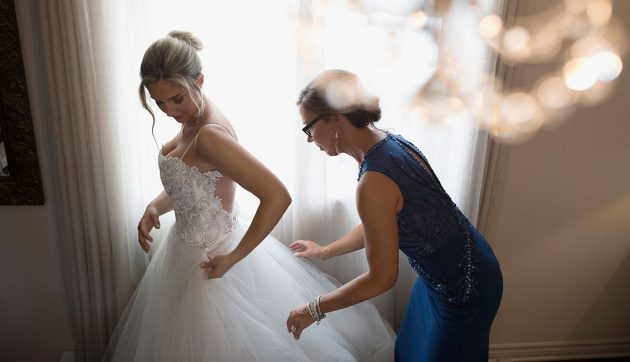 Color Confidence
It is a well-known fact that wearing the correct color, particularly a tone close to your skin color, can make you appear younger and more radiant.  Even if you haven't slept for weeks worrying whether your eccentric aunt will behave herself, wearing the correct color can hide the dark circles.  If you have not undergone a Color Analysis, or if the analysis was performed a long time ago, it may be best to make an appointment and discuss your options with a consultant.  Think about how the color choice will appear in photographs and always choose themes that will match the wedding party, as well as avoid clashing with guest's outfits. A Color Analysis can be highly beneficial before putting together an outfit.
 Dressing Your Body
As the mother of the bride, your outfit needs to be well-coordinated and suitable.  To obtain this, the outfit must work with your body shape, and not the other way around.  If you choose an outfit that is not suited to your body shape, it will more than likely add pounds to your waist making you uncomfortable throughout the day.  Always follow a simple guideline when choosing outfits – curvy shapes choose fabrics that flow, but straighter bodies work well with structured materials. Mother of the bride dresses with jackets tea length are a very popular look this year.
 You Can Be Yourself
In the majority of cases, people will choose an outfit that they would not normally wear when attending a wedding.  For instance, women typically opt for frilly dresses with high heels, even if you don't enjoy these outfits! As the mother of the bride, you want to remember the day as a day of celebration, not "what was I thinking" moments.  If you tend to wear jeans all the time, why not choose a trouser suit instead of being uncomfortable in a formal dress. If you prefer flat shoes, avoid wearing heels and go for formal flat styles. If you are true to your unique fashion sense, you will look amazing in whatever you wear.
 Consider Comfort
There is nothing worse than spending hard earned cash on a wedding outfit that may be attractive but leaves you feeling uncomfortable all day.  If the shoes are too high and tight or the skirt rides up constantly, you will spend the day feeling unhappy and this will more than likely show up in any photographs.  When trying on outfits, move about in the changing room – cross your legs, sit down, lift your arms and twirl around. Put the outfit through daily movement before you choose to part with your cash.  If you are choosing some new shoes, wear them around the house before the wedding to "break" them in. This way you can be sure the shoes won't kill your feet on the day of the wedding.
 The Cost Of The Outfit
Even the mother of the bride needs to consider their outfit beyond the day of the wedding, and whether you will wear the outfit ever again.  Wedding outfits can be expensive, so if you splash out be sure you will get more than one wear from the item. To ensure more wears, try purchasing a simple dress and jacket that can be livened up with different accessories.  You can then separate the pieces to wear with different items and difference accessories.
 The Wedding Venue
Nowadays, you can be married almost anywhere; therefore, it is important to consider your outfit with regards to the wedding venue.  For instance, if you are attending a beach wedding you can be more casual in your clothing as compared to a formal church service or country house event.  You should also consider where the reception and photographs are being held. If the plan is to spend a lot of time on the lawn, then it may be best to wear flat style shoes offering stability as compared to heels.
 Feeling The Weather – Hot And Then Cold
The great British weather – you have to love it!  Do you remember when the summer months were hot and the winter months were cold?  No, nor do I. Nowadays, they seem to merge into one type of weather making choosing an outfit rather complicated.  The ideal option is to wear lightweight fabrics for summer weddings to keep you cool, and if you are wearing a jacket ensure you don't get too chilly with the jacket off.  Frock coats over dresses are best in winter, particularly if they are teamed with a pashmina or furry tippet for additional warmth.
 It's All About The Accessories
Nowadays, you do not need to have the whole matching hat, bag and shoes package to make an outfit complete.  By introducing some color combinations, you can make the outfit interesting and flattering without breaking the band.  Toning shoes to a dress color can increase your height, and using a contrasting clutch can draw attention to slim waists.  If you have problems choosing between a fascinator and a hat, then you should try various hats and fascinators on. You should also take into account the fact that wearing a hat can result in hat hair with some unwanted shadows across your face.  On the other hand, a fascinator can be worn throughout the day and are far easier and more comfortable to utilize.
 The Finishing Touches
The finishing touches are important when it comes to an outfit, so you must prepare your styling issues beforehand.  For instance, it is recommended you discuss your hairstyle with the hairdresser as soon as possible, particularly if you plan to change your hair.  Make-up artists should be consulted because good makeup can help you complete the look with a suitable combination of colors and textures. For some advice, visit a make-up counter at your favorite store and always remember the waterproof mascara.