Industry observers and fashion journalists are calling it the "it handbag" of our day. The company that makes these designer handbags, Senreve, was co-founded by two innovative female entrepreneurs who took enormous risks, which began with a radical business plan and a fearless determination to go up against the established giants of the fashion sector.
Senreve is now turning the women's handbag industry on its head. It seems more appropriate than ever that Senreve's name is a combination of the French words for "dream" and "sense."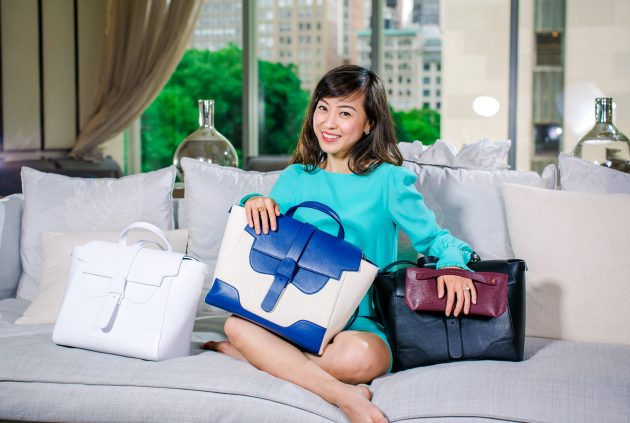 Senreve, launched in 2016, is the brainchild of Coral Chung and Wendy Wen, and it quickly gained the attention of A-Listers in the entertainment industry. Celebrities, such as Lady Gaga, Anna Kendrick, and Jennifer Garner, were suddenly popping up on Instagram sporting that designer handbag.
In late 2019, the brand achieved another significant milestone by raising a robust $16.75 million in a Series A round, bringing total capital to $23 million in three years. It's even more remarkable considering female startups account for 2.2% of all venture startup capital, yet women own 38% off all businesses in the United States.
Bucking trends seems to be what Senreve and Coral Chung do best. When Chung was asking friends and advisors about starting a new handbag company, just about everyone told her to forget it. The reasons were well-founded and many. For one, the handbag market is saturated. Furthermore, Senreve would be competing with giants, including deeply established brands like Gucci, Christian Dior, Prada, Saint Laurent, Louis Vuitton, and more.
But Coral Chung was undaunted. She felt inspired. Perhaps more importantly, she did her homework and marketing research and identified a significant gap in the marketplace. That gap represented working women who routinely carry a laptop and personal items. They had high-tech jobs, aren't easily intimidated, and possess a keen fashion-forward sense.
Coral Chung also did something simple that proved to be highly effective; she asked women what they wanted from a handbag. What she discovered is that many women simply don't want to conform to a single, narrow role. They are multifaceted and wear many hats both on the job and in their personal/social lives. Chung realized she needed to create a handbag to handle a wide range of needs while also addressing personal style and "wants.
A key factor in the success of Senreve is the background and experience of Coral Chung. She graduated magna cum laude from the University of Pennsylvania's Wharton College, where she earned degrees in international studies and economics. She went on to earn an MBA at Stanford University.
She started her professional career as an advisor on retail strategy for Fortune 500 companies at Bain, and one of her clients was Prada. She also worked closely with the Italian company's COO on marketing, commercialization, and distribution of the Prada brand in the US. It was an excellent introduction to the high-end fashion sector for Chung. She later worked for Medallia, a major tech firm that specializes in SaaS and big data analytics. There she made more connections with leading luxury brands, including Sephora and Nordstrom.
Chung said her experience in business imbued her with a deeply analytical mindset. She describes herself as data-driven and framework-oriented. Many would consider these qualities to be the opposite of the creativity and nonlinear thinking required to create designer handbags. Fortunately for Chung, she was able to bring both qualities to Senrere—and it's paying off.
Coral Chung's combination of right-brain (analytical) and left brain (creative/artistic) have come together in her vision of a new kind of handbag company that is turning heads and breaking molds in the competitive high-end accessory fashion industry.