One type of boots that always take the stage during fall and winter time are the UGG boots. They are super comfortable and can be part of versatile casual outfit combinations. Below, we have chosen several Cozy and Warm Outfit Ideas With UGG Boots to show you how you can style this type of boots in the right fashionable way.
The Australian shoe brand basically made us freak out around 10 years ago, and was instantly a major hit with just about everyone, even celebrities liked these comfortable boots. They are warm and stylish and they play a big role in the winter fashion. From classic microsuede and knit to ankle and mid-calf, there's a large variety of UGG boots available to wear. UGG boots are pretty simple for styling, but still you need to follow some simple fashion rules. For instance, the first rule will be that they should be styled with leggings, skinny jeans or pants. Forget about wearing them with skirts or shorts, because they are just not the type of footwear to wear with skirts. UGG boots can make your legs look shorter, so you may not choose to wear them if you are not tall.  Scroll down now to see the street style looks that we have picked for you today and choose which one you will copy.
SEE ALSO: Super Stylish Combination: Dress + Over The Knee Boots
Cozy And Warm Outfit Ideas With UGG Boots
UGG boots are casual shoes, so don't even think about pairing them with some dressy pieces of clothes. When it comes to the outerwear, do wear them with puffer jackets, parkas or fur jackets, as well as with some coats that are not too elegant and classy.
Although UGG boots are meant for wearing during fall and winter time, you should avoid wearing them when it's raining or snowing. They become easily ruined when wet and their color changes. If you do wish to wear them during bad weather, make sure to seal them with waterproofing spray.  UGG boots can be found in different styles and colors, so you will for sure find the desired one. Make sure to add at least one pair of them to your winter wardrobe, because they are one of the must-have type of boots for this winter.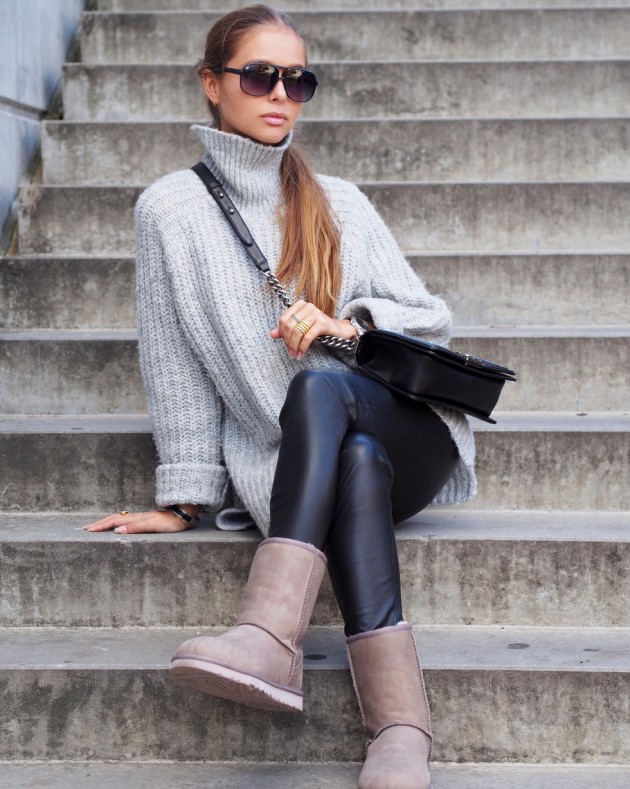 Photo via: justthedesign.com
So, would you like to wear this trendy boots this winter? Tell us in the comments and also let us know which one from the above outfit ideas is your favorite. Thank you for reading and don't forget to stay up to date with our content to keep up with latest fashion and beauty trends.