We are always trying to bring the best collections to you from the worldwide fashion designers, so here we are today with another gorgeous bridal collection. This time we are bringing to you the new Ready-to-wear Collection, GALA, by the famous fashion designer, Galia Lahav.
Galia Lahav is a world-renowned designer with prestige and elegance thanks to her unique and luxurious designs of evening gowns and bridal dresses. From a young age she had a passion for fashion, which later through many years of teaching art, she turned her artwork into fashion and soon after created her brand. Galia Lahav's dresses, both evening and bridal, are fascinating and unique and express modern style while accentuating the small details, the sewing quality and luxurious European imported fabrics. Today, she is considered to be one of world"s leading designers customizing dresses for celebrities and aristocratic women abroad. She creates a world of bridal couture unlike any we have ever seen before. 
SEE ALSO: Les Rêves Bohémiens – Galia Lahav Spring 2016 Bridal Collection
GALA – Ready-to-wear Collection by Galia Lahav
The GALA collection  is Galia Lahav's  first ready-to-wear collection. It was inspired by the romantic capitals of the world that provide the backdrop to contemporary love stories. The heart of these romantic cities beat in each design, from scenic rooftops to busy metropolitan streets. The dresses are meant for every bride who prefer modern dresses, that are both soft and subtle and also comfortable to wear. Made of expensive silk chiffon, embroidered with beads and sparkling crystals, with flirty cuts, transparent sections and lace details, these dresses are the reflection of Galia Lahav's unique style. They are quite versatile, so there is definitely a dress for everyone's taste.
As you have already noticed, the dresses from this new collection are quite versatile – some of them with plunging V-necklines, others with low back, mermaid style dresses or ball gowns, with or without high slits. There is something for every bride in this Ready-to-wear Collection by Galia Lahav. The only problem is to decide on which one is the best out of all of these fabulous dresses.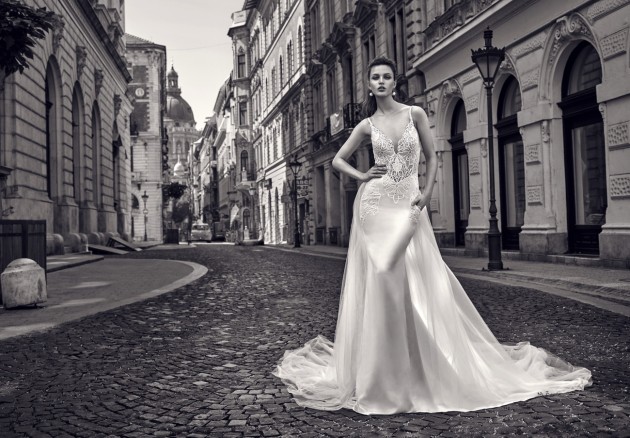 So, are you fascinated by the beauty of these gorgeous dresses? We bet you are because no one can remain indifferent to their beauty. Tell us in the comments which one from the above dresses is your favorite and looks like your dream wedding dress. Thank you for reading and don't forget to stay up to date with the content of Fashionsy to find the best collections from the worldwide famous fashion designers.