There are some occasions at which we are expected to dress in a certain way, and weddings are at the top of the list. It's easy to get concerned that you won't have the right outfit for a wedding, but it's actually quite simple. Usually, the invitation will specify the dress code, but if it is vague, there is one thing a man should remember: you'll always be acceptable in a suit and tie!
There are, of course, different types of wedding attire, and you may find that you are invited to – for example – an informal wedding, an evening wedding, or perhaps black tie, all of which can be quite daunting when trying to figure out what to wear. So, let's have a look in more detail about what you need to think about.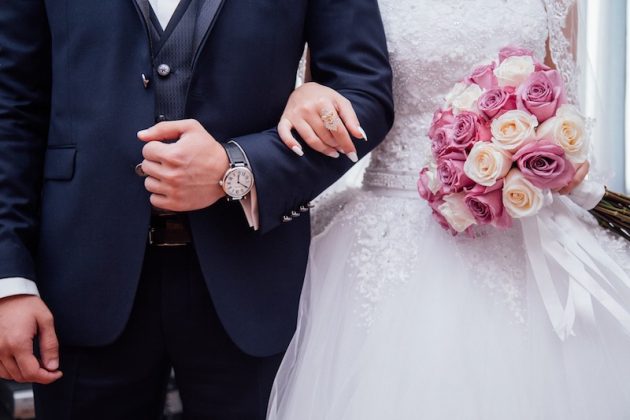 Formal or Informal?
Is the wedding formal, or informal? Let's start with the informal wedding. This doesn't mean that you should turn up in jeans and a t-shirt. You still need to look smart and acceptable! You could pick a lightweight, linen or cotton suit, perhaps in a lighter colour? Or, you will be acceptable in a shirt and chino's, but remember to wear shoes, not trainers!
If you want to go the latter, smart-casual route, adding a jacket can also be a nice touch, especially if it's an evening wedding where the night can get colder. For informal, you don't usually need to wear a tie, but that's your choice. One important point: no matter how informal, the shirt always remains tucked in, and plain is much better than a heavily patterned shirt! Less is more in that respect. 
For formal weddings, the dress code may be more specifically indicated on the invitation. Black Tie means dark suit or tuxedo – with a black tie – and definitely black shoes. White tie means the dressiest of all: a tuxedo, with white tie and waistcoat, and most certainly black, highly shined leather shoes. 
Fortunately, most weddings tend to be pitched between these two extremes: this is the semi-formal wedding. The code for semi-formal for men is suit and dress shoes, and a tie if you wish. Shoes should be dress shoes. If it's a summer wedding, you may want to wear a light coloured suit. For winter weddings, a heavier material will be more comfortable. One proviso: if the wedding is a later evening affair – post 6pm – it is traditional to wear a tie.
One thing to note here: never wear a black suit to a wedding. This is reserved for more sombre occasions, such as funerals. Likewise, a woman should never wear a white or near-white dress. You don't want to make these mistakes! 
So, where to buy your wedding attire?
How to Buy Your Wedding Suit
Now that we've outlined how you should dress for a wedding – and to be fair, most men will opt for a suit, even for the semi-formal and informal weddings – it's time to find one for you! It's always nice to get yourself a new suit for a wedding, as you've probably been often-seen in your existing examples! We recommend looking online, as there are some great wedding suits available from reputable suppliers – click here for an example of an excellent range of suits – and online shopping is the easiest way to go.
What should you look for? First, you need to find an online shop that offers a wide range of options. The site we asked you to click on there has a superb selection of wedding suits, and both informal and formal styles, plus all the accessories you need. You should also check for a returns policy that allows you to send back garments that are not what you expected or that do not fit, free of charge. This is becoming standard practice with many online clothing suppliers, and is an excellent incentive to shop with them.
Our outline of wedding attire above should help you find the most appropriate and relevant suit for any type of wedding. If you are in doubt, perhaps the invitation is not very helpful, then don't be afraid to ask. It's always better to check in advance with the bride or groom to find out what's acceptable so you wont have any worries on the day! 
Weddings are special days, and part of the process of dressing accordingly is a mark of respect to the couple, so make sure you look around for a wedding suit that you like, and one that fits the occasion. Just remember to feel comfortable and feel yourself in it, as there's nothing worse than being uncomfortable and potentially grumpy all evening.