Alright boss ladies, listen up—it's time to talk job interview outfits. Whether you're on the hunt for your first job right out of college or are making a career switch after several decades, your style can help set you apart from other applicants. While your resume will obviously catch a prospective employer's eye, it really all comes down to the interview.
How do you present yourself? Are you professional and personable? Will you be a good cultural fit? These are just some of the many questions an interviewer can try to answer based on your work wardrobe. So, take a look at this style guide to help you make some money moves and climb that corporate ladder—in a pair of Louis Vuitton heels, of course!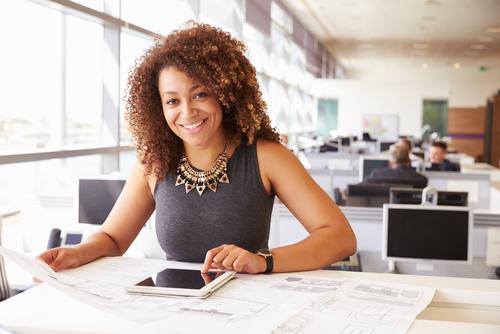 Read the Vibe of the Office
Before even diving into your closet, it's important to get a sense of what you'll be stepping into. Is the office environment for your prospective job more casual or more traditional and corporate? Take a look at the company website and discern the tone of email exchanges you've had with the hiring team to see if you can get a general sense of the workplace vibe. If you can't gather any info, it's always a good idea to dress more on the professional side. This applies even to casual startup environments—while you might be able to wear flip-flops every day to work, you always want to put your best foot forward when competing for an open position.
Don't be Afraid to be Colorful
When you think of business attire, it's likely that a plain gray skirt suit comes to mind. Maybe there's a pair of red pumps thrown in there, but generally speaking, professional clothes are often thought to be dull and boring. Luckily for all the fashionistas out there, the work world is changing! More and more companies are looking to hire employees who are qualified and fit the office environment. Expressing your bright personality through colors and patterns in your clothes is a great way to set a positive tone during the interview process.
For example, pair an elegant yellow sundress with a dark denim jacket and ankle booties. This casual look still looks professional because of the jacket and the shoes! If you still want to stay a little more conservative, grab a pantsuit that has a subtle pinstripe pattern. Pair it with a colorful blouse (for a pop of color), classic black pumps, and a statement necklace to bring a modern edge to the look. If employees were chosen based on their sense of fashion, you'd be hired in a heartbeat!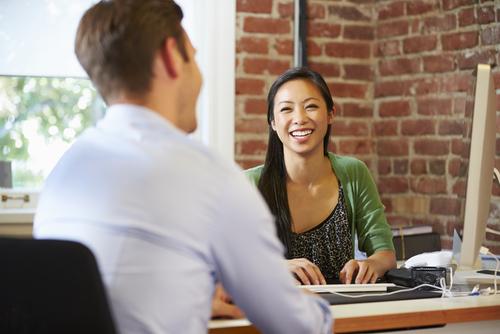 Pick Timeless Silhouettes
While you should feel free to express your personal style in the job interview, don't go overboard with haute couture fashion choices. You still want to feel accessible to the interviewer, and classic silhouettes are a great way to express your high levels of class. Pencil skirts and blazers are one of the most common workplace outfits. Wide-legged trousers and a tucked in top is another standard choice, and an elegant knee-length dress with a high neckline can make you look chic on any occasion.
Remember, don't mix up "timeless" with "boring." Outfits that are familiar to the professional sphere can still have a personal touch of pizzazz. Incorporating different textures, layering on interesting jewelry, and complimenting an outfit with a fashionable bag are all great ways of spicing up a standard silhouette.
Pick Shoes to Keep You on Your Feet
Stilettos may be sexy, but they certainly aren't practical. Many jobs have interviews that last for several hours where you meet different people from the company, tour the office space, and may be asked to move from room to room. Make sure you're prepared for all this activity with comfortable shoes. Despite their association with the good ole' boys club, loafers for women are becoming increasingly popular for the modern girl boss. Pointed ballet flats, mules, and chunky-heel ankle booties are also great interview shoes that show you're professional and practical. If you absolutely must throw a high heel in there, stick with a pump that's no more than three inches. Your feet will thank you for it!
So, are you ready to go out and get the job of your dreams? Dress for success with these easy tips and you'll be in the C-suite before you know it!