Hey my beautiful ladies! When you think of a fabulous New Years Eve outfit, you automatically think of sequins. That's because sequins and New Years Eve basically go hand-in-hand. Sequins are also perfectly acceptable for the rest of the holiday season. In fact, it's the only period of the year that an outfit full of sequins doesn't seem tacky or ridiculous… And while you really can't go wrong with a classic sequin mini dress, there are so many ways to put on the glitz these days; from a sequined top paired with skinny jeans to a shimmering skirt paired with a chunky knit to shimmering pants combined with a fuzzy coat. And if you aren't ready for a larger commitment, sequined accessories – from shoes, to bags could work just as well to add just a touch of sparkle to any outfit.
People's major concern when it comes to wear sequin pieces is that they'll ultimately look like a disco ball at a nightclub. But, as with all things fashion, it comes down to the pieces you pick, the way you style them, and most of all, finding the right fit, because sparkly fabric can be slightly unforgiving. To show you just how easily it can be done, I gathered 16 different sequin-focused looks that anyone can pull off. So check out the pictures below to discover 16 stunning ways to steal some sparkle this season.
Above all, have fun with your look! Holidays, after all, are a great excuse to dress up and step outside your comfort zone a bit. Experiment, try new things, and wear what makes you feel festive and happy.
A sequined jacket can be worn with a variety of bottoms (dressy joggers, boyfriend jeans, skinny jeans, cigarette pants), and will make a perfect party pair for a simple little black dress. And, of course, keep the rest of your outfit simple, for a chic, yet festive look.
A red plaid shirt and a sequin skirt are holiday classics. Combine them for a unique look that mixes casual with glam.
An all-over sequin dress doesn't need much else added to it – plain black tights and shoes will keep you warm.
Sequin pants make a big statement, so the rest of your outfit should be simple.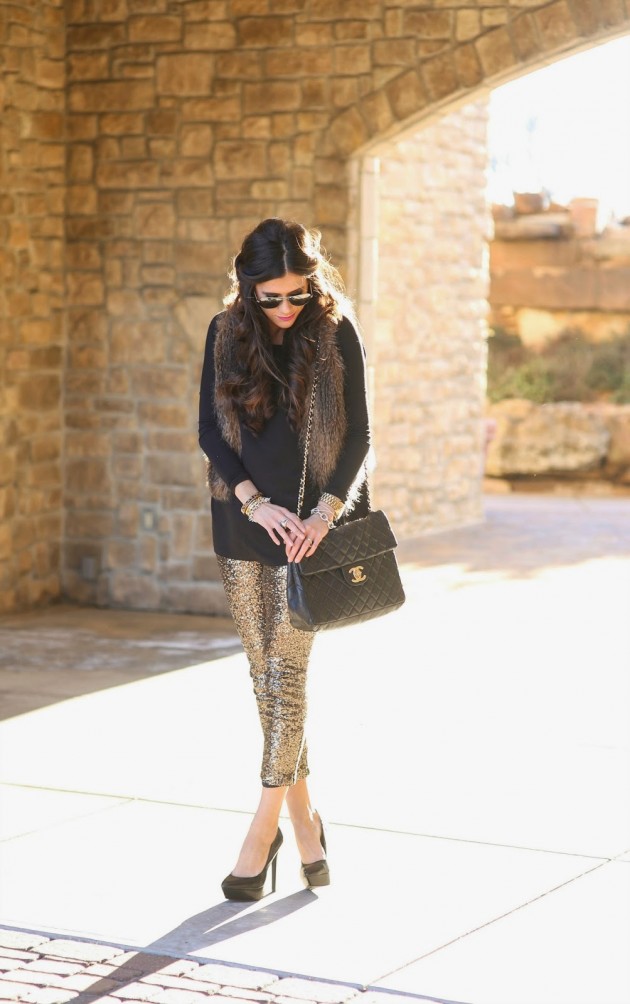 Photo via: thesweetestthingblog.com
A black sequin shorts looks slightly more understated with black tights, a white shirt, and a black jacket.
Play with texture by teaming a sequined skirt with your favorite cozy cable knit.
A sequined top looks seriously stylish peeking out from underneath a classic camel blazer.
Will you be wearing sequins this holiday season? What's your favorite way to wear them? Tell me in the comments!