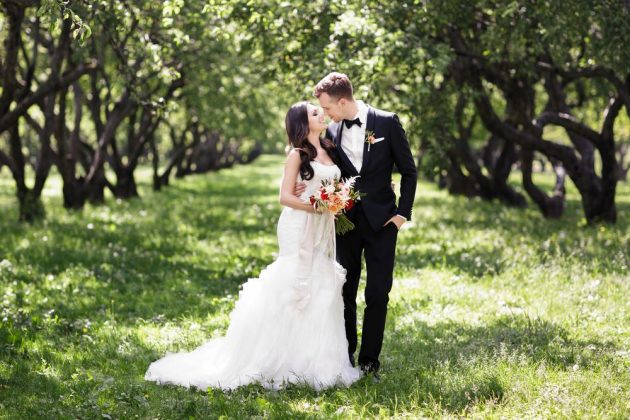 ​You may have been to an over-the-top wedding, or at least seen one featured on TV. These events are usually held at some ornate venue and include tons of flowers, dozens of attendants in uber fancy dresses, a gourmet catered dinner and a bride wearing a bejeweled dress that likely cost about the same amount as your car.
Now it's your turn to get married, and rather than all the pomp and circumstance, you'd prefer to keep things as simple as possible with a minimalist wedding. This less-is-more philosophy is far from boring or bland and instead is more toned down and meaningful.
With this in mind, let's look at some of the details that can be included in a minimalist wedding:
The Invitations and Thank You Cards: Keep Them Simple and Elegant
Minimalist-style wedding invitations and thank you cards don't feature hard-to-read scripted fonts, tons of photos and foil accents; instead, they tend to be in a beautiful cream color and include a simple font with the most basic information.
The Venue: Keep Decorations to a Minimum
A minimalist wedding venue shouldn't include an oversaturation of adornments like velvet curtains and paintings on the walls. Instead, a garden, greenhouse or basic ballroom are all great options, as they're typically opulent spaces that don't need a ton of decorations to look nice. Other innovative venue ideas include a loft or warehouse, which often include exposed brick, concrete floors and wooden beams on the ceilings.
The Dress: Skip the Fussy Details
When shopping for a minimalist wedding dress, extra design details and adornments like lace, beads, jewels and enormous trains are typically not included. Instead, classic slips and wrap dresses are both perfect minimalist dress options, as is a column-style gown with basic-yet-beautiful shoulder straps or a timeless gown with a deep V in front.
Vintage dresses are also usually right at home in minimalist weddings. In most cases, brides wanting to go with a more minimalist feel will skip the veil; in some cases, they may go with a basic headpiece like a headband that keeps their loosely flowing tresses off their face.
The Flowers: Realize One Main Color is Best for the Blossoms
For the bouquet and floral decorations, choose tons of greenery and one main color instead of a rainbow of hues. You can still go with a number of flowers, but be sure they're in the same color or at least the same shade. For example, pale pink roses, peonies and/or tulips can all be used in the bouquets, as they will complement the rich green shades of the greenery.
The Cake: Go for Flowers Instead of Toppers
A minimalist wedding cake will still be delicious, but it will not be six tiers with a giant topper precariously perched at the top. Instead, the cake should be a chic and tasty simple dessert made from the bride and groom's favorite flavors, while the filling can be made from fresh fruit. For the frosting, you can't go wrong with a classic buttercream that's topped off with a few fresh flowers.
Minimalist is Lovely and Meaningful
With their simple-yet-classic approach, it's easy to see why minimalist weddings are appealing to many modern couples. Instead of spending a ton of time and energy on planning a huge event, a minimalist wedding is still as meaningful and beautiful, while also allowing the happy couple to focus more on each other and their guests.