Hey my beautiful ladies! New Year's Eve is almost upon us, and a whole new round of questions comes up. First, what should I wear? Second – and most importantly – how should I do my makeup and hair? To help you in your quest for beauty inspo, I've put together a list of 16 gorgeous New Year's Eve makeup looks from some of the best makeup artists on Instagram. Whether you want tons of glitter or a classic look, here are the looks to get you countdown ready.
From saturated bold eyes and bold lips looks, to false lashes, glitter, retro classic makeup styles, natural looks, glowing bronzed skin, pale skin, – it's all a matter of person all taste and having fun. The best part about it is that, these days until 31 of December you've got plenty of times and events to give these a try, or save them for any other festive occasion. Warning: jaws may drop upon viewing. Cheers!
See also: Green Smokey Eye Ideas + Tutorials To Make Your Holiday Makeup Look More Festive
If you're unsure about what makeup colors to use for your New Year's Eve look, this is a good bet.  Using a gold or silver shimmer and pairing it with a black eyeshadow is a safe choice to go with any ensemble, but it's still jazzy enough to wow the partygoers!
New Year's Eve is all about glitter and sparkle, so, a shiny look for this special night is always a good choice.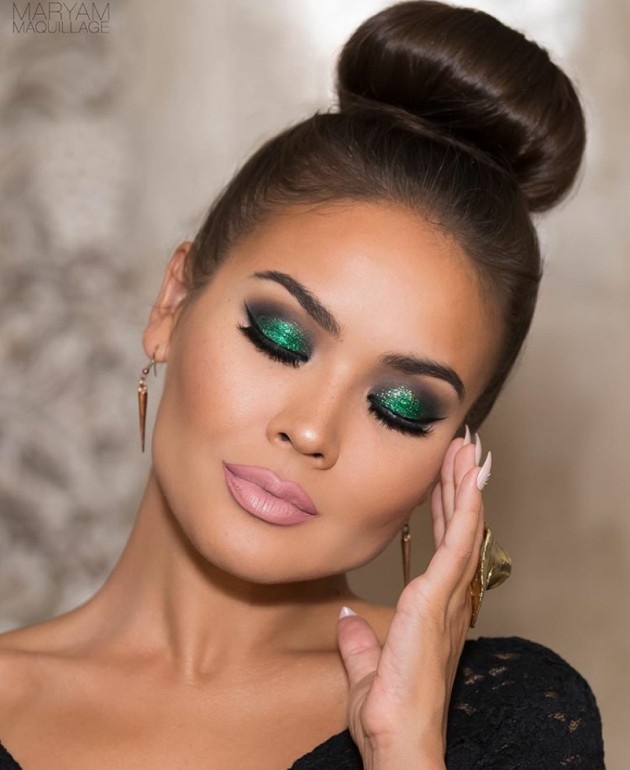 Photo via: ink361.com
This electric shade is a great way to spice up a plain LBD, and it also complements white and silver.
It's a classic for a reason! Red lips look good on basically everyone and will be a bold change from your day-to-day look. Skip normal (glossy) red lipstick, though, because red matte lips are current. Just pick a true red to brighten your face or a deeper red (more crimson) for a sultry look.
Want to rock a matte, burgundy lip? No problem. Just pair it with a silky copper shadow and brushed out brows for a edgy-yet-elegant look.
So, which one from the above makeup looks would you love to try first? Tell me in the comments and of course, don't forget to stay up to date with our content to find many other versatile makeup ideas and nail and hair tutorials.