Hey there fashion ladies! In this article we are going to give you inspiration on how to do this summer and style. Check out the photos below and take a look at the Splendid Street Style Summer Outfits. Copy your favorite looks and look at your best!
The palazzo pants are a great choice for summer. They are considered to be extra stylish and are going to win you some serious stylish points!
Denim on denim is a lovely combination. In the night when you can feel the chill in the air just take your long-sleeved denim shirt, pair it with your favorite jeans and you are ready to go.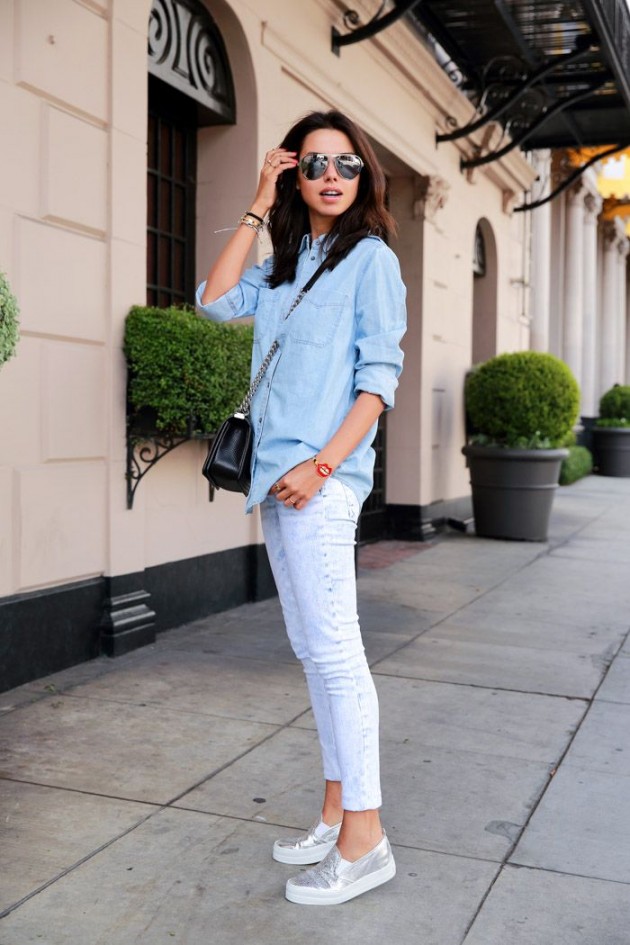 The short denim overalls are just perfect for summer. They make outstanding casual combinations, so whenever you are on the go, grab them!
The printed pants with floral motifs are always popular during spring and summer, and they are a must for this season!
Every girls needs at least one casual dress in her wardrobe which can help her go through the scorching summer temperatures. This black and white striped one in navy style when teamed with the white converse sneakers will make you look fabulous!
Is there a single girl who can resist the amazing denim shorts? I guess no, and I bet that you have them in many different styles. They go well with every top, so go ahead and make your own original combos!
All white is definitely the look that you should wear during summer. It looks amazing on sun-kissed skin, so if you have recently been on vacation, show of your tans and wear white on white.
Printed bottoms make great outfits with plain tops, so follow this rule and you can never go wrong when making combinations.
This is a cute outfit that I would definitely like to try soon. It casual and comfy and yet so fashionable!
The maxi skirt can add a dose of sophistication to a casual combinations. Can you notice how glamorous it look even though is paired with flat shoes?
With this dress you can never feel the high summer temperatures, and in it you will feel so comfortable and stylish at the same time.
Jeans made of light denim are also great for awesome summer outfits. If you are about to create a laid-back look, they can help you to achieve it effortlessly.
What do you think about this outfits? It's so classy and fabulous, isn't it?
Shorts are among the most preferred clothing items for summer, and they come in variety of style so they can meet everyone's preferences. This is a beautiful look that you should try!