Are you worried about looking good in leggings? When worn properly, leggings will make anyone look amazing. Leggings are great for women no matter how tall, short, slim, or curvy. A report from Sanctuary said that leggings can be worn anywhere. These are not just intimate wear, like what most people say. Leggings can be worn even on a dressy occasion.
So how to properly wear leggings? Newsweek reveals fashion trends that women should follow and disregard. It says leggings may already be considered pants. Let's get down to the basics of leggings style with the following top tips.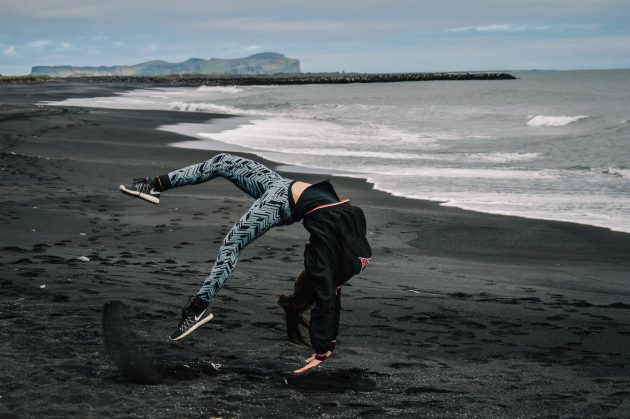 Wearing Leggings Based on Body Size and Shape
Leggings and Tall Women
Leggings are best for tall women. This piece of clothing gives you a chance to show off your long and sexy legs even when worn under a dress, skirt, or tunic. For short dresses, pair this with leggings with matching color.
A summer dress can be recycled as a fall outfit if you wear this with dark color leggings, a festive scarf, and a cardigan. For a dress with a solid color, wear this with leggings with fun and colorful patterns. Meanwhile, wearing leggings with tall boots will accentuate your figure. But if you want, you can swap boots with some ballet flats for a more dramatic effect.
Leggings for Petite Women
Legging styles are different for shorter women. Combination jeans and leggings or jeggings worn with boots are the best for petite women. Jeggings are more comfortable and more versatile than ordinary jeans because they are made from stretchy material.
Leggings with a darker color that's almost like your dark boots would be perfect. This will help draw a longer visual line to make you appear taller. Meanwhile, flat shoes and low heels are also great with leggings. Although it's tempting to wear platform wedges, these will look perfect in other kinds of outfits.
Curvy Women and Leggings
Leggings are also best for curvy ladies. Wear these with a belted tunic to create a flattering style. The tunic should be long enough to hide your rear and hips. Rely on leggings with monochromatic colors to create a flattering effect. But if you prefer printed designs, wear these on top or at the bottom and never both.
Wearing Leggings Based on Trendy Fashion
How to Wear Leather Leggings
Instead of the usual black leggings, leather is an alternative. Leather leggings are glossy providing good texture and style. These will look great with any outfit if you stay away from large prints and designs. Leggings with leather tops will never be out of style with the right accessories too. Wear a scarf, layered necklaces, monochromatic boots, or high heels for a chic look at the office or any event.
Leggings with Long Shirts and Tops
Women who are not very confident to show off their figure may opt for leggings with long shirts or tops. Leggings with solid colors match perfectly with patterned long shirts. Meanwhile, leggings with lovely patterns will go well with long shirts with solid colors.
There are many types of long shirts: long-sleeved shirts, crew neck shirts, V-neck shirts, off shoulder shirts, scoop neck shirts, cowl neck shirts, and more. Other long shirts are sleeveless shirts and turtleneck sweaters.
Leggings for Older Women
Ladies at 40 may become conscious of their looks especially when wearing leggings that hug and shape their legs. It's best to combine these with flattering dresses, tunics, long shirts, and others. Go for a monochromatic look instead of wearing striking colors. Add matching jewelry pieces and other accessories like bags, hats, and sunglasses to create a lovely look that feels natural.
Leggings for Wintertime
There's no reason to look drab this wintertime. Wear leggings with cool winter clothing like a longer shirt or a thick warm sweater paired with a cozy scarf or shawl. If you're out traveling, don't forget to wear thick boots, gloves, and a wide hat for that dramatic look. Leggings will also make you look awesome even when you're just headed for work or just going around town this season. Just make sure to choose leggings made from thicker fabrics and wear clothing in layers to preserve body heat.
The Staple Black Leggings
Black leggings are the most versatile as they complement all colors and design patterns. Jeggings don't need a belt and have no buttons and zippers, so these are easier to wear for casual or a chic style. Consider black leggings as your palette. Wear these with different clothing styles and materials.
Gold Leggings Anyone?
Do you love anything that shimmers and shines? Stand out with gold leggings that easily match with plain shirts, blouses, or tops. Your style will look great in nightclubs, discos, and clubs. This fashion is also perfect for date nights and an all-girl night out with your friends.
Leggings with Athletic Prints
Leggings were initially used for fitness or exercise. Nowadays, you'll find women, and men, wearing leggings almost everywhere. Leggings with athletic prints are great with solid color shirts, sexy open-toe sandals, and casual chic accessories. You can't go wrong with leggings with athletic prints when you wear these with hoodies, large shirts, techwear, and turtleneck shirts.
Leggings are versatile, flattering, perfect for all occasions. It's for all women, young or old, for all body types. But to make leggings work, you need to know how to wear them properly. If you're still unsure about wearing leggings, these tips will surely change your mind. Follow these tips to get the most out of wearing leggings every day.