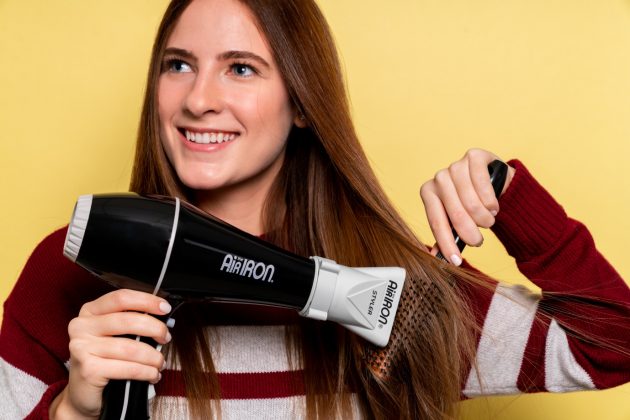 Never underestimate your hair dryer and its importance when styling your hair. How you blow dry your hair can set the tone for your styling process. It can make or break your look, whether you're going for silky, straight locks or voluminous curls.
Before learning how to blow dry hair like a stylist, figure out which hair dryer is best for you. Choosing an ideal instrument should depend mostly on your hair type and budget. Also, consider the amount of time it takes to style your hair and if you have a strict time limit for your beauty routine.
First, look at a dryer's wattage. This determines the power of its motor – the higher the wattage, the stronger the wind. With more wind power, a dryer doesn't have to use as much potentially hair-damaging heat. A salon hair dryer usually has between 1800 and 2000 watts.
Additionally, there are six main types of hair dryers: Ionic, tourmaline, ceramic, porcelain, infrared and titanium.
For quality closest to a salon hair dryer, go for the ionic option. This is the best hair dryer for curly hair, promising speedy results on thick and frizzy locks. Just be careful not to overdry your hair, which could de-volumize your locks. Tourmaline dryers work similarly but are stronger, meaning they're usually costlier.
Ceramic, porcelain and infrared dryers take the slow and steady approach. These types focus on distributing heat gently and evenly, making them the optimal choice for fine and dry hair types. While titanium dryers have the same goal, they reach much higher temperatures, making them harsher on fragile hair types.
Celebrity stylists suggest trying out hybrid dryers, from ionic-ceramic to ionic-tourmaline. Mixing and matching types can create various combinations of speed, care, and power, which you can decide on according to your routine.
The Benefits of Hair Dryer Nozzles
A hair dryer nozzle, shaped a bit like a duck bill, is essential to precise styling. This attachment focuses wind directly at the section of hair you're working on – you can concentrate on your fringe or your tips without blowing your mane everywhere.
Because of this, you can achieve volume starting at your roots. Point the attachment at your roots and use a brush to gently curl outward. Brush the length of your hair downward for maximum smoothness.
How to Hair Dry Naturally Curly Hair
Getting the "salon look" doesn't always mean creating sleek, straight styles. Natural curls are something to envy, especially if they're styled correctly.
To maintain texture, apply leave-in conditioner and gel to your hair from root to tip. With your dryer set to low or medium heat, direct your hair dryer nozzle at the roots and length of your hair, but do not touch the tips! Blow drying textured tips can easily dry them out – let them air dry for the best results.
How to Style Short Hair with a Hair Dryer
One of the perks of having short hair is its quick air-dry time. But understanding how to blow dry your pixie cut can really elevate it, giving it some well-deserved verve and volume.
Before starting, use a fine-toothed comb to define your hair part. To create a bit of bounce, blow your hair in the opposite direction of how it naturally falls, starting at the roots. Gently brush out the strands for a silky finish.
For a more tousled look, pick up your best hair dryer for curly hair, even if you don't naturally have textured hair. Put your brush to the side – as you blow out your hair, run and rustle your fingers through your hair. For stronger definition and separation, gently curl some strands of hair.
How to Style Medium Length Hair with a Hair Dryer
To begin with a simple look, define a clean center or side part. Ready your round brush under your locks, brushing down with a slight curling motion inward as you blow dry. When the brush reaches your ends, curl them toward your chin to really frame your face.
For the perfect night-out look, go for loose, shapely waves. Use a hair dryer nozzle and round brush for the best results. Gently smooth down the top quarter or half of your hair with the round brush, and as it begins to dry, twist your hair around the brush in the direction you'd like the curls to go.
How to Style Long Hair with a Hair Dryer
Long hair is definitely high-maintenance and time-consuming. If you want to learn how to blow dry hair with length faster, put the nozzle aside and blow dry your roots from the top down. Make sure to get under your lengthy locks!
Styling the rest of your hair is relatively straightforward – use your nozzle and brush downward for a silky look, or twirl strands around your round brush for some loose curls or waves. For a speedier curling process, section your hair into pigtails or quarters.
For a more natural look, try braided blow drying. After drying your roots with a hair dryer nozzle, section your locks into four to eight braids – the higher the number of braids, the tighter the resulting waves. Blow dry the plaits until dry, undo them, and scrunch them for some added attitude.