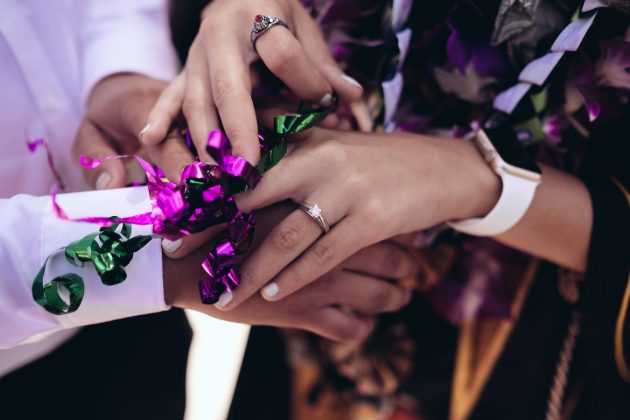 Pinterest is one of those sites that people tend to love or hate. Having a wide range of interests, and jumping from topic to theme to subject can result in a disordered Pinterest page, so it is best to organize your pins into several different topics: wedding dresses, for example, or catering venues in [your chosen destination]. In this way, the site can tailor recommendations more precisely, giving you a better selection of a narrow field. But even this can be a little overwhelming sometimes, especially if you have chosen a popular topic to search! Your email inbox can be swamped with so many choices that you might be tempted to give up on the whole idea of getting married in the first place! But there are many more advantages to Pinterest than not, especially if you take the time to organize your searches and be methodical, looking for one item at a time.
Pinterest will provide you with many interesting and thought-provoking ideas for your engagement ring, including some that you might not have considered. For example, buying loose stones and designing your own ring is a surefire way to ensure that your engagement ring is unique, and Pinterest can help you to decide what sort of stone – colorful diamonds are very popular at the moment – the precious metal the setting should be made from, and much more.
Not only can fellow Pinners point out what you should be looking for in an engagement ring and what distinguishes good diamonds from mediocre ones, they can break down the technical aspects: the Four Cs, why AGS and GIA accreditations are the best, the meanings of occlusion and inclusion, along with which cuts are best for maximum sparkle – and do it all in plain language that any layman can follow and understand. In this way, you can build up an idea about what you are looking for from an engagement ring, without any embarrassing moments with a jeweler who does not take the time to make such explanations. It is, indeed, one of the best things about online shopping!
A final advantage of Pinterest is that it brings many sites and options together into a noticeboard (or pinboard is more strictly accurate) on which you can see all your favorite options, a good range of prices and all the details you need to make a sensible and measured decision about something that is so infused with emotion and joy that it can sometimes be hard to remember that diamonds are a financial investment, as well as a symbol of priceless love! It can be like having one or two of your favorite rings from five or even ten different jewelers laid out in front of you, with no pressure or 'hard-sell' as you mull over the pros and cons of each beautiful ring. And you can ask for help from friends and family anywhere in the world, as long as they have an internet connection!