To most men, denim jeans seem like the least consequential style choice. You can pair almost anything with jeans to make almost any kind of look, from semi-formal to uber-casual. Plus, you can get whatever jeans feel comfortable and use whatever belt you have lying around to keep them up.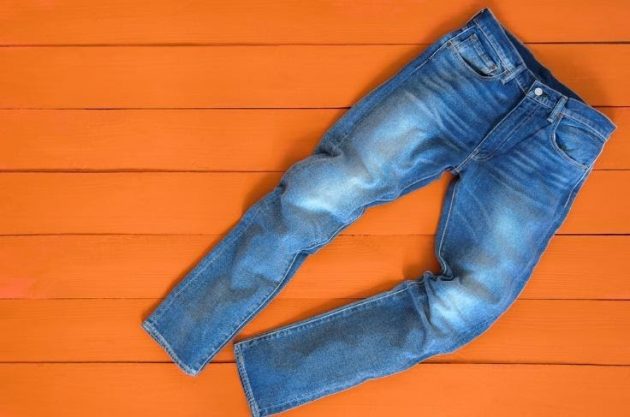 Unfortunately, this just isn't the case. While jeans should have a prominent place in any man's wardrobe, the truth is that not all jeans are created equal. Like other aspects of men's fashion, jeans are incredibly nuanced, and it is important that men understand the details of jeans styling to ensure they choose the right pair at the store and wear them properly for the years to come.
Fit Matters
Just as you wouldn't buy shoes if they squeezed your toes, rubbed your heels or pinched your feet in any way, you shouldn't buy jeans if they don't fit just so. However, jeans don't necessarily fit just because they slide over your thighs and zip up with ease. You might not realize it, but there are several attributes of fit to pay attention to while you are jeans shopping to ensure you leave the store with a suitable pair.
Your jeans should hug your butt. Jeans that are too large will sag off your derriere, giving you a less than favorable silhouette. Then again, you don't want jeans that are too tight, threatening to rip if you lift your leg or squat. Your seat should be cradled without feeling constricted. 
Your legs should succeed on the pinch test. Standing relaxed in a potential pair of jeans, you should pinch the fabric around your thigh between your thumb and forefinger. An ideally fitting pair of jeans will give you from a half inch to an inch of fabric between your fingers. You can conduct the same test around your calves. More fabric indicates your jeans are too loose; not enough says your jeans are too tight.
You shouldn't need a belt. Obviously, you should be able to button your jeans, but using a belt should also be unnecessary. Your jeans should always sit comfortably on your waist. 
Overall, men's jeans are best when they are close to the body, but not too tight. Your jeans shouldn't allow others to see every bump and curve of your legs, but they shouldn't add any width to your legs, either. Once you have the tightness down, you can start paying attention to the next-most-important factor, the length.
Length Matters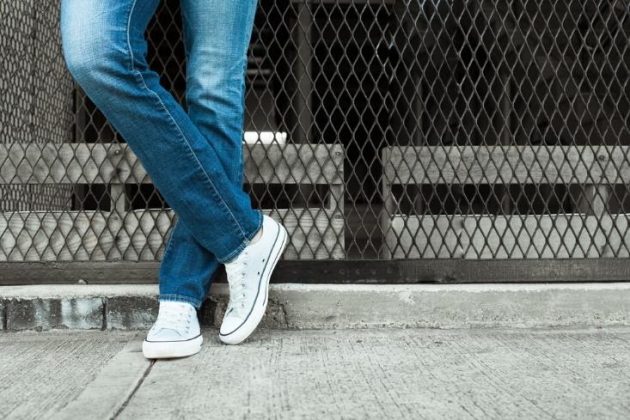 Length tends to be much easier for men to understand than fit, perhaps because men intuitively know that their jeans shouldn't drag on the ground or cut off mid-calf. A typical pair of jeans should break just on top of your shoe, but if you are trying to appear fashion-forward, you might opt for rolled or slightly shorter jeans to show some tasteful ankle.
However, it is important to note that there are different cuts of jeans, which might impact their length and their look. A cut is essentially a silhouette — the shape the jeans make, typically toward the end of the leg. Different body shapes tend to favor different cuts; for example, skinny fit jeans, which have a stick-straight leg from thighs to calves, are best for especially thin men, but tapered fit jeans are better for men with muscle in their butt and thighs but smaller calves. If you opt for a cut with a more pronounced flare, you should keep your jeans longer, but thinner, tighter cuts can be rolled up for a modern look.
Color Matters
Style gurus state that men should own denim in at least four staple colors:
Dark blue. Also called indigo, a dark-wash blue is the perfect pair of jeans for dressing up or dressing down. Dark blue jeans are important to own for when you need bottoms for a semi-casual work day or if you like to look put-together on your days off.
Light blue. This doesn't mean acid-wash; instead, light-wash blue jeans are just a touch lighter than your indigo options. These tend to be more casual than dark-wash jeans, making them more comfortable to wear with friends or during errands or chores.
Gray. Like dark-wash jeans, gray jeans are wondrously versatile. If you get a neutral gray — a medium to dark shade — you should be able to treat them just like a pair of gray chinos, but since they are denim, they are a bit easier to care for and more comfortable to wear.
Black. Excellent for nights out, black jeans are casual and cool — easy to pair with a white or gray shirt and sneakers for an effortlessly chic look. Black denim that fits correctly can be difficult to find, but you should keep looking for this closet staple.
Jeans aren't just jeans. Every element of your outfit contributes to your look and vibe, so getting your jeans right in fit, flare and color matters — even if you are just a man.