Hey my beautiful ladies! The winter is officially here, so we thought that you may need some inspiration of how to dress during the cold days. The winter time is the perfect time for layering clothes, which results with making various outfit combinations. For that purpose, today, I have chosen several 15 winter polyvore outfit combinations to get you inspired for your next winter look.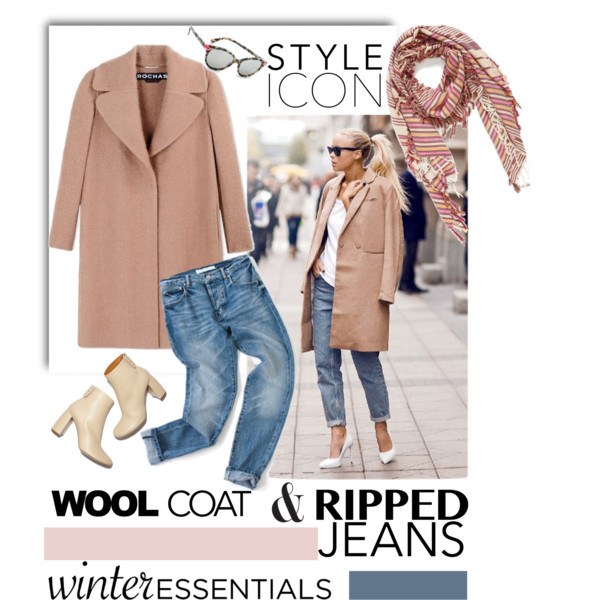 Photo via: polyvore.com
As you can see from the pictures, one of the winter essentials that you must-have is of course a good quality coat. Coats can be found in versatile styles and colors, so you will for sure find the right one for you. A black coat is something you can never be wrong with, but do not hesitate to get a coat in some other shade, for instance grey, camel or maybe some pastel shade (Rose Quartz or Serenity, for example). The winter time is perfect for wearing sweaters. Again, they can be found in different styles, such as cropped, turtleneck, oversized etc. The cold weather shouldn't be an obstacle for you to wear skirts and dresses. Pair a sweater dress with over the knee boots and thus have one of the hottest looks for this season. And when wearing skirts or dresses with ankle boots, wear thick tights, whether black or in some other bold color, to keep your legs warm. And when it comes to the footwear, you can make a choice between versatile types of boots, from ankle to over-the-knee boots, flat or heeled ones.
Every winter wardrobe must contain hats, scarves and gloves. They can be found in all colors and styles possible, so you will for sure find the right ones to complete your outfit combinations. You may choose them to be in the same color as your coat, or you can go for some contrasting shade and thus make them pop out from the rest of your outfits.
These were the 15 Winter Polyvore Outfit Combinations that I have chosen for you today and I hope that you liked them. Tell me in the comments about your favorite style of dressing during the winter days, in terms of outerwear, shoes and colors you love to wear. And of course, don't forget to stay up to date with the content of Fashionsy to find many other polyvore combinations to get inspired for your future outfit combinations.