If you have been shopping recently, you must have noticed that this season there are many velvet pieces of cloth to choose from.Yes, this somehow luxurious fabric, have been quite popular in the 90s and nowadays this trend is taking the stage again. And although you may think that velvet is meant to be worn only on special occasions, there are many ways of how to wear this fancy fabric as part of your everyday looks. Below, we have chosen several street style looks to show you how you can wear velvet and we hope that you will like them.
Velvet is a soft and cozy fabric, which is mainly worn during fall and winter days, because it can keep you warm. This fabric can make a statement no matter of its color, and that is why it is always better to wear only one piece of it. The easiest way to pull off this fashion trend is to wear a velvet dress. Such dresses, whether short or long are perfect choice for the holiday parties. Also there are many less formal velvet dresses that can be part of your street style looks. Wear them with over-the-knee boots to pull off one of the hottest looks for this winter.
SEE ALSO: 17 Holiday Office Party Polyvore Combinations You Can Copy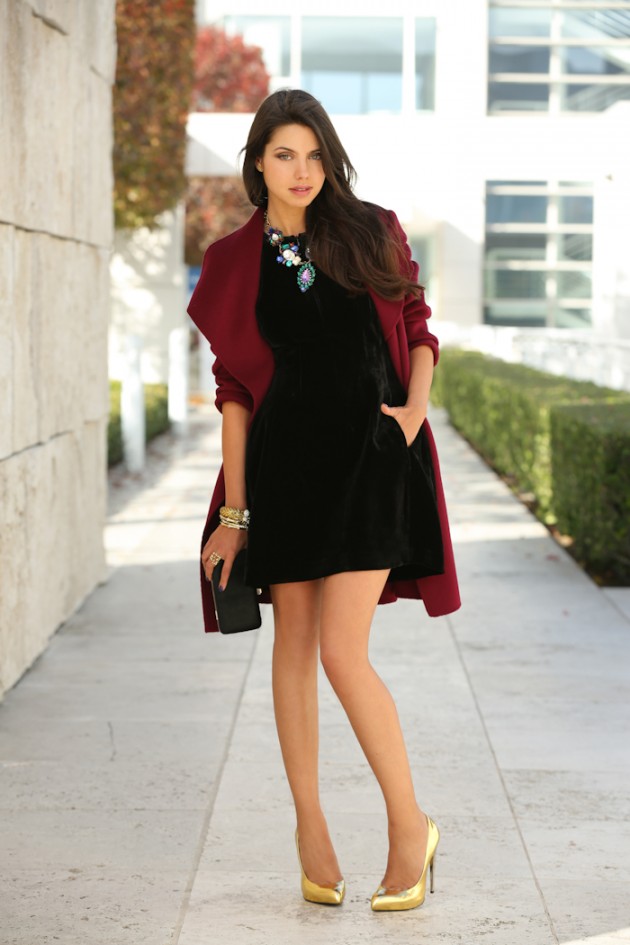 Photo via: vivaluxury.blogspot.com
If you think that you don't feel bold enough to make a statement with a velvet dress, than you can choose to wear velvet top, blazer, pants or some such skirt. Velvet is perfect for adding texture to monochromatic outfits. For instance, if you wish to stick to an all black outfit, go for a velvet blazer instead of a cotton one. Velvet can also look good in combo with lace or leather, so feel free to play with different textures.
When it comes to color choice, dark shades of velvet are more preferable than the bright ones. Black and maroon are the most common shades, as well as navy and emerald green. Scroll down now to see the rest of the street style looks that we have chosen for you today and choose how you will wear velvet this winter.
The above street style looks are just some of the many ways of how you can wear velvet. Tell us in the comments which one from them is your favorite and how would you pull off this fashion trend this winter. And of course, don't forget to stay up to date with the content of Fashionsy to find many other outfit ideas for your inspiration.