Every year, and every fashion season, certain looks, vibes and styles emerge as the most popular and sought-after. We see it everywhere from Instagram to Pinterest, fashion magazines and all over town.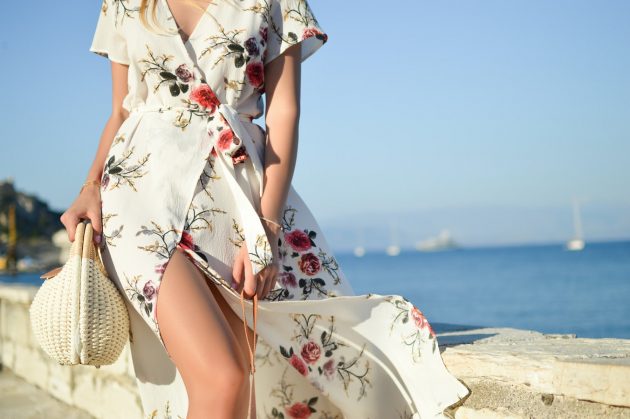 It can be hard to keep up with trends, and you don't necessarily have to, but it is certainly great to be able to have a little more fun with your fashion by experimenting. Why not take advantage of a trend and wear something different? Why suffer from fashion FOMO and let everyone else have all the great outfits?
There are literally countless trends that you can add to your list of outfits, and if you're feeling really bold, you can really go all out with them. Here are a few trends that you can experiment with this year, and how to execute them in simple but stunning ways.
Large Format Prints
Prints used to be something associated with resort fashion collections and tropical vacations, but right now, they are having a moment on the streets and on Instagram feeds. We're not talking tiny prints, we're talking about big prints with plants, foliage, flowers and really innovative designs.
If you really want to go all in on this trend, you can wear it in a long dress, or a long tunic paired with matching trousers. If you want to be more moderate, you can wear a bold large print blouse with a plain skirt or jeans so that the loud print is balanced out with something more muted. You can even design your own custom print so you have something no one else has!
Classy Lingerie Touches
In the past, when you heard about bringing elements of lingerie to your outfits, you would cringe out of fear of looking cheap or like you're trying way too hard. Now, lingerie-inspired outfits are classy, bringing just a tad of sex appeal and edge to a very streamlined and sophisticated look. For example, we're seeing this with lacy dresses that resemble satin nightdresses worn over a long-sleeved top so you're not showing too much skin.
We're also seeing it with harness bras worn under a plain-white off-the-shoulder blouse so that the straps show. Lacy tops are also all the rage, especially when layered with a crop top and a maxi skirt so that you're not revealing too much of your body. You can buy so many great women's lingerie pieces that you can pair with other items in your wardrobe for outfits that show a little more of your femininity without overdoing it.
Vibrant Green
Have you noticed that green is everywhere right now, especially a bright grass-colored green that's really eye-catching and bright? That's because it's a color that's going to be huge this summer. Instead of a muted green, this is a really vibrant green that looks exotic and really exudes a regal quality to it.
From blazers to summer dresses, this green color will be everywhere, and if you're not afraid to experiment with brighter hues, this trend will be right up your alley.
Fancy Loungewear
In 2020, the loungewear trend went mainstream, and this year it is being elevated to something more luxe and expensive. It's about really plush fabrics, and cuts that allow outfits to transition from indoors to out on the town with a few upgrades.
Luxury brands are bringing their best with their loungewear looks and if you were to buy one of their outfits, you'll have something that can fit so many settings, from Zoom work calls to errands and lunch with your friends.
Bright Shoulder Bags
Small shoulder bags were a mainstay in the 1990s, but in the 2000s, they were replaced by larger bags. Now, the small shoulder bags have made a comeback, probably because in 2020 people weren't leaving their homes carrying a lot of stuff, so a shoulder bag was the best thing to use. Today's shoulder bags are coming in pastel tones like green and pink so they are more eye-catching than ever before.
This is a bag that you can pair with just about any outfit, from jeans and a t-shirt, to something more formal if you're attending an event and everything in between.
Fashion trends are a fun guide to refreshing your wardrobe, and trying something different. During spring and summer, you can have so much fun with new looks, bright colors and things you don't usually wear. You might like a trend so much that you adopt it into your style in a way that's unique to your personality and authentic to your tastes. Don't be afraid to go out of your comfort zone and take a walk on the trendy side!