Engagement ring shopping can be tricky. You go into it with an idea of what you want to give the person you are ready to spend the rest of your life with, and then start doing some research and get blown away. There's so much to consider! How much will you spend? Did you know diamonds are cut into different shapes? And what are these 4 C's I keep hearing about?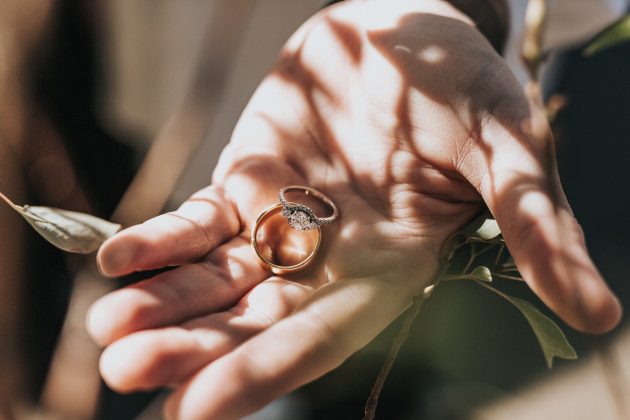 If you feel overwhelmed shopping for engagement rings, you're not alone. It's common to not even know where to start, so we're here to help you out. Here are 5 classic engagement rings you can buy right now from our friends at Ritani.
Solitaire Diamond Cathedral Engagement Ring
This ring is classic. The solitaire ring is perfect for its simplicity and ability to present the diamond in a shining role. Pairing it with a 1.57 carat round diamond – another classic – puts together the quintessential ring for the person you love. You want something pretty straightforward that you know your partner will love? This might be the ring for you.
Solitaire Diamond Knife-edge Tulip Engagement Ring
We're coming right back with another simple white gold solitaire ring, but this time pairing it with a princess cut diamond giving it some edge. The prongs or the ring have a bit more style than our first option, and they really balance out the shape of the princess cut ring. The diamond itself is a very good cut and VVS1 clarity, meaning it has minimal flaws, making it a great value.
French-set Halo Diamond Band Engagement Ring
A French-set halo ring will give your engagement ring an extra level of sparkle when looking at it. Set with a 1.6 carat oval shaped diamond, this ring is sure to be an eye pleaser. The sidestones on the ring itself give it some extra glam and will make everyone who want their dream ring to fall in love instantly.
Floral Halo And Marquise Diamond Engagement Ring
This floral halo is a classic vintage look. The shape of the setting itself is unique which will make it an eye-catcher once it's on your fiancé's finger. With marquise diamonds surrounding the center stone and dropping down the side, this ring will make for the perfect centerpiece of your proposal.
French-set Halo Diamond 'V' Band Engagement Ring
Finally, another French-set halo ring, but this time with the V-cut band which creates some space between the center stone and the sidestones of the ring. This look goes perfectly with a cushion cut diamond, and the 1.7 carat stone on this ring is sure to be a beauty.
Did you find the ring you want right here? Hopefully we saved you some of the stress of finding your dream ring by bringing them right to you!