Shattering boring traditions, a lot of women today choose to propose marriage to their boyfriends. It's a fun way of showing that women are equally empowered and they can make things happen. One of the most common challenges women face when planning a proposal is picking the perfect engagement ring. Mens engagement rings come in all shapes and sizes, which makes choosing a particular design all the more difficult. What makes it worse is that most blogs and articles talk about how to pick a ring for a woman. There is very little advice available on how to pick a great ring for a man. Here're 5 tips that should help you zero in on the perfect engagement ring for your man.
Get the Size Right: If your man wears a ring then you are in luck. You can take the ring to the jewelry store and have the engagement ring accurately sized. However, most men don't wear rings. In that case, ask a guy friend who has similar-sized hands to go to the store with you. This will give the jeweler a basic idea about the ring size. Remember, you don't need the accurate measurements when you are buying the ring as most stores are willing to resize the rings later.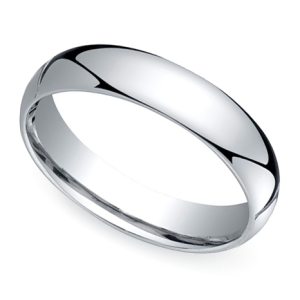 Find the Perfect Style: The first thing you need to keep in mind is getting a ring that has a wider band. The width of the band is really what defines a masculine ring style. Also, it's important to evaluate your man's personal style. If he likes to keep it simple and is a tshirt-and-jeans guy, then buying anything flashy is not recommended. Go for something that has clean lines and an overall understated look and feel. You should also take into account that he will probably wear the ring to work. This means you need to pair his work attire with the ring's style. If he works in an office, buy a formal-looking band that goes nicely with a tailored suit. You can buy him something a little more fun if his workplace attire is casual.   
Selecting a Store: Most jewelry stores have huge collections of engagement rings for women. Their collection often feels limited when you are out buying a ring for a guy. Instead of going store to store, look for rings online. There are more than a few online ring stores that feature exclusive collections for men. Right from etched signet rings to manly engagement bands, you will be spoilt for options. You are also much more likely to score a discount when ordering engagement rings for men online.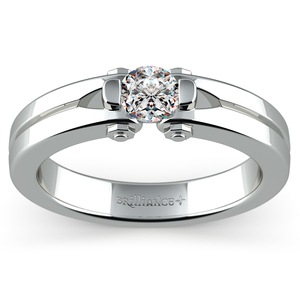 Play with Metal: Men are not as excited about platinum or gold as women generally are. This means if you are buying an engagement band for your man, you have a lot more freedom when it comes to metal options. Metals such as titanium, palladium, cobalt, and tungsten are popular choices when buying rings for men. If your man is really into cars, he might also appreciate a dark carbon fiber ring. Carbon fiber bands have a matte black finish that goes well with jeans and formal wear.