Beach weddings are exciting alternatives to a traditional wedding held in a church or even outdoors at a rustic venue. It automatically makes your wedding feel like a vacation rather than an event, to you and your guests. It is also a great time to have all your loved ones together for a weekend. It might be a bit tricky to plan, but there are a few great tips you can follow to make it work.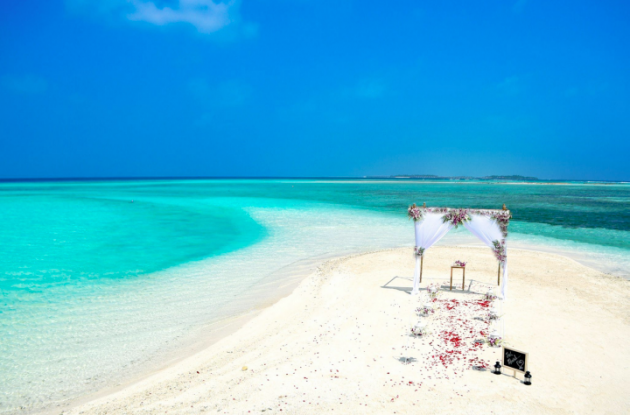 1. Set a Well-Constructed Budget
Beach wedding or not, setting a budget is one of the first things you need to do when planning your wedding. This goes hand-in-hand with selecting your venue. If you can tick off these two tasks from your to-do list, you are halfway there.
With that being said, beach weddings are a bit trickier. Consider getting a venue to handle all the arrangements for you by opting for a pre-made beach package. After all, they have done it many more times than you have. If you opt for a DIY beach wedding, make sure to get a license and permission from the city before you plan any further.
2. Give Guests an Earlier Heads Up for the Big Day
If you are planning a beach or destination wedding, you should give your guests ample time to plan for it. Give them a minimum of 6 months' notice so they can also plan their budget accordingly, book their leave from work, or sort out any other details they might have.
Whilst you aren't necessarily liable for their travel and accommodation expenses, you can make their trip easier by negotiating and booking accommodations close to your venues, such as a hotel or lodge if your venue doesn't already provide this.
3. Pick The Perfect Date And Time Of The Day
Check the weather on your chosen wedding date to ensure you won't get caught in a storm. Checking when it will be high and low tide is also incredibly important, else your beach wedding will literally be washed away. Allow for a few hours extra at low tide, just in case the weather turns.
Don't try to squeeze in your wedding at the last few minutes of low tide, play it safe! Go for the middle of low tide, in the afternoon so no one will feel rushed in the morning, or tired at night. If you need to move your wedding for an hour or two because of the weather, you can do so comfortably.
4. Choose A Practical Beach Wedding Attire
There's no doubt that sand and high heels don't mix. Ensure you and your bridesmaids have comfortable footwear by opting for wedges or flats. Some brides choose to go barefoot!
Consider skipping the veil, as winds most likely will be present and it will be uncomfortable trying to control it. If you plan on getting married on a hot day with loads of sunshine, go for billowing skirts, lace material, or slits. Alternatively, go for a late afternoon wedding with a sunset for the ultimate romantic photos! You can coordinate your bridesmaids to suit the environment like dressing them in burnt orange bridesmaid dresses.
5. Create A Backup Plan
The weather might change at the last minute, so it's quite important to have a backup plan in place. Consider hiring an indoor venue in case or have canopies and tents ready to be put up when needed.
Have a look at the weather the morning of the day of your wedding, you might wake up with a bright sunshine-filled morning, only to have the weather turn into a storm. Moving your wedding for an hour or two might not be a big problem, considering it is a destination wedding, and your guest might already be there the day before.
Timing Is Everything
Beach weddings are exciting and come with a few difficulties but ultimately are worth it. Make sure you don't get caught in a sticky situation. Make sure you, your guests, and your bridesmaids are comfortable too. Giving everyone ample time for planning will ensure most of your guests will be able to attend your dream beach wedding.