There comes a point in your life when you are invited to a wedding. You'll see thousands of articles highlighting what the women in your life should wear to a marriage, but barely anything for yourself as a dude.
Where does that leave all the dudes looking to dress-to-impress at their friend's weddings? With not much inspiration and nowhere to go.
That's where we come in: we're here to give you unique styling options for their friend's wedding. Of course, this won't be a comprehensive list. You'll have to do more research if you're not vibing with every look here. But, you'll at least have a launching point.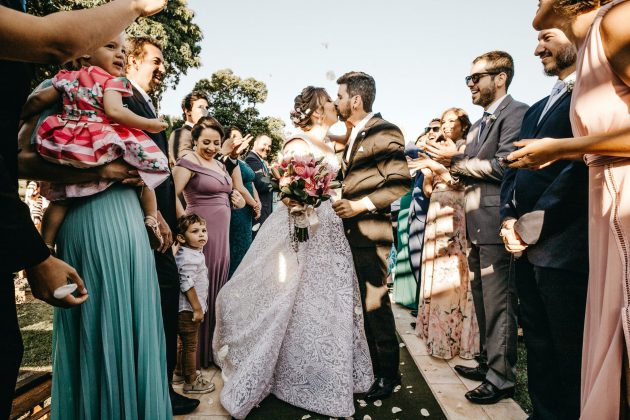 So, without further ado, let's get started.
1. A Kilt & Dress Shirt
Whether you have Scottish heritage or not, a kilt is a fun and festive way to dress for a wedding if the atmosphere and attitude from the wedding party is right. You'll be surprised by how many compliments you get!
If you're a fan of customizing outfits, a kilt from a company like Kilts-N-Stuff would be your best bet. You'll have a variety of lengths, tartan patterns, and fabrics to choose from, depending on the affair.
Because the focus will be on the tartan garment, pair the piece with a white, black, or gray dress shirt and then you're good to go. You can even add accessories like tartan sashes and berets, depending on the occasion.
2. Flower Pattern Suit
Maybe you're looking for a suit, but you still want to stand out from the crowd. In that case, consider a suit with a flower patterning. If you choose a suit with bold, soft, or stylistic flowers on it, you'll make a statement without drawing too much attention from the bride and groom.
Plus, you can get the suit custom tailored to fit you. Utilize accessories that match the patterning of your suit. Choose either a light gray or brown undershirt.
3. Crushed Velvet Suit
Is flower patterning is too bold for you? If you're looking for ways to spice up your suit game, look no further. A crushed velvet suit is impeccably stylish and classy, while also subtle.
With velvet, you can choose a variety of colors depending on the occasion. A formal wedding requires a deep red or blue crushed velvet suit. If the wedding is casual, go with a tan or white color.
The accessories and tailoring will depend on what you decide.
4. A Tweed Jacket & Slacks
Maybe you're not a standard suit kind of guy? Or the occasion is less formal and you're looking for a unique and chic choice? Either way, a tweed jacket with slacks could be a perfect option for you.
The beauty of tweed is its versatility. You can choose from a variety of colors, the jacket can be short or long-sleeved, and you can pair many accessories depending on your style.
When pairing your tweed jacket with slacks, make sure the colors match or are complementary.
5. Flared Slacks & Polo Long Sleeve
If you're more on the fashion-conscious side, a suit won't appeal to you at all. In that case, consider going for an outfit that balances style with class. Flared slacks and a long sleeve polo shirt could be the statement that you're looking for.
The flared slacks can be as subtle or dramatic as you desire, pairing nicely with a custom-tailored polo shirt. Donning a jacket over is your choice. Make sure that your shoes tie the whole outfit together.
Get Ready to Rock that Wedding
Hopefully with these ideas under your belt, you're ready to start preparing for the wedding. You'll arrive with style and class without being too dramatic.