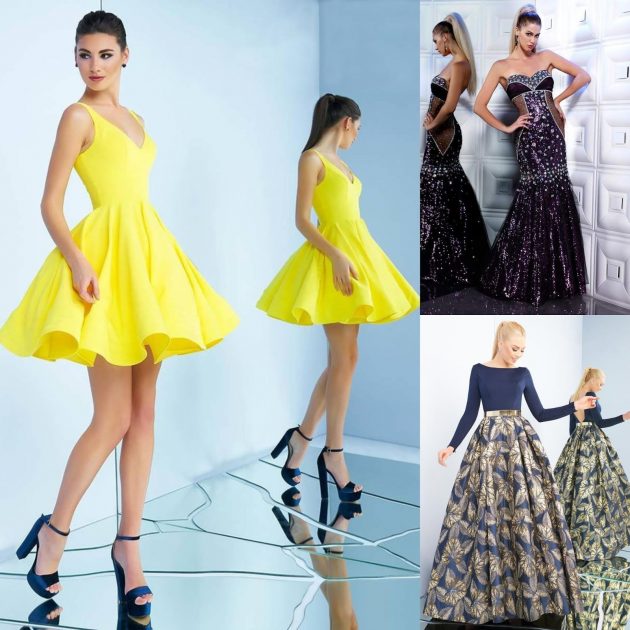 Running fingers on the keyboard when you are on the mission of finding the most beautiful dress for prom. The internet provides you with a big collection of prom dresses. This keeps the hope of finding a better one alive and finally, your search ends when you come across the stunning collection of Alyce prom gowns. An Alyce Paris dress selected according to the shape of your body will definitely make you a style icon. Want to be the star of the show on that day? It is damn easy. Just explore Alyce Paris designer dresses collection. Start a little earlier as it will take time to choose the best from a collection in which every dress looks great.
From black, red, purple, or blue plus size prom dresses to a short & long prom dress, this handpicked collection will whet your appetite to look for more designer dresses for prom.
Struggle to find dream dress for prom does not end easily. Many a time you have a gorgeous dress in mind but it does not look that great on you. Not every dress looks great on every single body type. Your good friend has hourglass body shape. A dress that will flatter her figure in the best possible way might not look great on you if you have pear body shape.
A long sleeve party dress that makes your friend look more gorgeous might make your special-occasion dress sense questionable. Most probably, even if you have an average fashion sense, you already know which style is the best for you one-shoulder or off-the-shoulder, or ball gown or open-back. In case you don't know, you will find this guide pretty helpful. This guide covers the basics of major types of prom dresses. You will not only learn about the benefits, but we will also talk about drawbacks.
Long Sleeve, short sleeve or sleeveless
Long sleeve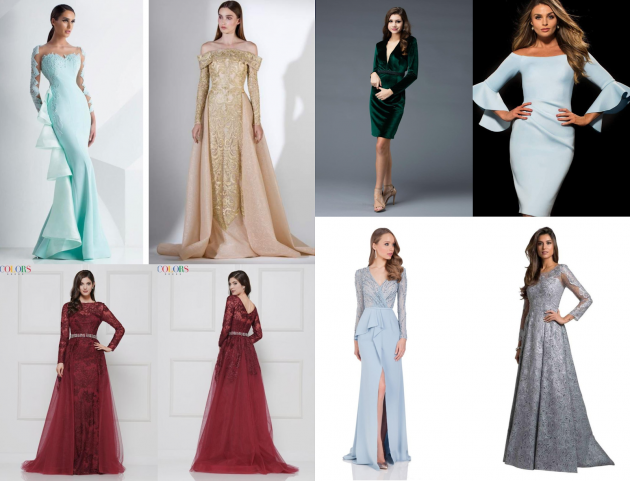 Reminiscent of formal evening gowns, long sleeve dresses are very sophisticated. The sleeves might go all the way to wrists. It might be a three quarter sleeves dress or it might be a mid-arm sleeve dress. You can find a long sleeve dress with bare shoulders or deep v-neck. Long sleeve dress is ideal if you are living in a chilly area. Long sleeve dress is not ideal if you are living in a warm climate.
Short Sleeve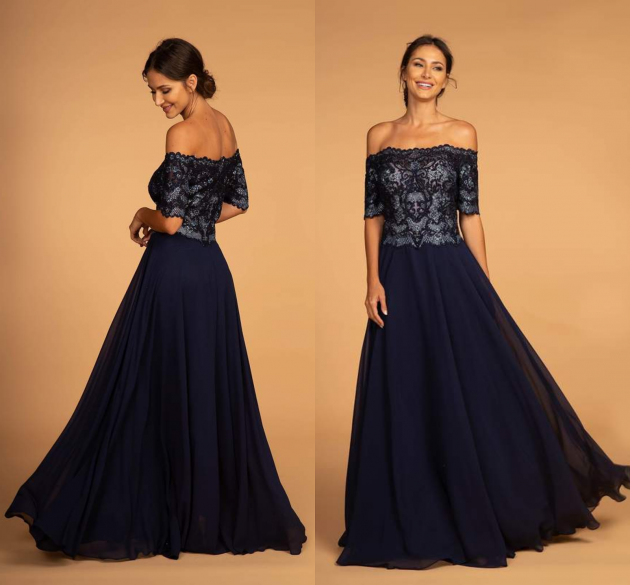 Also known as "cape sleeves", short sleeves mimic t-shirt sleeves. A short sleeve dress will give you a simple and classic looks. A shawl or cute jacket will look great with a short sleeve dress. However, a short sleeve dress will make your shoulders look bulky if you have muscular shoulders.     
Sleeve Less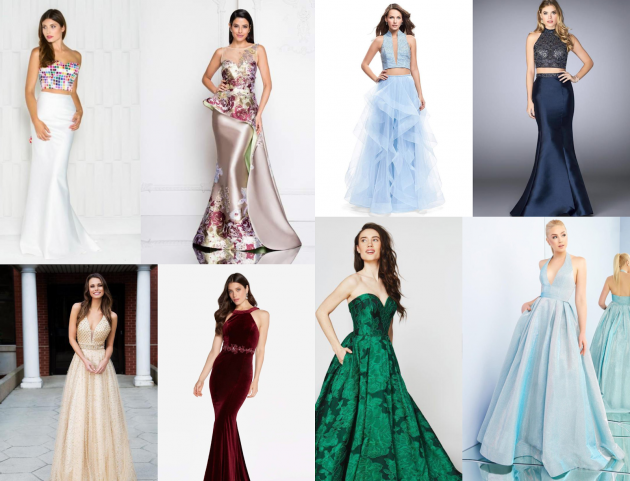 A sleeve less dress is perfect for you if you have muscular shoulders. Sleeve less dresses often have very creative necklines. You can wear a nice jacket or a shawl with a sleeve less dress. However, this dress is not good for cold weather.
Halter or Strapless      
Strapless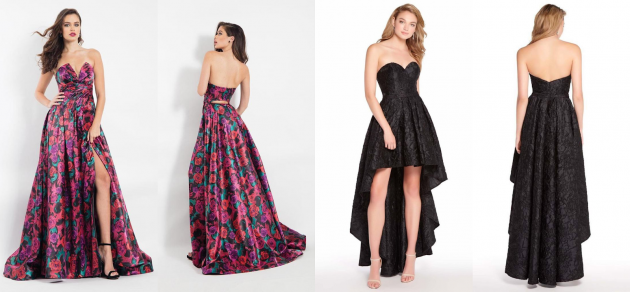 There is an impressive range of strapless dresses in different lengths and a variety of necklines. A strapless dress comes up a few inches below the collarbone. If you feel uncomfortable in this dress then you can wear one with clear straps.        
Halter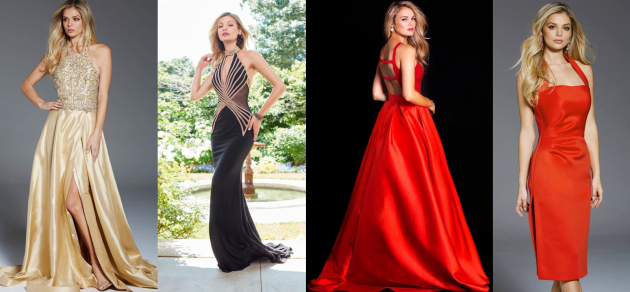 A halter dress is always sleeve less V-neck dress. It has a single strap going around the back of the neck. It is often a revealing backless dress. You need not worry about style or shape when you are going to wear a halter dress. Being sleeve less and backless, this dress is definitely not wearable in winter.
Fishtail/Mermaid, midi, layered or two-piece
Fishtail/Mermaid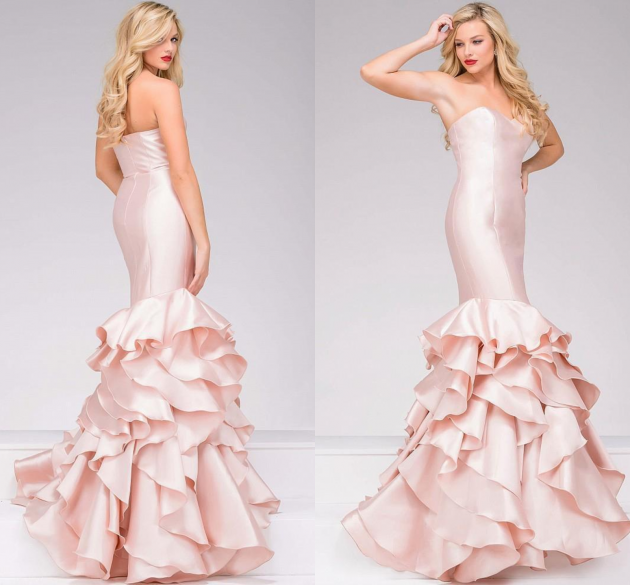 This dress is made to fit bust, torso and seat. It then flares outwards at the mid-thigh level. There is a difference between fishtail dress and mermaid dress. The former comes with much more gradual flair. Mermaid dresses are tighter through thighs. Both fishtail and mermaid dresses are perfect for highlighting curves. However, these dresses are quite restrictive.  
Layered
A layered dress comes with a range of sleeves, straps or necklines. Two-piece layered dresses are also very popular. Its bottom half is its identifying feature. The bottom half of the dress consists of multiple layers of quite ruffled or relatively smooth or staggered chiffon.      
Midi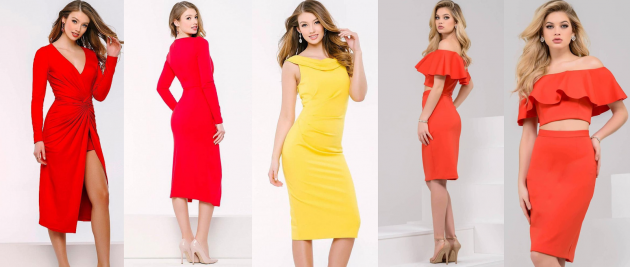 This dress comes with a variety of sleeve straps and lengths. Its length is an identifying feature. This dress comes down to the middle of your calves. As a midi dress does not reach the floor, it is quite free-flowing. However, it is not one of those formal dresses girls love wearing on the night of prom. However, it all depends on your personal preferences.
Two-piece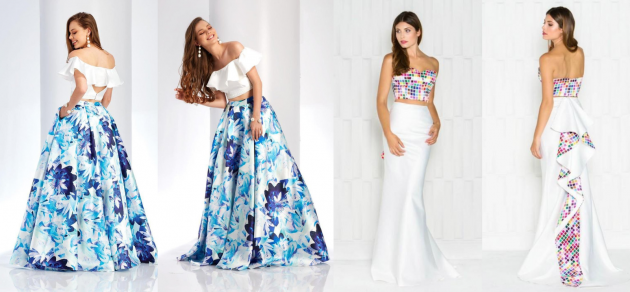 These dresses are becoming very popular and come in different shapes. Two-piece dresses have a variety of sleeve and strap styles.   
The top piece covers the bust and torso. Some top pieces also cover arms. A few inches of skin remains noticeable between the top piece and bottom piece. The bottom piece begins a little above the waist. Coming in different shapes, this dress will show off your abs.