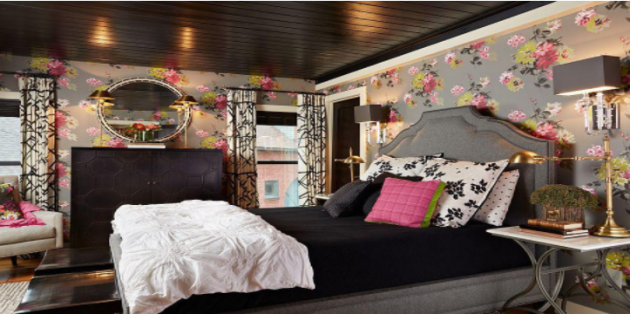 What do most hard working people crave for in their life? A comfortable bedroom that gives them peace and rest after a long day is what they would say. However, when we start doing up the bedroom, it can be confusing to choose just the right décor, bedding and more to not only give the room your personal touch but also to make it a space that you would love to withdraw to.
Experts at Guzel Dezayns, known for their silver bedding and designer bedding collections, recommend that homeowners should take care of the bed and bedding first, since this is the focal part of any bedroom, and the rest will fit it according to this focal point. This is why it is worthwhile to invest in embroidered bedding sets and luxury bedding. After all, you do deserve to pamper yourself, and add a touch of elegance to your bedroom.
Here are five trends you can follow in 2018 to make the bedroom the most beautiful and alluring space in the home.
5 Bedroom Trends for 2018
Original bedside tables

: Bedside tables are of immense importance. This is where to keep everything you might want to reach while in bed, from your books to your smartphone, water and even watch. In 2018, bedside tables will become much more creative than you can imagine, while being made of recycled and recovered materials. This will not only significantly reduce junk, but contribute to the environment. In addition, you get that good feeling of owning something beautiful that also helps you do your bit for the planet.

Metal structures

: Metal, being durable and low maintenance, is taking hold of almost every aspect of the furniture industry. Earlier, the use of metal in bedroom furniture was completely undesirable. However, in 2018, metal structures will invade the bedroom and people might see different kinds of decorative pieces on tables, walls or suspended from the ceiling.

Low or nonexistent headboards

: In the last few years, headboards attached to the bed were a rage. However, today, people start asking themselves if headboards are really necessary or whether they make the space look more cluttered. So, in 2018, do away with the headboard, and instead decorate the wall at the head of the bed with interesting paintings and other wall art. And if you do need a headboard, opt for a low one.

Metal lamps

: In continuation with the increasing appeal of metal, a lot of homeowners will include metal lamps in their décor. In 2017, hanging lamps made of copper and gold gained momentum, since they provided earthy tones to the bedroom. In 2018, it is all about metal.

Luxury bedding

: To add to the luxurious feel of the bedroom, consider embroidered bedding sets and designer bedding collections. They will not only be immensely comfortable but add a touch of sophistication to the room. In 2018, such bedding will be accented with

silver and gold thread.
So, go ahead and design a room that becomes your safe haven and a place where you would love to unwind after a hard day.