As your big day draws closer, the last thing you would want is a bad hair day. So, it's best to take certain steps in preparing your hair to make sure it is a picture and wedding day ready. Since every woman is uniquely different, and this includes types of hair, each hair type might require different treatment. However, there are some steps which apply in general to most types of hair and can give you great inspiration for hairstyles.
We have put together a collection of hair hacks for wedding to get you one step closer in achieving hair perfection on your big day. Whether you're going to be trying bridal hairstyles for long hair, short hair, or wearing accessories in your hair, these simple hacks should prove helpful. 
Try Dry Shampoo for Oily Hair
In getting your hair ready for your big day, you will want to make sure your hair stays mostly the same and doesn't get greasy at any point in the day. If you have naturally oily hair, there are ways to avoid bad wedding hair by taking extra care.
Perhaps try using dry shampoo to refresh your strands and absorb any excess oil before styling. This will leave your hair lightweight and fresh, and even sweet smelling without any residue. 
To keep the grease away it is also better to focus mostly on your ends and the length of your hair. Avoid the scalp as much as possible and this will result in a less greasy look all day long. This is as much a long hair hack as it is for short hair too. Condition right for longer-lasting hair freshness. 
The style of your dress to some extent greatly affects the type of hairstyles you might choose. If your dress has a high neckline, you might want to consider an up-do or a style that pulls your hair up and away from your face and neckline.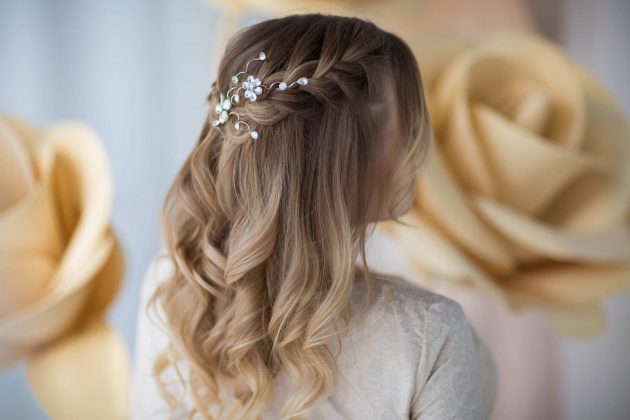 A lower neckline can accommodate a tousled, loose look or a hairstyle that frames soft curls around your face. You could also consider braids and long locks if you're having a bohemian themed wedding. 
Lots of popular wedding hairstyles might require fuller-looking hair. One simple way of achieving this is by finding an eye shadow in the closest shade to your hair color and dusting it on your part. You can also use a blending brush to brush it in, filling your hair part. This will give the illusion of fuller hair. 
One of the hair hacks for long hair is creating a braided flower crown. To achieve the crown, you start a small-sized French plait on one side of your forehead and continue it down towards the back of your head. You can secure it with a band at the nape of your neck and do the same for the other side. After you're don't with the braids, hold your loose hair together at the back of your head, and fold it upwards, tucking it in. You can secure it with hairpins as desired, and accessorize with flowers for a carefree and cute up-do. 
Some of these life hacks for hair don't just apply to weddings, but also for everyday hairstyles, like the classic ponytail. To achieve a fuller looking ponytail, the trick is to have two ponytails instead of one. 
First, you create a half ponytail by gathering the hair above your ears and securing with hair elastic. Next, you create a second ponytail, with the remaining bottom part of your hair. Ensure that both ponytails align, and the second one is situated directly below the first and out of plain sight. The result is a fuller and longer looking ponytail. 
If you are employing the help of a hairstylist, take along your picture of choice, but keep in mind that the resulting hairstyle might not be as exact as the picture. Therefore, you will need to keep an open mind as the picture will be more an inspiration to create the hairstyle in the best way that fits your hair and features. 
It is best to have a trial run of your chosen hairstyle before your big day. This will enable you see how it feels, and if it lasts long enough to make it through your wedding, also any changes you might want to make would be evident here. 
While you might have a great hairstyle and stylist, it is best to have a small bag of bobby pins, hairspray and anything else you might need within reach throughout your day. You never know when they might come in handy. To help you with preparations can Miss to Mrs boxes, a curated monthly box full of wedding themed items to pamper yourself and help you plan & prepare for the big day!
Don't Stress About Long Tresses
One of the life hacks every girl should know is that you don't need to fret where the hair is concerned. If you need long and full tresses for your hairstyle, there are always extensions available if you feel your hair wouldn't suffice. There is always a way to achieve the look you desire.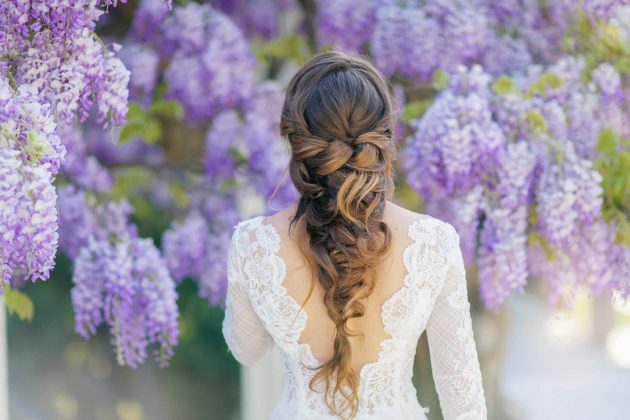 Hair hacks for wedding are really hair hacks for girls for life, as these can also be used in our everyday lives. Every woman deserves beauty hacks for hair to achieve a great hair day every day.