One thing about Italians is that they love their shoes. Even though the apartments they live in aren't that spacious, they still manage to have a great collection of shoes. From sexy stilettos to wedges and boots, they have it all. Most importantly, Italian shoes can upgrade your look from zero to designer.
 Boots
A wardrobe staple for Italian girls are long coats. These long coats go very well with a pair of boots. Boots are one of the most common Italian shoes womens outfits complement.  Not only do boots go with long coats, they can also go with a simple pair of jeans and a plain top. This versatile look can be used for a walk in the park, mall, or museum. You can also use this look when you're out for lunch or breakfast. As an added bonus, this outfit keeps you warm and cozy from the cold weather as well.
  Low cut, white sneakers
With the atmosphere and ambiance, it's prime time to sport that flowy dress look with a hint of vintage much like how Italy is. Since you might be walking around a lot, a good pairing for the floral long vintage dress is white sneakers. This will give you a classic 70's look with a hint of modern. Even if you're not wearing a dress, low cut white sneakers actually go with anything you wear too; so, having a pair of sneakers is practical since it can go with almost any outfit.
  Neutral flats
Animal printed tops or dresses are go-anywhere pieces. Since the animal print is a bit striking, you can pair this with neutral flats. Always remember that your look must be balanced. If you have a flashy top, it's best to go with simple, neutral colored shoes. On the other hand, if you have shoes with lots of print, it's best to go with neutral, basic tops and pants. To make things more interesting, if you wear animal print tops and opt to go for neutral flats, you can wear flats with a bit of texture as well.
  Pumps
If Italians aren't wearing a pair of basic blue jeans, they're wearing bright-colored pants. You can throw in a pair of yellow or orange pants then pair them with designer pumps. This will make you stand out and look taller. It's perfect for the OOTD (outfit of the day) picture for your Instagram or Facebook post.
  Leather shoes
If you want to look a bit more prim and proper, you can wear a white blouse, mom jeans, and leather shoes. A stereotype is that all women tend to wear leather shoes. It is true that this happens. You can actually get the best leather shoes at the most affordable prices in Italy. This goes best with the basic white blouse and blue jeans.
  Embellished heels
Another stylish Italian outfit is the bowler jacket with high-waisted jeans and embellished heels. This will give you some sort of model look. This outfit is very versatile and can take you to the museum or out for dinner. It's also very modern looking. This can be a bit challenging, but check out this video for some tips: 
  Loafers
When in doubt, you can go for a nice top with denim shorts and loafers. This will give you a chilled vibe. If you're anticipating lots of walking, this can be a very comfortable yet stylish, simple look on you.
  Suede shoes
Layering will fit perfectly anywhere around town. Pair it with suede shoes, and you'll look quintessential as ever. Layering will allow you to reuse tops without being noticed and will also make you look more fashionable. Suede shoes are very stylish and comfortable as well to complement your whole look.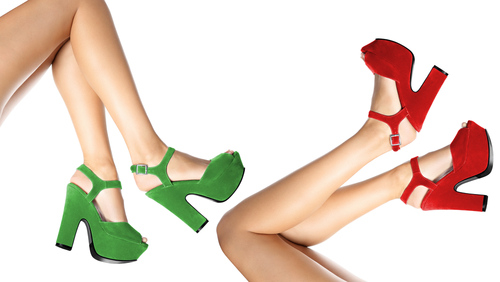 Stilettos
Stilettos almost go with anything. However, it goes best with a blazer on since it gives you a more distinct look without being too formal. You can sport this look if you're getting a bite at a nice restaurant or just watching a show in the evening — this simple look will give you some depth and sophistication.
Conclusion
With Italian shoes, there's so many pairings you can do. Italians are known for their sense of style, and with a charming city, you should wear awesome outfits as well. With the style choices above, you'll be able to travel in style in Italy or anywhere in the world. Look your best with Italian shoes, of course.