It is often said that the most important day of a woman's life is her wedding day. The thought of her wedding, exciting as it is, is also one that brings with it a lot of nervousness, especially when it comes to her attire. She must shine and sparkle, for she will be the cynosure of all eyes. So her Wedding dress is the most important part of her wedding planning, and one that takes the most time to execute. Bridal Lehengas are the most popular wedding dress for Indian brides to look more beautiful in their wedlock.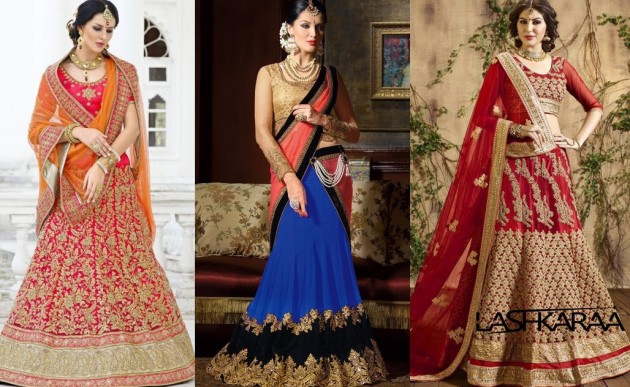 Lehenga is a Perfect Choice for Indian Brides Wedding
Lehenga choli remains the outfit of choice for the majority of Indian brides, wherever in the world they may be. Lashkaraa- an exclusive Indian ethnic wear e-retailer promises to fit the bride-to-be with the most exquisite and beautiful lehenga choli that she can dream of and more. Using rich fabrics like silks, chiffons, georgettes and jacquard to fashion exquisite bridal wear of unique and tasteful designs, Lashkaraa lives up to its name, which literally means to 'shine' or 'sparkle'.
The wedding collection lehenga choli sets on Lashkaraa's easily navigable website showcase vibrant colours, exquisite embroideries and lace, and fabrics that will last a lifetime. Traditionally Indian brides have been attired in the colour red. It still remains a favourite with many; however, the new and contemporary Indian bride is pluckier in her taste, even radical at times and no colour is off limits. A taste of what Lashkaraa has to offer can be taken from some of the beautiful options available.
10 Stylish and Eye Catching Bridal Lehengas for You
Red and Gold Embroidered Lehenga
The Red and Gold Embroidered Lehenga in net fabric with beautiful zari, sequins and stone work and a chiffon dupatta is very appealing. Its beautiful choli is truly regal and will appeal to a woman of classic taste.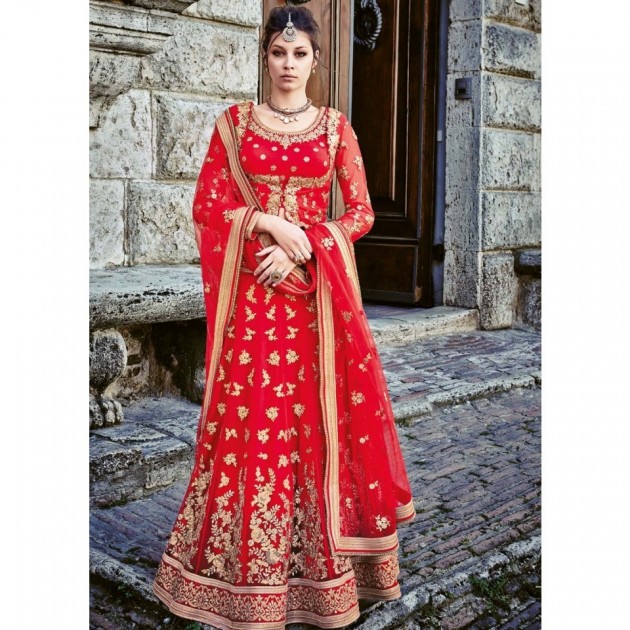 Beige and Red Shaded Net Kali Lehenga
The Beige and Red Shaded Net Kali Lehenga Choli uses rasal and jacquard fabrics for the lehenga. The raw silk blouse and chiffon stone work dupatta complete this interesting set.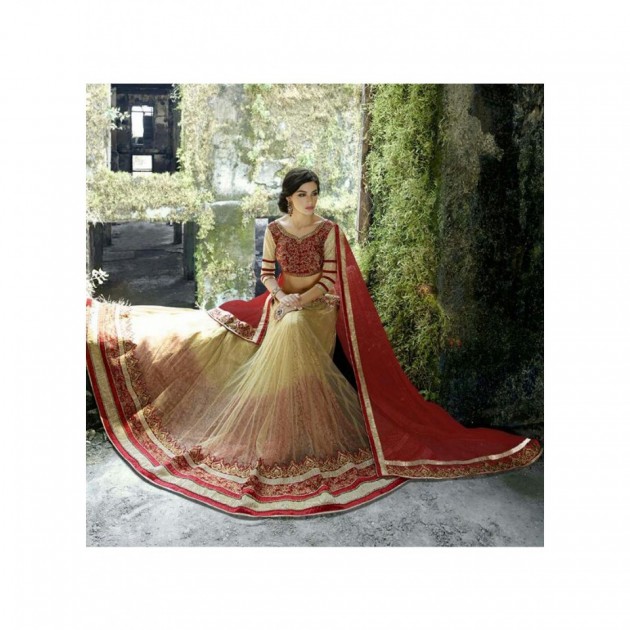 Wine and Pink Coloured Lehenga
The Wine and Pink Coloured Lehenga is simply gorgeous with its Kali embroidery, the Gota sequinned blouse and a pink georgette pallu. The plunging heart shaped neckline is tantalising but beautiful.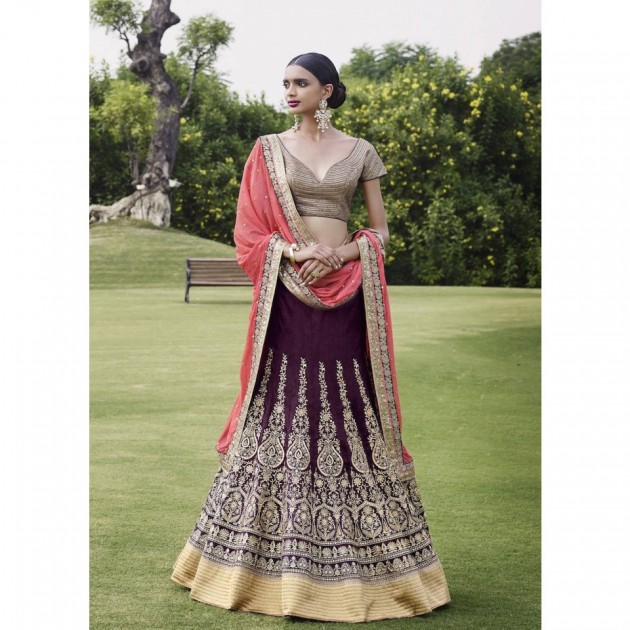 Maroon and Golden Cream Net Lehenga
The Maroon and Golden Cream Net Lehenga Choli is an interesting combination of net lehenga, viscose jacquard inner blouse and a chiffon dupatta with stone work.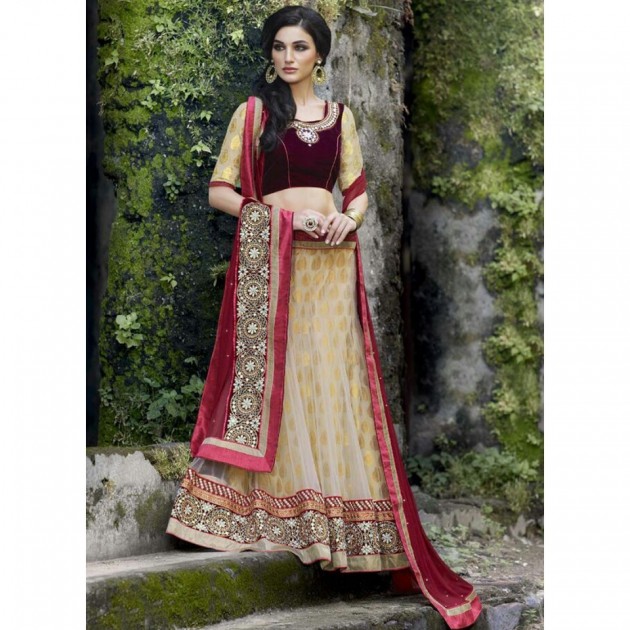 Pink and Gold Georgette Lehenga
The Pink and Gold Georgette Lehenga is a promise of everything that is enticingly feminine with its hot pink embroidered georgette lehenga, a lovely gold and pink blouse and a hot pink georgette pallu with divine embroidery.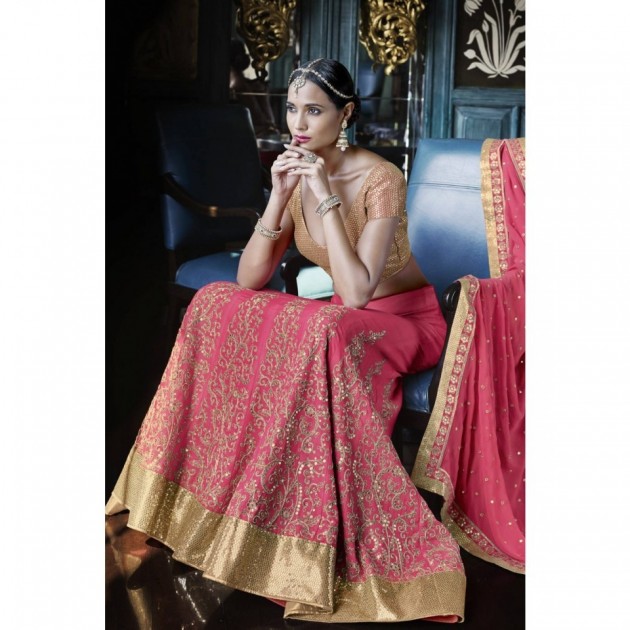 Maroon and Beige Velvet Embroidered Lehenga
The Maroon and Beige Velvet Embroidered designer Lehenga is for the woman who loves rich and deep fabrics and colours. She won't be disappointed with the heavily embroidered maroon lehenga in rich velvet. The blouse is a unique combination of velvet and jersey and the net embroidered pallu completes the look.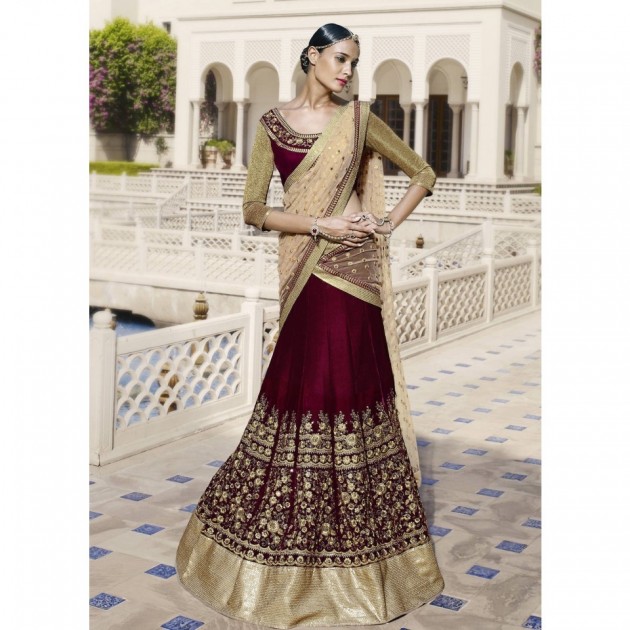 Orange and Gold Embroidered Net Lehenga
The Orange and Gold Embroidered Net Lehenga is eye catching, in both colour and design. The net lehenga has beautiful and regal Kali work. The blouse is textured with sequins and the dupatta has scalloped lace edgings. Truly a gorgeous lehenga choli!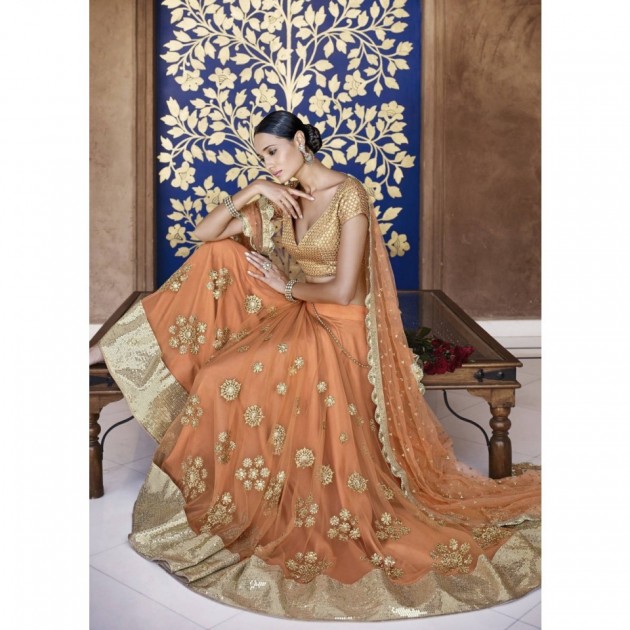 Heavy Red and Golden Net Embroidered Lehenga
The Heavy Red and Golden Net Embroidered Lehenga is a true blue classic with its net lehenga with heavy golden embroidery on it, santoon inner, net blouse and chiffon dupatta. The beautiful gold coloured blouse is the right blend of tradition and sensuality and the gorgeous dupatta finishes the look.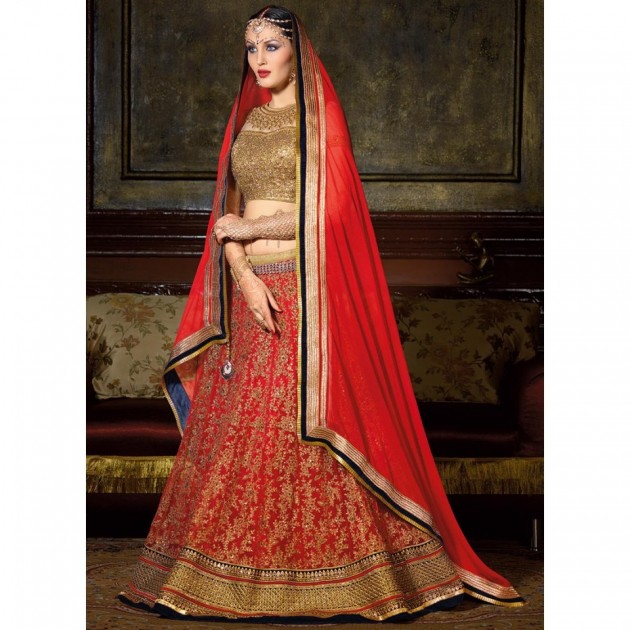 Orange and Red Heavy Embroidered Lehenga
The Orange and Red Heavy Embroidered Lehenga has the touch of Rajasthan royalty about it. Georgette dupatta in orange with blue and green accents in its embroidery- this is one lehenga that screams "princess" in its contours.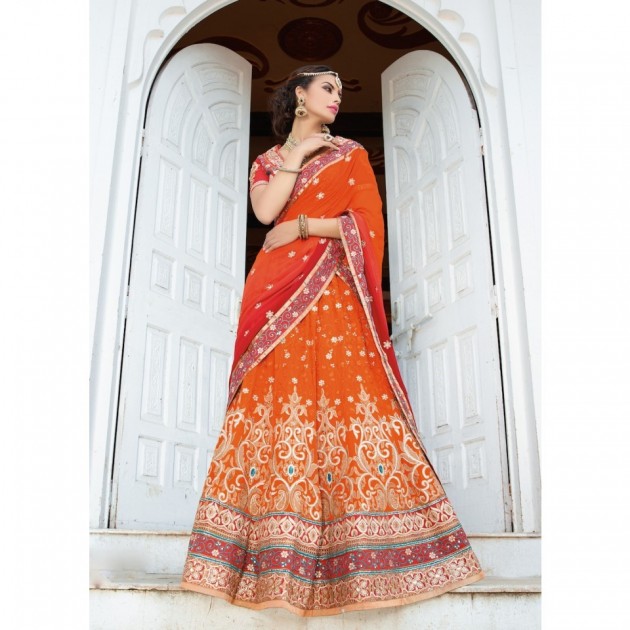 Shaded Magenta and Orange Lehenga Choli
The Shaded Magenta and Orange Lehenga Choli is very beautiful with its pure georgette fabric and a chiffon dupatta and zari, zarkan and sequins embroidery work. The orange and magenta lehenga, gold choli and orange dupatta embodies fieriness (orange) and grace (majenta).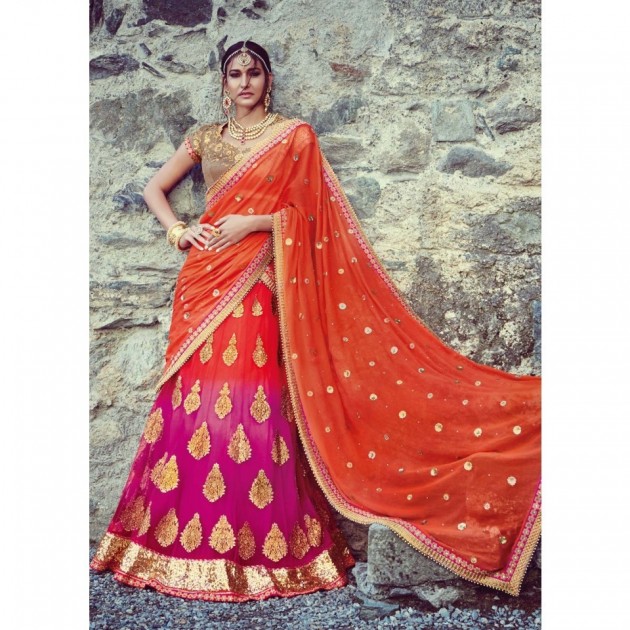 Stunning Bridal Lehengas at Lashkaraa
Lashkaraa is heaven sent for brides-to-be. The website is very easy to navigate. Each item is well described and what's more- for a very little price they will do bespoke tailoring of the blouse or lehenga for you. They give free shipping for orders above 50 USD (approximately 3500 INR) and they ship worldwide. The Lehengas are beautifully designed from the best fabrics and embellished with traditional Indian embroidery forms like Zari, Gota and Kali work, amongst others. The best part is the price, which is jaw-dropping competitive.
So head to the Lashkaraa website and I can promise you, if you are a bride to be, you will want to dress yourself up in one of these beautiful sets (a warning: you may want more than one!). If like me, you are already married, you may consider marrying again, if only to wear one of their creations.
About Author: Bhakti Goswami is a content writer/blogger at Lashkaraa.com. She enjoys keeping up with the latest trends of Indian fashion & make-up. In her time off, she enjoy catching up on her favourite Indian serials with a cup of chai.
Connect with us for New Collection: Facebook | Twitter | Google+ | Pinterest | Instagram
PIC of Bhakti: