Hey my beautiful ladies! Are you ready for new DIY projects? Today, I am bringing to you 15 Inspiring DIY Projects That Use Lace. Lace isn't just for wedding dresses and lingerie – it's actually an awesome, stylish material that you can use to make romantic jewelry, to jazz up your sneakers and pumps, or add a little flirty femininity to a pair of denim cutoffs.
So, take a look at the pictures below and choose your next DIY lace project. They are so easy to be done and won't take much from your precious time. Just follow the step-by-step tutorials, or the link under the pictures to get you to the full tutorial.
DIY Lace Converse Sneakers
DIY Lace Necklace
This simple lace necklace is featured as a wedding necklace, but could be a lovely addition to your everyday outfit! Easy to make using a piece of lace and a necklace chain all from your local craft store.
DIY Lace-Back Pumps
DIY Lace Earrings
These incredibly lightweight stiffened lace applique earrings can be personalized to fit any wedding theme… and can be worn long after your special event!
DIY Lace Trim Shorts
DIY Lace Sleeve T-Shirt
DIY Lace Headband
Compliment your outfit with this sweet lace headband.  It's soft, stretchy and very comfortable to wear.
DIY Lace Shorts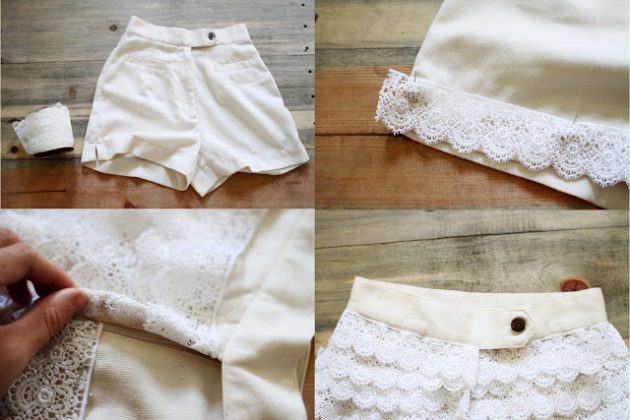 DIY Lace Slip-on Sneakers
DIY Lace Jeans
DIY Lace Insert T- Shirt
The steps I will share with you are suitable for any other clothing article you want to refresh and also with any other shape, not just the half moon like this one.
DIY Black Lace Earring Holder
Perfect for earrings with backings and hanging earrings. The fabric is soft and pretty, and won't damage your jewelry. Also will look so pretty hanging on your wall!
DIY Lace Tipped Scarf
This is great way to dress up a scarf you already have, using found pieces of lace or doilies from the flea market.
DIY Lace Insert Tank
DIY Lace Panel Purse
What a cute way to update a basic bag!
Have you made anything using lace? Share your projects with us via Facebook! Thank you for reading and don't forget to stay up to date with the content of Fashionsy to find many other DIY fashion projects that you can try to do in your free time.