You will need to shave while you're on a business travel that includes conferences and meetings with partners. Personal trips which last more than a week will make you feel the need to shave at least once. So, the question arises: should you take your own safety razor or just rely on the local market?
Your razor must be kept safe so that it can be safe for usage. Local products might not suit your complexion, or you might irritate due to substances it contains. If you know how much you've struggled to find a safety razor in your local shop, then you have one more reason to consider a safety razor case. We have comprised a shortlist of the best safety razor cases you can purchase online or from regular stores.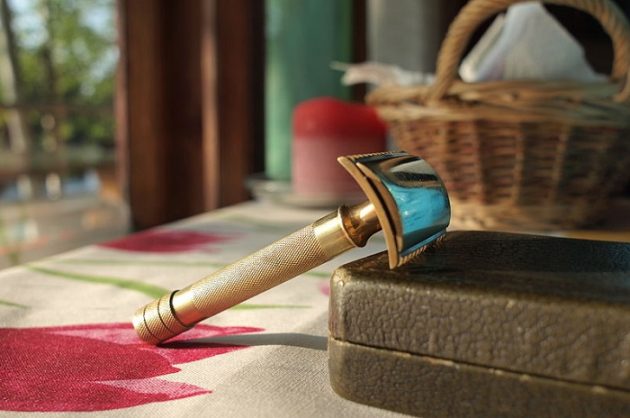 The Winning Safety Razor Cases Available in 2018
Double Edge Zippered Safety Razor Case
The best reviewed safety razor case award goes to a double edge product. Buyers appreciate it so much that it's almost out of stock on Ebay. This Parker razor case fits all standard safety razors with handles up to 5 inches long. It looks classic and premium and it should last for more than one or two years.
Customers praise the craftsmanship of the razor. Producers guarantee that it's hand stitched with genuine YKK Zippers and a secure snap-tongue. This razor case completely isolates the razor once it is closed. It also occupies little space in your luggage.
Brown Leather Safety Razor Case
West Coast Shaving (WCS) has developed a brown leather case shaped as your safety razor. Customers have rewarded the product with five-star reviews. They also confirm that the holder fits most standard safety razors, especially Gillette products. Original products have the WCS logo embossed on the back of the case.
This product features two types of fine leather. The interior lining is soft, to protect your safety razor from any damage. The outer layer includes a second protection leather texture which is deep brown. It fits in any travel bag, including a small one.
Godfather Safety Razor Case with 5 Super Blades
Swedish brand Vikings Blade has created a premium complete product that successfully passed all quality controls. The set includes a safety razor and 5 platinum-coated blades you can then replace. Over 800 Amazon customers ranked it with 4.5/5 stars. You get the set with an international lifetime warranty against manufacturer errors.
Producers announced they only use premium material and leather for their box-shaped case. This luxury product surprisingly includes unbranded blades. The razor head also features a microcomb system that helps you prevent accidental cuts.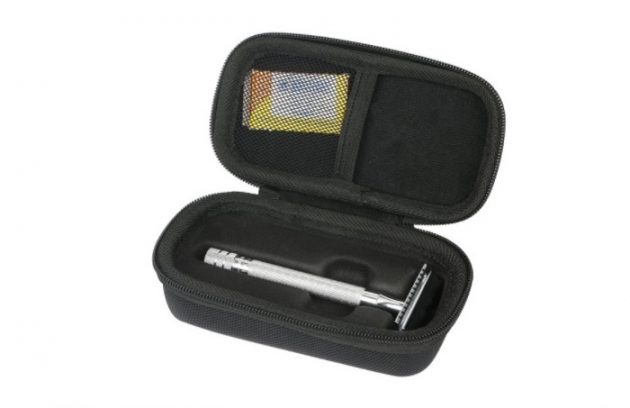 Long Handle Safety Razor Hard Case
Khanka store has taken its high-quality products to an upper level by creating a special case for your Merkur razor. The hard case is made of premium material and includes a soft interior for your shaving products. It even has a zipper for blades and accessories. Customers appreciate this accessible and durable product by rewarding it with 5 stars.
The zipper is convenient for safety razor isolation. Moreover, the case has a handle to increase its portability. While on travel, you can place this add anywhere in your bag together with other tools.  
Genuine Leather Double Edge Safety Razor Protective Case
The brown Luxspire case is light and portable and protects the razor from being exposed to other items from the luggage. Customers appreciate its quality and the suitability with Merkur, Gillette and Parker (up to 4.5-inches) products.
The classic design of the case is thanks to high-grade genuine leather. Luxspire representatives claim that this case prolongs your safety razor's working life. The product also has a tight closing system that protects your case and luggage from accidents.
Travel Shaving is Convenient
The above products are durable and efficient while you're traveling. You can protect your luggage and safety razors just by finding the right case for your razor. Your case should last for at least one year. So, consider it more of an investment when planning your budget. Safety razor cases are convenient even if you're not a traveler. You can take them to the gym or the pool for a quick shave. To make the most of their quality, remember to remove the razor blade from the case once you get home.
Shaving while on a personal a business travel might turn out to be as convenient as it is back home. Having your regular razor blade with you allows you to have a safe and quick shave. Online stores also offer razor had protection cases, if you're on a tight budget. You can also purchase complete travel kits with brand new razor blades. How do you carry your safety razors while traveling? Share your ideas in comments!