Have you found those warm and cozy clothes that you adored to wear the previous fall? Hmm… Getting dressed in can be a real challenge, especially in fall when we are dressing in layers. It doesn't matter how many clothes you have, if you don't know how to put them together. Take a look at your closet – you probably have stuff that is only taking place… or wait… with a small dose of creativity, you can wear all that clothes in so many stylish ways.
For today, I have made you a very interesting post that is called 5 Must-Have Pieces to Complete Your Outfit This Fall. Let's check them out!
#1 Jacket
To celebrate the cold weather coming our way, here are some interesting jacket designs that are going to be popular this fall.
Why limit yourself to one jacket, when you can have all four designs. You can make very stylish combinations with each one. Which design do you like the most? The bombers are sleek and refined and you can wear them with casual clothes, while the furry coats look very glamorous and you can match them with more elegant and sophisticated pieces. If you go for suede coat, you can match it with suede boots or bag.
#2 Boots
Girls, if you thought that you will finally wear your ankle boots, I need to disappoint you because they are not trendy anymore. The midi boots are having a moment and are one of the hottest fashion trends this fall. These boots look stunning when combined with a midi skirt. On Stone Creek you can find boots from many brands, like Puma, Lacoste, Mojito, etc.
#3 Scarf
The scarves have appeared as a staple accessory on the runways, completing every outfit. We have seen them in a super silky as well as in a super slim design. The truth is that they have made a huge comeback. So, hurry up and add a touch of femininity and elegance to your dresses, shirts and coats.
#4 Jewelry
What kind of jewelries are going to be trendy this season? Single earrings, drop earrings, geometric necklaces and breastplate necklaces are having a moment.  The original key necklaces for women look very cute and you can wear it with almost everything. Did you know that you can make the simplest outfit look amazing with a key necklace? I really like the necklace below.  You can style it with a simple white shirt and mustard, turquoise, gray or black classy pants. If you are jewelry-lover, you can visit UNOde50 online store and see their beautiful handcrafted collections. They produce 50 units of each design. So, hurry up and visit their store.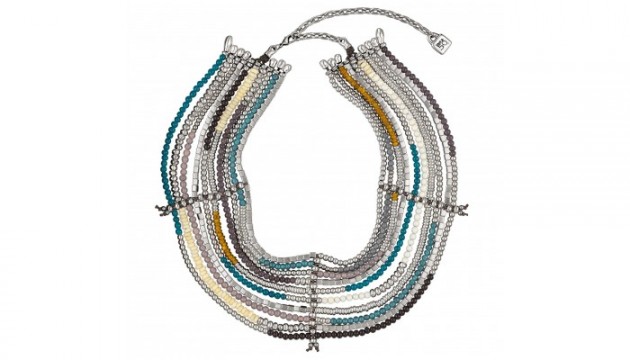 #5 Bag
Furry bags, easy to grip, cross body and belt begs are going to hit the streets this fall season. You know that a bag can change your outfit on good, So, hurry up my ladies and refresh your outfit with one of these amazing bags.