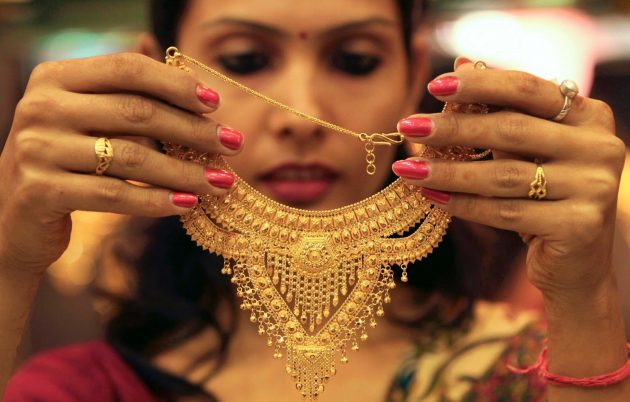 Necklaces have known to adorn women's neckline since ages. It adds so much to a woman's ensemble without getting in the way of any chore. You can flaunt your neckline in necklaces as well as your face!
The interesting thing about gold necklace designs is their variety. Here are some of them in simple words for you –
Choker Necklace – A choker necklace sits on your neck firmly. Choker necklaces have become increasingly famous because of movies. A choker necklace looks very classy yet is super easy to maintain. No wonder, millennials love to add this to their traditional outfit like saree, lehenga, etc.
Lariat Necklace  – Lariat necklaces are those pretty dainty necklaces that just adds to the style quotient without weighing the wearer down. Lariat necklaces are famous for not having any traditional locks; rather in this type of necklace one end of the necklace is fastened onto the other. Often, the design extends beyond the knot.
Collar Necklace – Collar necklaces are those that sit tight at the base of the neck. These necklaces are quite neat and make a stylish statement on their own. The beauty of collar necklaces is, these can be a simple thin design or a broad one. If you have a detailed huge collar necklace in your mother's stash, you might consider pairing it up a simple outfit.
Rani Haar Necklace  – Rani Haar is another traditional necklace that's worn on special events only. These are quite bold and loud and can be sported as a statement piece. Rani Haar can be found in an all gold design or studded with precious gemstones and uncut diamonds. Also, if you are planning to wear a rani haar, make sure you keep it exclusive and avoid wearing any additional neck jewellery.
Pendant Necklace – Pendant necklaces are those pendants that come with a chain along with the pendant. For gifting purposes, pendant necklaces are just the right option for you. These are mostly simple designs suitable for everyday wear to the place of work or casually.
Rope  Necklace – Rope necklaces are the simplest amongst the lot. As the name suggests, rope necklaces are just like a rope i.e. they are a single chain that may or may not be studded. A simple rope necklace makes classic daily wear that can compliment literally anything you wear on an everyday basis. A studded rope necklace makes a good pick for occasions when you want to highlight your clothes or any other jewellery.
Layered Necklace – Layered necklaces are mongst the grandeur designs that have more than a single thread in its design. This design is very heavenly and can range from short length to long ones. These are mostly simple gold chains with minimal studding. These are perfect for parties, wedding, etc. These also make a great anniversary gift for your better half.
Necklaces are one of the most gorgeous pieces of jewellery for women can have in her closet. Which category is your favourite? Let us know in the comments.