Even for the most seasoned fashionista, choosing the right pair of leggings can be a daunting task. You need to get the fit right, otherwise you end up with unsightly bulges or poor blood circulation.
With so many different types and designs to choose from, it's hard to make a confident purchase. We understand the dilemma, and we're here to help. Below are 7 valuable tips to remember when shopping for leggings online or in your favorite boutique.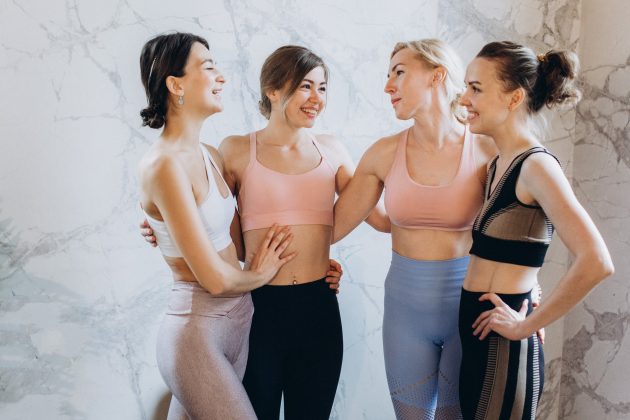 1. Look for a flattering yet comfortable fit
Be careful not to choose leggings that create dimples in your legs when worn since these may impede proper blood circulation. Similarly, if the leggings hunch over your knees, they're too loose. The perfect leggings should be somewhere between the two.
2. It's about balance
Leggings look stunning when layered under a skirt, shorts, or dress. If the material of the leggings is thin, you can try pairing it with heavy fabrics to achieve more texture. Patterned or brightly colored leggings look best with simple or neutral-colored tops. If you prefer wearing patterned tops, then a simple pair of leggings can complement your look.
If you're looking to buy sleek jeggings, pair them up with flowy sweaters, blazers, or even vests.
3. There's something for every person's budget
There are plenty of options when it comes to affordable and functional leggings for women. If you're looking for something more high fashion for special occasions, you can easily find those, too.
It's easy to get swayed by that charming sales lady telling you how the most expensive pair of leggings in the boutique accentuates your legs, but that may cripple your budget for more important things. Also, there's no shortage of beautiful leggings under $20, so there's really no reason to overspend.
4. Choose the material according to your intended wear
Leggings for exercise should be made from a material that doesn't absorb moisture as much, such as nylon, polyester, and spandex. These 3 are all synthetic types of material that can keep your skin dry while you jog, cycle, or do some weight lifting.
The climate in your area should also affect the material of your leggings. If it's mostly hot, choose light and breathable fabric. You can also have a thicker pair of leggings for cold weather, but most people ditch leggings in favor of pants during the winter season.
5. Pay attention to the length
The length of leggings can generally be divided into three types: full length, Capri length (also known as quarter length), and ankle length.
Full-length leggings typically extend to the bottom of your leg and provide great insulation for exercising in cold weather.
Capri-length leggings are great for their mobility and breathability. They're a popular choice for gym-goers and cyclists, but they're also great for casual wear or paired up with dresses.
Ankle-length leggings are also known as ⅞ length leggings and they extend until just above the ankle or somewhere below your calf. They also provide great coverage while leaving room for the area around your ankles to breathe, preventing your feet from getting too sweaty.
The upper part of leggings also varies in height. High-rise leggings, for instance, start at or above your belly button. Mid-rise leggings hit below yet still close to your belly button, while low-rise leggings start a few inches below your belly button.
6. Know the different types of stretch
Leggings are usually made from fabric that is either two-way or four-way stretchable.
Two-way stretch fabrics are those that can recover when stretched from side to side. For optimum durability, however, you'll want to choose a pair of leggings that allow for four-way stretching.
Four-way stretch technically means the fabric can stretch and recover on both its lengthwise and crosswise grains—adding up to four-directional stretching. Leggings made from a fabric with a four-way stretch means it will retain its form better and longer. One example of a material that allows for a four-way stretch is Lycra.
7. When in doubt, check for reviews
Reviews are usually more revealing than product descriptions. For example, a pair of leggings may be advertised just for casual wear but many of the customers also recommend them for working out. As much as possible, you want to make your purchase count, so don't forget to do your research.
The process of choosing the perfect pair of leggings varies according to many factors, including what you'll be wearing them for. If you want to get the best bang for your buck, carry out a comparison of the different types, designs, and most especially, prices.