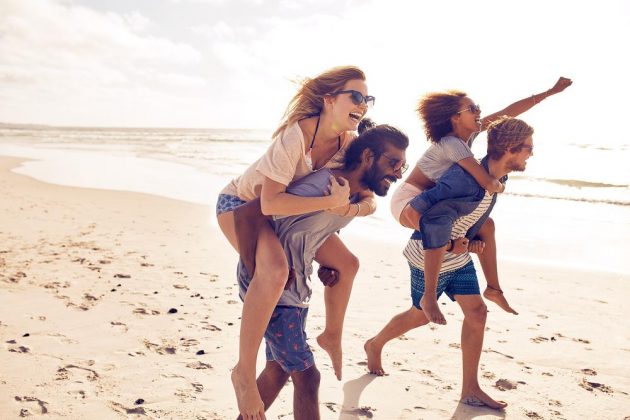 Beach. Boat. Tacos. Repeat. That's our summer mantra, at least. And, if you're livin' the coastal lifestyle like us, your summer routine is probably pretty similar. Even though summer is a time for relaxing and hanging with friends, we tend to find ourselves rushing from one activity to the next with little time for a wardrobe change in between.
There's nothing better than spending the day at the beach, then hitting up the nearest outdoor brewery or taco joint for some food and a margarita or two. Or three. We'll see how the day goes. But you can't just waltz into a restaurant in your beach attire, so take our advice and check out some of these post-beach outfits you can slip on over your swimsuit and still look great.
2019 Summer Fashion Trends
Before we dive into what to wear post-beach trip, let's review some of the trends we're going to be seeing a lot of this season.
For Men
All Hail the Chino Shorts
Chino pants have long been a staple of men's professional wardrobes, but chino shorts are now making their way into the realm of beach clothes for men, though you probably won't want to wear them while body surfing the waves. Keep an extra pair in your car for those days when you just can't handle sitting in a wet bathing suit while your friends talk you into "just one more drink" at the beach bar. Naturally, active shorts are the perfect post-beach option because the quick-dry fabric makes it easy to go from a day by the water to a night out on the town.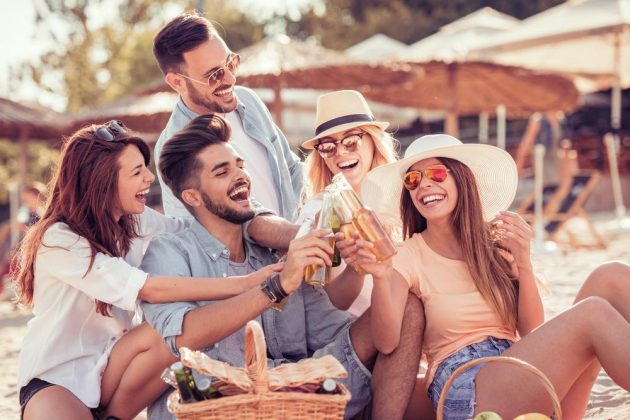 Pastel Is Trending
Nothing's more attractive than a man with confidence—and confidence shines through when you take fashion risks. Guys everywhere are packing away their boring neutral-colored shorts and tees and embracing more pastels. From pink to yellow to blue, pastel shades are major players in men's fashion this spring and summer, and the beach is the perfect place to show off your colorful attire.
  Rock the Patterned Swim Trunks
When it comes to swimwear, the funkier you are, the better. This is one area of men's beach clothes where you can really get wild with it. Everything from bandana patterned trunks to shockingly bright shades are in. The days of long swim suits are over. Instead, go for a pair of swim trunks that fall just above the knee—or higher if you really feel like showing some skin.
For Women
  Flowy Summer Midi Dresses to Catch the Breeze
Sundresses never go out of style in the summer, but the midi summer dress is getting some attention this year. Mini dresses had their moment in the spotlight, but, now, we're embracing the more conservative look of a midi, which usually falls at the knee or below. In the summer heat, dresses of any length are essential to staying cool, but midis are awesome because they come in so many different styles.
Find a midi with a short slip and a sheer top layer to let your beach-bronzed skin peek through. Or, add a seersucker midi with a unique neckline to your wardrobe. The beauty of the midi is that you can wear it as beach clothes over your swimsuit or show it off on a fancy dinner date.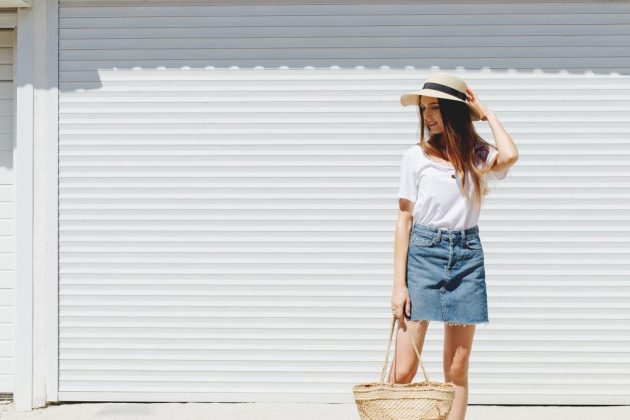 Denim Skirts Are Hot
Every fan of 90s fashion has been waiting for the denim jean revival. This throwback look has been gaining popularity in the last year, and 2019 is saying "Yes" to the dress. Well … the skirt, but you know what we mean. Jean skirts are here to stay, and why not? They're stylish, comfy, and easy to slip on over a bathing suit after a day at the beach. You can dress a denim skirt up with a funky blazer or throw one on to go with your other beach clothes.
  Stand Out in a Seersucker Bikini
As we say in the south, seersucker over everything. Seriously, seersucker is ESSENTIAL during a Southern summer if you want to stay cool, and now this fabric is making an appearance in swimwear. Woot woot! We're into it.
Post-Beach Outfits
  Sports Shirt with Shorts
Now that you know what's up with fashion this summer, it's time to pick out your men's beach clothes. Your go-to outfit post-beach should be some combination of khaki shorts and a sports shirt. Sport shirts are the cooler, more laid back brother of the dress shirt. Some are even tricked out with technology to keep you cooler (I am talking sweat-wicking, super breathable, and sun protection fabric).
  Fun and Flirty Casual Sundress
And for women, we'll never stop recommending a sundress as the post-beach outfit of choice. How annoying is it to slip your wet bathing suit bottom into a pair of stiff jean shorts after swimming in the ocean? Even softer fabric shorts can be frustrating because they soak up the water and leave you sitting in a wet bathing suit and wet shorts. With a summer dress, your suit will dry quicker, thanks to the breezy design, and you'll look super cute. Especially with those perfect post-beach waves in your hair. Thank you very much, saltwater.
With these fashion tips in mind, you'll be turning heads everywhere you go from lounging beachside to grabbing drinks with your crew. Just remember, it's all about finding the perfect balance between comfort, ease and style. We know you'll nail the look.