A suitcase stuffed with possible outfits is not only a heavy hassle to carry around, but the weight of your suitcase can cost you at the airport and add extra baggage to your travel plans. Fortunately, it's possible to pack light and look stylish while on vacation with a bit of pre-planning. Check out these tips to keep your suitcase as lightweight as possible without sacrificing your fashion sense on vacation.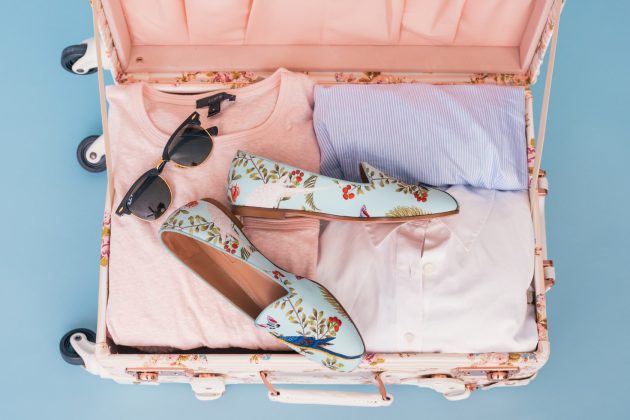 Start With the Basics
From vacations on cruise ships to getaways in winter wonderlands, think about the weather and your potential activities when you arrive at your destination and let that determine what your basic day-to-day wear should look like in order to be both cute and comfortable while on your trip.
As you pack, put at least a few pairs of pants or shorts into your suitcase that can be used interchangeably with different basic tops for varied looks. Make sure you bring plenty of underwear, socks, a jacket, sleepwear, swimwear or winterwear and other essentials for excursions you have on your itinerary.
Coordinate Colors
In order to give yourself as many options for outfits as possible, choose a coordinating color scheme for all of the pieces you put into your suitcase. Neutrals and basic colors work best, but any matching colors will allow you to create a larger variety of looks with a smaller number of pieces.
Think, as well, about the general vibe of your destination when you select colors for your outfits. Black pieces may work well with the outfits you select, but they could cause you to become overheated if you're headed to a tropical destination.
Think in Layers
You can save suitcase space, as well as some valuable time each morning as you get ready on vacation, when you pack with the potential for outfit layers in mind. Start with a few basics such as t-shirts or tank tops and a pair of bottoms and work outward, thinking of ways to layer sweaters, button-down shirts, cardigans, coverups and any accessories such as scarves, hats or jewelry.
This not only provides you with a few more outfit options, but it helps you to better plan for weather disruptions or hiccups should it be a little warmer or cooler than you had anticipated when you finally touch down at your destination.
Minimize Shoes
Shoes often make an outfit, but it's better to bring only two to three pairs on your trip to save space. Rather than try to find pairs of shoes that will suit every situation and every outfit you pack in your bag, look for a few pairs that can work in multiple settings and won't leave you with blisters or sore feet at the end of a busy day. As a general rule, choose a good walking shoe or boot, a more fashionable pair for night's out and a pair of athletic shoes for workouts and other activities.
Pare Down Accessories
Accessories are one of the most important elements of a fashionable outfit, but you don't need much to make a big impact. If you wear jewelry, pack just a few statement pieces that will elevate your outfits without taking up too much space in your luggage. As well, consider bringing just one or two hats that can be worn on the more sunnier or colder days of your trip.
Pack at Least One Exception
If you have a fancier event to attend, or think you might spend at least one night out on the town at a more upscale restaurant, pack an outfit that may not be as versatile as your other picks but would work in a dressier setting. Be wary of packing too much in this category, as you don't need a lot to look more put together for a special occasion.
Just a simple slip dress, a pair of slacks and a button-down shirt, a sleek blazer or an elegant jumpsuit won't occupy a lot of space in your suitcase, but can really take you from day to night with one quick change.