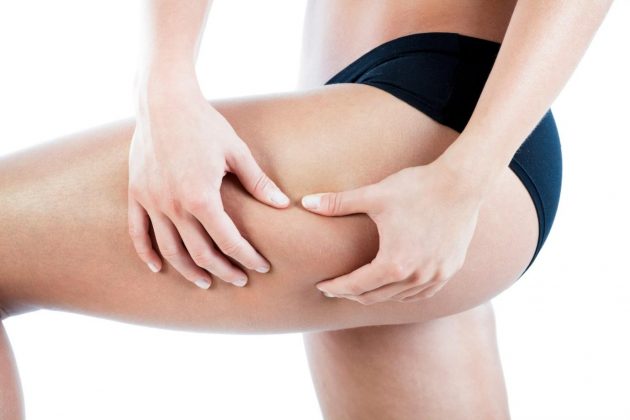 If you've been blessed with thick thighs, you've probably encountered certain challenges when shopping for pants and jeans. Styles and fabrics that squeeze all the wrong places, unflattering bunching, and that dreaded waistband gap are common problems in the fitting room when you've got a curvier lower half. 
But you don't have to struggle any longer. There are plenty of styles of pants and jeans that let you show off what you've got while staying comfortable, too. Read on for some tips on how to choose the best pants for your body type. 
The Best Pants for Thick Thighs
Finding the right pants or jeans for your body type is easy if you just keep a few styling tips in mind. Overall, you want a pair of pants that will show off your shape, not bulk you up or squeeze the life out of you. Certain details of cut and color will help you find the perfect look. 
Straight Cut
Straight-cut pants and jeans are a great option for balancing out bigger thighs. They create a long, lean silhouette by skimming straight down from hip to toe. There are plenty of styles of jeans that fit into this category, so you've got a lot of options. 
Classic straight-cut jeans, for example, are similar to the look of skinny jeans, but they give your legs a little more room to breathe. Boyfriend jeans can look great, too. They have a more relaxed fit while still creating that long line from your hip to your toe. 
Whatever straight-leg pants you choose, you'll generally want to look for longer styles that reach at least to your ankle or even the floor. These will make your legs look longer, especially if you pair them with a heeled shoe. The illusion of longer legs helps to balance out wider thighs. 
Flared 
Flared jeans and pants can look great on thick legs, too. They help to balance out wide thighs by drawing some attention to the lower legs. Classic flares, bootcut, and even wide-leg pants work well for this body type.
As with straight-leg styles, you'll want to look for pants that are also long enough to make your legs look longer and slimmer. And make sure you're getting the right fit. Flared pants that squeeze too much at the thighs are not going to be comfortable and can make you look wider. 
Solid, Dark Colors
Pants and jeans in a simple, dark color or wash are best for thick thighs. A darker color helps to slim the area.
Steer away from pants with a lot of extra embellishment or details at the thigh area. Jeans with a lighter wash or distressing at the thighs are a no-go as well. Those things will just draw more attention to the area. 
Stretchy Fabrics
A little extra stretch is a must for those of us gifted in the thigh and booty departments. Look for jeans with a little bit of Lycra, elastane, and polyester. This will ensure your jeans have a little extra give while still keeping their shape.
You don't want too much stretch, though. Pants that are too stretchy can lose their shape, which isn't a flattering look. And make sure the fabric is thick enough or lined to keep you fully covered. 
Natural Waist
Jeans and pants that sit at your natural waist are very flattering for thick thighs. As a pear-shaped woman, you probably have a slender waist, and natural-waisted jeans help to show that off.
Low-rise jeans and pants can often fit a bit awkwardly or try to work their way down throughout the day. High-waisted styles can help to make your legs look longer, but if you have a short torso, they can visually cut you in half and actually make your thighs look wider. 
A Well-Fitting Waistband
Finding pants that fit both your thighs and waist can be a real struggle. Curvy girls everywhere know the frustration of finding pants that look great on your legs only to find that you've got several inches of room at the waist. 
The best way to avoid this is to look for styles with a contoured waist. This means that the back of the pants sits higher than the front. A contoured waist will hug your shape, making sure your bottom is covered without drowning you in excess fabric. 
Styling Your Upper Half
When it comes to dressing thick thighs, there's more to looking your best than just the pants you choose. You're going to need the perfect top and accessories to pull everything together. Here are a few ideas to think about when styling your outfit.
Show Off Your Waist
If you've got thick thighs, you've probably got an incredible waist. Show it off with tops that emphasize it or waist-cinching belts. You might be tempted to camouflage your lower half with long, loose-fitting tops, but resist the urge!
Tops that are too big make you look wider, especially if they end at your hips. Your hips and upper thighs are the widest part of your body, so drawing more attention there will make you look wider overall. Draw attention to that tiny waist instead!
Light Colors and Details
A light-colored top can help to draw attention to your upper half, which balances out the proportions of your lower half. This is especially true if you're wearing dark pants or jeans. 
You can also look for tops that have ruffles, interesting necklines, and other details. Keep it simple on the bottom, but have fun with the top. 
Statement Accessories
Another way to draw more attention upward is with fun jewelry and accessories. Try an eye-catching statement necklace or dangly earrings to bring attention to your face.  
Find Fashion You Love
Great fashion is all about finding styles that make you feel amazing. Did this article help you find the best styles to flatter thick thighs? Keep browsing our website for more fashion and beauty tips to help you rock your perfect look.