FaceTime, Zoom, Google Hangouts—whichever video conferencing app you're using these days, you obviously want to look your best on-screen. Not because you're vain, but because you're smart enough to realize that it's your professional image at stake. And while some video conferencing apps do come with nifty filters that can make you look slightly less haggard for that 7:30 a.m. meeting (which is absolutely criminal, but we digress), they can only do so much to boost your appearance on camera.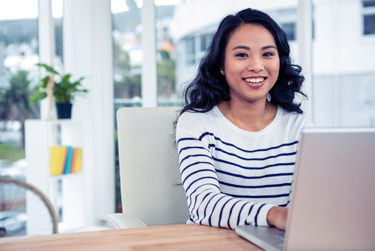 Luckily, there are a few simple tips and tricks you can use to start looking better on-screen. Need some pointers? Read on for how to look polished and put-together for your next video conference call.
Invest in a Decent Webcam
OK, first things first: order a better webcam ASAP. The low HD on your computer's basic webcam probably isn't doing your skin any favors. If you're tired of looking washed-out on-screen, an external webcam with better image quality and light correction technology can do wonders for your skin. It won't magically give you the luminous skin of a dewy goddess or anything (see: our skincare tips further down), but a good webcam will help you look a thousand times better on camera. A mid-priced model will run anywhere from $50-$175, depending on the features you want. If you're going to be working from home for the foreseeable future, we promise it will be well worth your while!
Nix the Pajamas
We know, we know. There's something rebellious and freeing about wearing pajama bottoms on a video conference call. Since your colleagues will only see the top portion of you, there's no need to bother with a complete outfit, right? Wrong. You're one coffee spill away from major embarrassment—or worse, getting canned.
We're not saying you need to dress to the nines for a video chat or anything like that. All we're saying is that you can wear cute and comfy clothes without looking like you literally just rolled out of bed. Case in point: stylish leggings and a workout top. If your office dress code is fairly relaxed, no one is going to bat an eye at you rocking some stylish athleisure wear on a video chat. Your coworkers will naturally assume that you're going to work out after the call. The same can't be said for your pajamas, can it?
Avoid Distracting Prints and Patterns
You want your colleagues to focus on what you're saying on a video conference call—not what you're wearing. With that in mind, be careful about wearing clothing with patterns, as these can be distracting to your colleagues. Solid colors are your best bet, especially if you choose colors that complement your skin tone. While you're at it, be careful about wearing bright colors—especially red! There's something about bright red that rarely looks good on a webcam. If you want to get the look just right, consider testing out different casual t-shirt colors on your webcam. Just make sure you don't accidentally call anyone!
Level Up Your Skin Care
A good webcam can definitely make your skin look better, but let's be real—it's not a miracle-worker. If you want to get rid of the dark circles under your eyes or the blemishes on your face, you need to stock up on a few glow-enhancing products. A gentle facial cleanser and a good moisturizer can help restore balance to your skin and give it a dewy, camera-ready glow. If you have dark circles under your eyes, splurge on a peptide-packed eye cream or a dark spot corrector to combat the problem. Another pro skincare tip: use clay masks once a week. Clay masks come with a slew of skin benefits that can help you achieve radiant skin for your next video conference call.
Find the Light
Spoiler alert: no one wants to talk to someone who is half-hidden in shadows. You want to be engaging on camera, and for that to happen, you need to be properly illuminated. Although a good webcam can help control lighting to some degree, you'll still need to find your light source and position yourself accordingly.
First and foremost, don't sit with your back to the light source. This will ensure that your face is completely hidden in shadow. Instead, find a window with natural light and make sure that you're facing it. Want a light source that is easier to control? Consider getting an LED video light that you can position behind your camera. Rain or shine, you'll never need to worry about lighting woes again.
Mind Your Background
No matter where your location, make sure that your background isn't overly distracting. No one wants to see your laundry draped across your Peloton or your band posters on the wall. In other words, keep your workspace tidy and professional. Some video conferencing apps like Zoom also have fun virtual backgrounds you can use to disguise your messy room. However, keep in mind that not all virtual backgrounds are created equal. Play it safe by choosing a professional theme—like a contemporary office background or a work desk—and save the Harry Potter theme for your virtual happy hour.
Sit Up Straight
Remember when your mom would always get after you for slouching in your chair? Well, it turns out that she was onto something. Slouching in your seat is bad for your health and looks unprofessional on a video conference call. Poor posture sends a non-verbal signal to others that you're disinterested and lazy. It also shows a lack of confidence on your end. To avoid sending the wrong signal to your colleagues, be sure to sit with your shoulders back and eyes up. Not only will you appear taller, but you'll also look more confident. And confidence looks good on everyone.