Finding the best kids' shoes means making fit, function and form a priority. 
Of course, there are plenty of shoes for kids that look great too. But comfortable, well-fitting shoes ensure optimal development for your kid's feet and less chance of problems such as bunions and hammertoes later in life.  
After all, kids are often on their feet and active all day. As such, it's even more important that their shoes offer the support and cushioning they need to enjoy playing without foot pain or discomfort. Read more on what you need to know about bunions.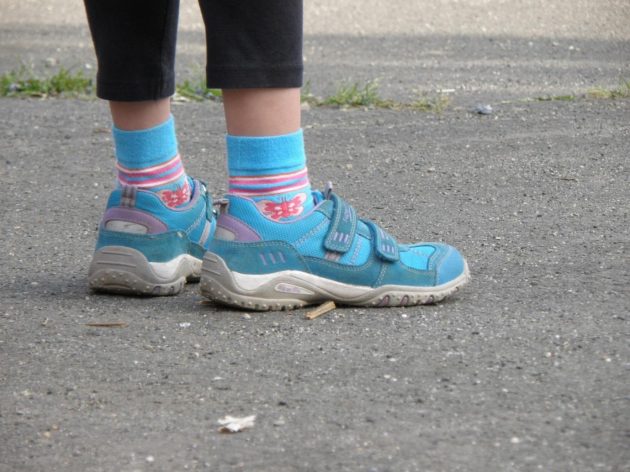 Check out this guide to learn the top tips for buying children's shoes. 
Head to the Shoe Store
It's tempting to buy kids' shoes online. Often the selection is better and you don't have to put up with your child moaning and groaning about how much they hate shoe shopping. 
But children's feet can vary so much that it's always best to buy their shoes at a store. Having the help of an experienced sales assistant also makes the process of finding the right shoes a lot easier. 
Not to mention, different manufacturers and brands cut their shoes differently. For example, your child might take one size in Michael Kors children's shoes and another in a different brand. 
Of course, when you're familiar with the way a brand fits, you can shop online to find different styles and colors that your child likes. And, when you know what brands fit well, you can check out internet offers for kids' shoes clearance sales.
Prepare to Measure Up
The best time to go shoe shopping is in the afternoon or evening as feet swell throughout the day. Bring a pair of the type of socks your kid will wear with the shoes too as sock thickness can make a big difference in getting the right fit. 
To start with, have your child's feet measured. The metal Brannock device that shoe stores use is a good way to see what size your child might need.
Make sure your child is standing up when the assistant measures their feet. And, they should always measure both feet in case one foot is larger than the other. The larger foot should then be your guide as to what size shoes to try first. 
Know What to Look For
As well as the right size, it's important to know what to look for in terms of form and materials to ensure the shoes you buy are sturdy, comfortable, and supportive. 
You should always avoid shoes that elevate the heel. Even low heels can change how children walk, which is bad news while their bones are still growing and developing.
But you also need to make sure the soles aren't too thin either as these offer zero cushioning. Kids' shoes with arch support are crucial for proper foot development, and flat shoes with thin soles tend to lack this.   
Rubber soles are ideal for offering cushioning and shock absorption. Even if the shoes themselves are more formal, they'll be as comfortable to wear as sneakers. The best children's shoes should be flexible with a sole that bends with the foot to support all movement. 
Children's feet can get hot and sweaty so breathable materials on the upper part of their shoes are a must. Avoid plastic uppers and opt for mesh materials, leather, or canvas instead as these will allow their feet to breathe. 
And, last but not least, avoid backless or slip-on shoes for kids. Children's shoes with laces, Velcro, or buckles are best to ensure they stay in place. This way your child can concentrate on running around and playing rather than worrying about keeping their shoes on. 
Get the Right Fit
Many of us have an uncomfortable pair of shoes at the back of our closets that we bought with the idea of 'breaking them in'. This is always a bad idea, but even more so when buying shoes for kids. 
Shoes should be comfortable right from the first wear and feel good to walk in from the offset. Tight, uncomfortable shoes that rub or pinch will cause blisters and corns. They can also cause children to change the way they walk to compensate for a bad fit, leading to foot problems. 
But you shouldn't buy shoes that are too big either. Loose-fitting shoes will slip off and may cause your child to trip up. 
The best way to tell if your child's shoes fit well is to check that there's a bit of room between the edge of their toes and the edge of the shoe. The best fit should have about half an inch of space.  
Walk This Way
As well as checking that your child's shoes fit their feet well, it's vital for them to practice walking around the store in them. 
Testing out a variety of pairs will help them understand how different styles of shoes fit and feel to walk in. Plus, you'll get to watch them walk around and make sure that the shoes they like don't slip and slide off. 
This is especially important if they like a pair of fashionable or fun shoes that you're not sure about as they might insist they're comfortable even if they're not. 
Your Guide to Finding Kids' Shoes
Finding kid's shoes that fulfill all of your criteria can often be difficult. 
But to ensure proper development and growth, it's vital that your child's shoes fit well, offer the right support, and are comfortable for them to walk around in. 
For more shopping tips and advice, check out our other fashion posts!