Cufflinks are small and captivating accessories that are used to hold shirt cuffs together, and you might already be familiar with them. Although they're quite common in this day and age, they're certainly not modern-day inventions. They've actually been a fashion staple since the sixteenth century, and were mostly worn by aristocrats as a stylish symbol of wealth.
However, despite their opulent history, cufflinks are no longer reserved for rich noblemen. Although many people still associate them with formal events and famous celebrities, don't let this intimidate you. Cufflinks are sophisticated accessories that can be worn by anyone at any time. If you have some long-sleeved dress shirts and need to look your best, cufflinks can really pull your outfit together. They also come in a wide range of designs, making it incredibly easy to find the right pair for your wardrobe.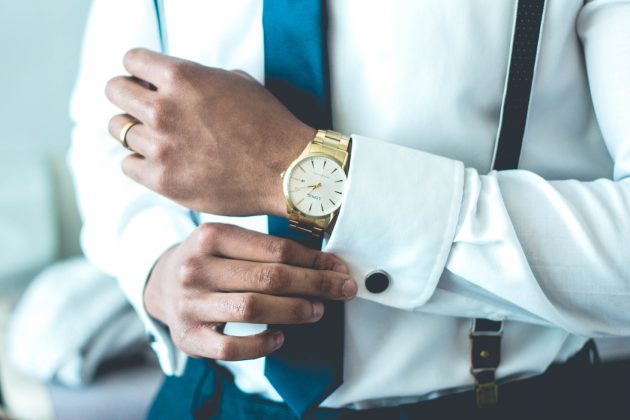 Indeed, buttons on shirtsleeves can keep your outfit neat with minimal effort, but a great pair of cufflinks can do that and so much more. Curious about what these accessories have to offer? Below are four reasons why you should consider wearing these indispensable fashion pieces:
Express Yourself in Style
With cufflinks, you can add your own personal flair to any outfit, which is a great form of self-expression. They come in a variety of colors, shapes, materials, and designs that can be used to make a statement about yourself.
For example, if you're looking for an understated and unique accessory, you can order custom cuff links with your initials engraved onto them. If you're a creative person, try sporting cufflinks with ornate shapes and interesting colors, like knot cufflinks in pastel shades. There are even cufflinks that come in quirky and playful designs—like mustaches and wine bottles—to show off your fun side. Those who love nature can purchase cufflinks shaped like different animals, flowers, and plants. No matter who you are, you're sure to find a pair of cufflinks that'll capture your personality.
Spruce up Your Wardrobe Pieces
While cufflinks are small accessories, they can make a big impact when it comes to sprucing up your outfits. For example, you can liven up a plain shirt with a pair of gemstone-encrusted cufflinks in bold colors, which adds eye-catching contrast. Likewise, striped tops can be paired with solid-colored cufflinks in geometric designs to keep things classy. You can even match your cufflinks with other accessories, like your favorite ties or socks. A pair of cufflinks should complement and complete an outfit, so don't be afraid to experiment with different combinations to see what works best for you.
Look Good on Any Occasion
Gone are the days of wearing cufflinks solely on formal occasions. Though they shine bright at black and white tie events, you can wear them to work and casual outings as well. Your bosses and clients are likely to appreciate the effort you put into looking polished and sharp during a workday. Meanwhile, a dress shirt with cufflinks gives you a look of refinement that'll definitely impress your friends and family on every occasion.
For men, formal events usually call for elegant tuxedos and dress coats, and these should always be paired with a set of cufflinks. Gold and black cufflinks are great for black tie occasions, while pearl, gold, and platinum ones are recommended for white tie events. Considering cufflink appearances might seem counterproductive, since they're usually covered by suit or coat sleeves, but they can still be seen in many instances, like when you extend your arms. These instances matter, as they show that you pay attention to the finer details of your outfit.
Cufflinks are even more essential when you're only sporting a long-sleeved shirt. Without a blazer or a jacket, they add the finishing touches to your overall look, ensuring that your shirt can stand on its own with style.
Pass on Classy and Practical Heirlooms
A set of quality cufflinks can last for many years, making them great family heirlooms. This is especially true for men, as their jewelry and accessory choices tend to be more limited. While many women pass on things like necklaces, bracelets, and earrings to later generations, most men only have accessories like watches and cufflinks to give as heirlooms.
Whether you're a grandfather, father, or uncle, your cufflinks can be passed onto the next generation of men in your family. Of course, it goes without saying that women can give their beautiful cufflinks to granddaughters, daughters, and nieces as well. Classy but practical, every generation will find the right use for your cufflinks, which are made more special with their strong sentimental value.
You can never go wrong with a pair of trusty cufflinks to complete your look. Though these handy accessories have come a long way from their aristocratic roots, they still provide each wearer with inimitable sophistication. Besides keeping your sleeves neat, cufflinks add personality and flair to every outfit, no matter the occasion. So whether you're heading to a wedding or going out for some drinks, you're sure to look as classy as you feel.