According to the German philosopher Immanuel Kant, the hands are the visible part of the brain.
You can see why. We can often express and communicate more with our gestures than with our words. And centuries of artwork has focused on hands that touch, pray, give and receive.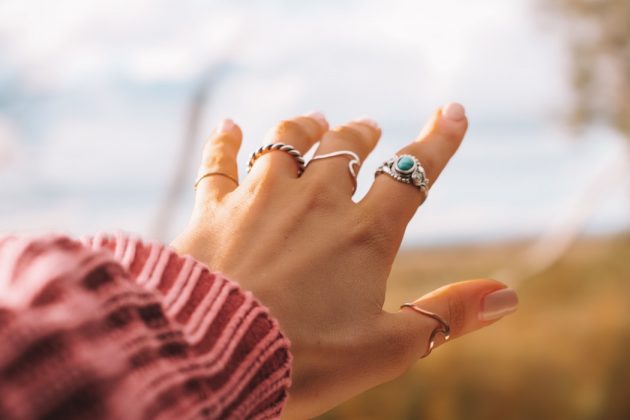 So don't underestimate the power of turning your hands into a beautiful statement through carefully chosen jewelry. To get perfectly accessorized hands, here is a short guide on how to wear rings.
Choosing a Finger
Where you place your ring makes a statement. In some cultures, there are beliefs and traditions attached to the finger you choose.
Ring Finger
The left ring finger is commonly associated with engagement and wedding rings. Some countries, including Russia and India, choose the right ring finger for this purpose.
The left ring finger is also the finger of choice for chastity rings.
Index Finger
Jewish tradition uses the right index finger for a wedding band. The index finger is also the correct location for a family signet ring.
As a fashion statement, the index finger is also an excellent choice for showcasing a ring with a striking, bold design. Check out this Dreamland Jewelry review for the latest trends. 
Middle Finger
The middle finger is an ideal choice for a fashion ring. It works perfectly with a big statement ring and equally with a more elegant jeweled style ring.
In palmistry, the middle finger symbolizes duty, responsibility, and soul-searching.
Thumb
Thumb rings are traditional associated with wealth, and some societies view a chunky thumb ring as a symbol of power. And if you want to be on trend this season, a large thumb ring design makes a bold statement.
Pinky
Wearing rings on the pinky finger is often used as a status symbol to show success. They have also been used to show off a family signet ring. In more recent times, they have been associated with The Mafia. 
How to Wear Rings With Outfits
Rings are more than symbolism. Done right, they can complement any outfit and look. Here are a few tips to get the most out of using rings as a fashion statement.
Minimal Style
Pair an expensive and traditional ring design with a classic evening outfit for an elegant, high-end look. Think about matching a little black dress with a beautiful silver ring or a silk blouse with a small, intricate band.
Accessorizing
Try styling rings as part of your outfit accessories by color-matching your ring with other jewelry pieces such as earrings and necklaces. That will help you to create a look to pair well with monochrome clothes.
Or experiment by dressing up a casual look with bold, bright rings and layered necklaces for a personal fashion statement that packs a punch.
Boho Style
Rings are a prominent element to the ageless and popular bohemian look. Try mixing florals or maxi dresses with multiple types of rings on each finger to help finish off that authentic boho feel.
The Perfect Accessory
Once you know how to wear rings the right way, you'll never fail to turn an ordinary outfit into a unique fashion statement, whatever the event.
Once you've picked the perfect ring, don't forget about getting beautifully manicured nails. Check out our nail designs now for some inspiration.