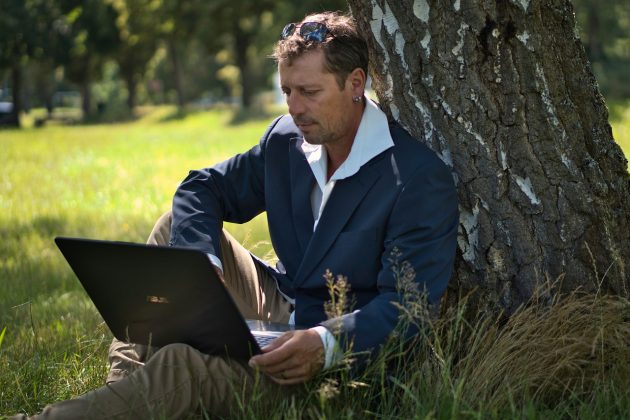 If like so many, you've spent the last few months working from home, it's possible you're a little tired of your sweatpants and pajamas (who would've thought that's possible!).
Yes, they're comfortable, and yes, they're easy to just slide into and get to the desk, but that's pretty much the only positive thing athleisure offers long term.
Psychologists agree that skipping the morning dress-up and wearing frumpy clothes all day long hurts the quality of work, productivity, mental health, and self-image. Nobody wants that!
Here's why you should start dressing up while working from home and our simple tips on the best things to wear!
It signals a shift in the day
Many people saw wearing tracksuits while working from home as a silver lining of the situation in March and April. However, the novelty has worn off, and we now longingly think of the days we were excited about a new outfit and days that don't feel like one big blur.
This blur happens from a lack of rituals that signal the daily shifts of life and help us transition between breakfast, work, and free time.
Dressing up in something professional in the morning lets us know that we are now at work, the same as changing into something comfortable after work (even if you're still home!), says – it's time to relax. Without those signals we're lost and confused in a never ending time loop.
It boosts productivity, commitment, motivation, and focus
According to Scientific American, many studies show that the clothes you wear can affect your mental and physical performance.
Wearing something smart puts you in work mode. It changes your attitude, which is vital, especially when working from home where distractions are everywhere, and solitude creates a lack of motivation.
Having a dressing routine also helps maintain a sense of control and normality when we feel a lack of control generally, says She Defined.
So it's true, you can blame your decreased productivity on those old jumpers. Well, at least partially.
Builds confidence and purpose
Do not underestimate the power of a classic shirt, smart dress, or a full power-outfit has on your confidence and purpose.
It's much harder to pursue important goals or fulfill difficult tasks if you look (and feel!) like a teenager during Christmas break.
Psychologists agree that if you wear something you feel and look good in, you're more likely to feel more competent, trust your skills, and succeed in talks and negotiations.
And yes, knowing that your colleagues and clients will take you more seriously in a crisp shirt over a Star Wars hoodie helps confidence too.
So, what should you wear?
Do not go from one extreme to another – you do not need to bust out your best dress, suit, or heels just yet. These can wait for when you're back at the office. Balance is essential, so make sure you're both comfortable and presentable.
Loose bottoms
Since most likely, your chair at home is not as comfortable as at the office (or you may not have a chair and work from the couch!), you'll want something more loose-fitting and soft at the bottom. Think simple loose slacks, pants, skirts with elastic, or even basic black leggings as your go-to.
Comfortable footwear
Don't worry. High-heels or Oxfords may stay safe in the closet for now. However, something other than decade-old tartan slippers is highly preferred. It can be summer espadrilles, flats, or fancy-technically-not-slippers such as mules or suede babouches (Moroccan style slippers).
Simple yet smart tops
For your tops, go with something still comfortable, yet a little bit more put together. Forget tight or easy to crinkle materials. Choose stretchy fabric blouses, blazers, elegant cashmere, or cotton knits and, of course, everyone's trusty high quality t shirts like the ones from Fresh clean tees. You'll be comfy and still look professional and clean.
Go with neutral colors for your base and add bold colors and patterns to accessorize. Raid your closet to find forgotten scarves and jewelry to switch it up daily and keep things interesting!