The vanity area of your home is important because it accompanies you through your beauty ritual every day, significantly affecting your body image. This space makes it easy for you to look good and take care of yourself before you go out of your home. Traditionally, the vanity area is composed of different drawers, decorative items, and oftentimes, several seats.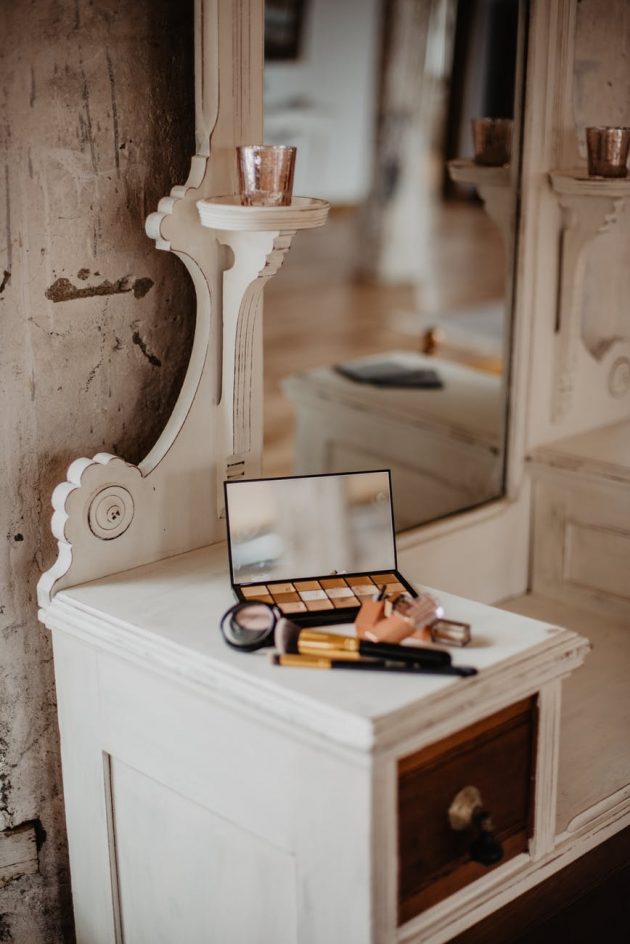 Because people usually incorporate a lot of products in their skincare routines, their vanity areas can easily get cluttered and disorganized. More often than not, they'll use different products for their face and would leave them anywhere as they rush to go out.
If you often see yourself in this situation, don't worry because there are easy ways for you to organize items in your vanity, namely:
1. Creatively Store Your Tools
The use of small items is one of the most obvious reasons why vanity areas can become cluttered. Spending time in your vanity area means you'll have to use different sized brushes, nail polishes, and makeup kits. Perfumes and pieces of jewelry might even be stored in your vanity.
If you don't want to see any of these items all over the place, store your tools creatively. Regardless of the products included in your skincare routine, there will always be a storage solution apt for it.
You can use the following to organize the items in your vanity:
Makeup organizers: There are countless makeup organizers available today. You can find a makeup organiser that allows you to store all of your jewelry, lipsticks, and other makeups. Some even come in drawers where you can store your powders and blush-on. You can even buy makeup organizers that come with mirrors and lights.
Use a leather brush holder: While some people like to display their makeup brushes, others would opt to keep them when these are not in use to prevent dust from building up. If you're one of the latter, use a fashionable leather brush holder that easily rolls up. A brush holder is compact, making it very easy for you to store this in your drawer.
DIY storage displays: If you have a knack for DIY projects, opt to make an organizer from scratch. With a few pipes, wood, and paint, you can make your very own storage display that can also double as a planter!
2. Check Your Kitchen For Extra Storage Solutions
Contrary to popular belief, you don't have to spend a lot of money or have an interest in DIY projects to organize items in your vanity. Usually, this task will only require you to look at your kitchen for extra storage supplies. Just like your vanity area, you'll also use small items around your kitchen, and the items you use in this part of your house can also be beneficial in your vanity area.
Ice cube trays: Ice cube trays are very versatile items because you can do a lot of things with it. Aside from making ice and other cool desserts for kids, are you aware that this can also be used to organize some items in your vanity?
If you have some spare ice cube trays in your kitchen, use them as storage for your nail polishes, cotton balls and Q-Tips in your vanity. You can also use your ice cube trays for keeping your sponges and eyeliner brushes in place.
Silverware divider: Silverware dividers are common items in the kitchen because this allows you to organize different silverware in your drawers. This item can divide a big area, such as your drawer, into several smaller spaces, allowing you to store small items with ease. The same can also be very beneficial in your vanity.
Grab a silverware divider, place it in one of your drawers, then use it to divide cosmetic products as if they're utensils. This storage hack is very appropriate if you're fond of keeping small (blush-on, pieces of jewelry, compact powders) and large products (makeup kits, brushes, and face creams) together.
Spice rack: If you like spending a lot of time in your kitchen, you'll know how useful a spice rack is. This item can help you organize all of your spices and easily help you find what you're looking for.
Let a spice rack help you organize your vanity by placing your perfumes on it. If you have several favorite scents, a spice rack will help you organize all of these and ensure that you'll have a clear view of your perfumes.
3. Make It Magnetic
If your skincare routine involves products in small containers, magnets can be your best friend. This tool can help keep your vanity organized, making it easy for you to find items the moment you need them.
If you have a spare picture frame, for instance, add a magnet at the back and cover the front with printed fabric. You can hang this anywhere around your vanity and stick the products that have metal to it. To ensure that your favorite skincare products and smaller items (such as tweezers, bobby pins, and nail clippers) don't mix, you can also add magnetic strips to your drawers.
4. Add A Glass Top
If you're eyeing to give your vanity a whole new look and improve its organization at the same time, consider upgrading your vanity by using a glass top. Vanity tables are usually made from wood with drawers on the sides or underneath. This is a classic when it comes to vanity areas. But, if you want a more modern twist, using glass as your table is the best way to go.
Aside from revamping how your vanity area looks, using glass can also improve its storage as you can place boxes for smaller items under it. You can easily slide these boxes out whenever you need to use something instead of going through your makeup bag and creating a mess.
Consistency Is Key
There are actually a lot of ways on how you can organize the items in your vanity. But, all of these methods will be useless if you're not consistent with your efforts. Organizing the items in your vanity based on the tips in this article and then leaving them anywhere after a few weeks will turn the area into a complete mess.
Make sure that this doesn't happen by incorporating the tips in this article to your lifestyle. Essentially, you should follow all of these tips regularly so you can always enjoy an organized vanity area!