While your parents would have probably sold or passed on their favorite jackets and Boho blouses due to dust and little use, the same fashion has resurrected and is taking the market by storm. In the UK, major retail stores are closing down in chunks but the ones that are thriving are independent specialist retailers. While the news about retail sector's miserable state mounts, charity shops are expanding and grabbing hold of large retail shares.
The state of affair has become so volatile that the same people who used to go to charity shops to pick up furniture and dresses are struggling to find similar products online or offline. The rise of vintage from fashion to furniture is apparent and the products that you could get on eBay for a mere £ 2-3 are now labeled at a starting price of £ 60-70.
What are vintage clothes?
Till the 1800s dresses were quite stable and limited to a hem, neckline decoration, cone shaped skirts and pinched sleeves but soon after the mass industrialization, movies and media and the fallout of World War, there was a need for a more comfortable and "personalized" attire. While each period has a unique sense of style and fashion but it fades away gradually with new styles and fashion stores dominating the marketplace.

The 50s style questioned women's endless fixation on body shapes. They started wearing long skirts which removed focus from their bottoms. After the war people didn't take things too seriously and started to dress more casually.
Vintage clothing is a generic term for garments originating from the previous era. Generally speaking, clothing before the 1920s is referred as antique and from 1920s to 20 years before the present day is considered vintage. While the antiques are not so popular now because of its inhibitions and immobility, dresses from the 40s to 90s, especially the Woodstock era are all the rage.
Why are Vintage Clothes popular?
Although there has always been an appreciation for the superior quality, fabric and classy designs that is found in vintage, the demand and acceptance of post 50s era has increased dramatically since the internet era. This demand had shot up in popularity with top models and celebrities like Julia Roberts, Kate Moss and so on donning the look graciously. Period movies set in the post War timeline has also contribute to vintage's popularity. There is even an international magazine named Vintage Life focusing on pre 90s dresses and women lifestyles.
Where do I find Vintage clothes?
Popular places to buy vintage clothing include charity-run second hand clothing shops, consignment shops, sales, flea markets, auctions, textile or collectables fairs. They are previously worn, but some old warehouse stocks aren't. They usually have some defects and referred to as Deadstock but are fetching heavy prices due to the Vintage Boom. Some people are also fooling customers by labeling an event as "vintage" but using it to sell their own second hand clothes. The market is becoming saturated but the quality of clothing is not all to the same standards.
The ecommerce industry has been a boon for the vintage clothing industry. It has increased the availability of specific and hard-to-get items which opened up prospective markets for sellers around the world. Popular places to acquire garments include online auctions (like eBay), multi-vendor sites (like Etsy), online vintage clothing shops (like Nordicpoetry) and specialist forums.
Your best bet to buy vintage is to try some online vintage stores which are making new copies of older garments. These garments do not have bedbugs or defects due to which they were left behind in the showcase. They are just like normal materials which are designed to infuse a vintage style.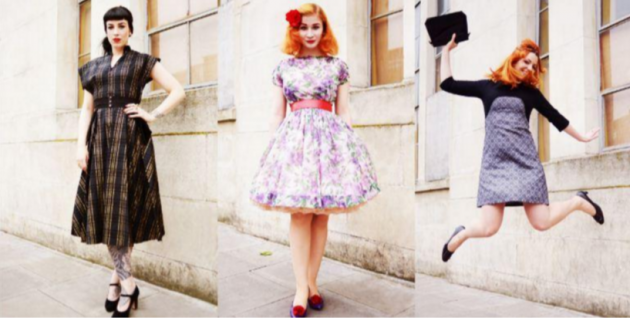 How to Choose Vintage Clothes?
The most important consideration in vintage clothing is the sizing. The sizes were often smaller compared to the corresponding contemporary sizes. For instance, a garment from the 1970s labeled as medium will now be akin to Extra Small.
The fabric used in old skirts was aplenty and the quality was very good. Nowadays shops don't make skirts like that because it would cost too much money. Check any wear and tear on the dress and assure yourself of the quality before making a purchase. Take extra care to check the bottoms' size because none of the vintage clothes contained elastane which gives that stretchy and malleable touch to your pants.
Lots of blouses and vintage dresses look amazing in the photograph but chances are that they are made of cheap flammable polyester. Read the fabric description and look out for "silk", they are one of the most sought after products.
When buying from second hand shops or flea markets be careful not to bring back bed bugs to your home. Nothing is cooler than a classy vintage cloth but nothing is bearable about those blood sucking parasites!
Check your pieces thoroughly from inside and outside. This is especially important for clothes with crease, seams and woolens.

If you are visiting a used/second hand vintage store, cleaner is better.

Wash newly purchased clothing as thoroughly as possible and in the hottest settings possible, so that the bugs don't survive.

If the bugs still pest around, adopt extreme measure and lock your dress in a cold freezer for three days!
What goes around comes around and in the same way trends swing back. After 2014 it was time for the post 50s look to make a comeback. The vintage bubble will quite naturally burst some day but it style will stay because people will still be interested in old beautiful things.