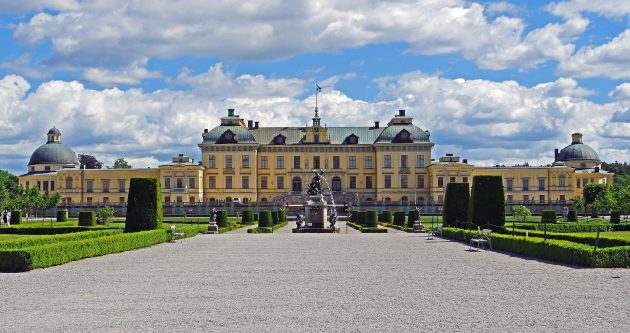 When it comes to royalty, the world's media always have their eyes on the British royal family. In terms of fashion though, there are other members of royalty that deserve recognition. The princesses and duchesses below always look stunning when they step out of the palace, and we all want to steal their wardrobes!
Crown Princess Mary, Denmark
Crown Princess Mary's wardrobe is recognisable by bright prints and impressive dresses. She was thrown into the spotlight when she married Prince Frederik in 2004 and we've kept a close eye on her fashion sense ever since.
One notable fashion moment was when she greeted the President of Vietnam on his visit to Denmark wearing a laced maxi pink dress. Her other iconic look includes a dress coat and pillbox hat, very similar to the look Jackie Kennedy used to go for.
We were also enviable of her look when she showed up at the Copenhagen Concert Hall for the opening of the Fashion Summit in May 2018. Wearing a blouse with a Charlotte Eskildsen skirt, all eyes were on her. After this appearance, searches for 'Charlotte Eskilden' rose by 51%.
Queen Letizia, Spain
Queen Letizia's fashion sense is loved by her nation for the perfect mix of high-street brands and high-brow designers.
We loved it when she stepped out in a midi-length Nina Ricci dress, complete with sequins for a dinner in Madrid. She also impressed when she wore a stunning Stella McCartney cape gown for King Willem-Alexander's 50th birthday. On her visit to the UK in 2017, she was photographed wearing a custom-made red gown that all of the high-street designers wanted to copy!
On the same visit, she stepped out into a floral embroidered skirt by Carolina Herrera. After this appearance, searches for the term 'Carolina Herrera skirt' rose by 50%.
Meghan, Duchess of Sussex, England
Global search data revealed that 22,000 searches of "Meghan Markle style" are made each month. Following on from her wedding to Prince Harry, she's been a fashion inspiration for us all.
We'll never forget one of her biggest fashion statements on her wedding day when she stepped out in her halter neck silk gown after the formal luncheon. After this appearance, high-street brands scrambled to copy the dress and meet the upcoming demand. Search data reveals that searches for 'halter neck dresses' were up 40% after the royal wedding!
It seems as though we're all a fan of her choice of accessories too. After the announcement of her engagement to Prince Harry, she stepped into the limelight with a Strathberry tote bag. Following this, global searches rose by 398%.
Catherine, Duchess of Cambridge, England
Did you know that Catherine, the Duchess of Cambridge is most likely to convince American shoppers to purchase a UK brand?
The Kate effect is being felt across the globe. When she wears a garment or accessory, it reportedly increases the desirability of that product among 38% of US shoppers. One example of this effect that we noticed was when she arrived at the Victoria and Albert museum wearing a tweed dress. Following this, search volume for 'tweed dress' rose by 50%!
Crown Princess Victoria, Sweden
Talking about the Kate effect, Princess Victoria has been part of it herself! In 2015, she showed off her baby bump in the same navy pleated dress that Kate had worn the year before.
One time we were jealous of Princess Victoria's style was when she wore a unique printed Maxjenny cocktail dress to an awards ceremony in August 2018. It certainly sparked interest around the designer and searches for 'Maxjenny' rose by 222% from July to August of the same year.
Royal lady
The look
Increase in searches

*

Duchess of Sussex

Strathberry tote bag

+398%

Queen Letizia

Carolina Herrera skirt

+50%

Duchess of Cambridge

Tweed dress

+50%

Crown Princess Victoria

Maxjenny

+222%

Princess Marie

Charlotte Eskildsen

+51%
*Comparing global search volume from the month before appearance to the month of.
Research for this article was carried out by long sleeve dress retailer, QUIZ.