Today is the day when Donald Trump will step into the White House as the 45th president of the United States. The pre-inauguration activities has already started and as usually last night, Thursday night, the black tie dinner took place where Donald spoke excitedly about his inauguration. His beautiful wife Melania looked stunning next to him in a gold fitted gown designed by Reem Acra.
The popular couple walked into the room at Union Station, welcomed by great applause and you will agree with us that everyone was fascinated by the gorgeous look of Melania Trump. Here are some shots of her look.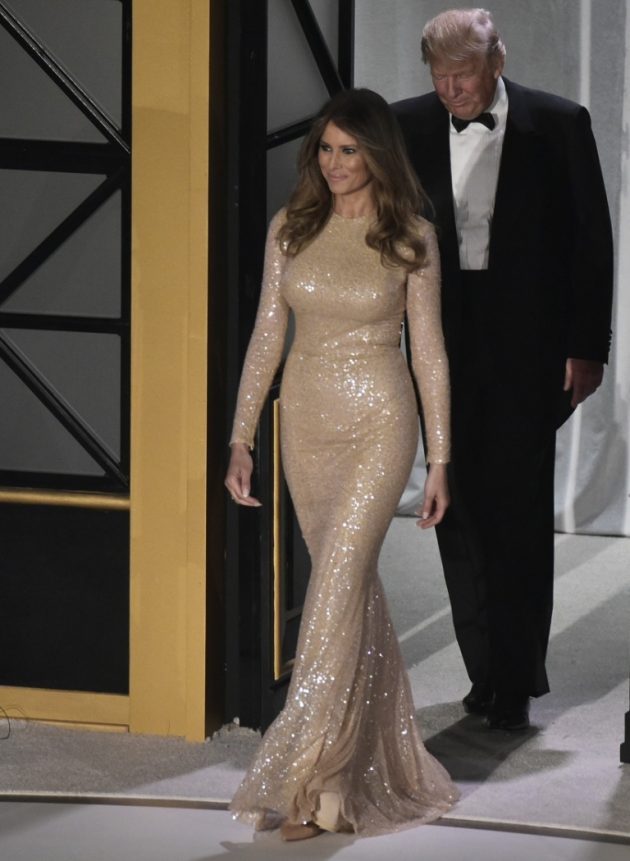 Photo via: cosmopolitan.com
SEE ALSO: Meet Melania Trump – The First Lady Of The USA
And before this dinner, there was a traditional wreath-laying ceremony at the Tomb of the Unknowns. On this occasion, Melania was spotted wearing a black double-breasted coat, black leather gloves and oversized Gucci sunglasses.
Besides, Melania, Ivanka Trump was the other lady that made a great impression. She wore a white Carolina Herrera gown with a short train and a large black sash at the waist.
And during the day she appeared in an emerald green coat and dress and many said her that she looked better than the First lady.
So, what's your opinion? Did Ivanka looked better than Melania during the day? And what do you think about the gorgeous gold gown of Melania for the pre-inauguration dinner? Tell us in the comments and make sure to stay up to date with the content of Fashionsy to find the latest fashion news.