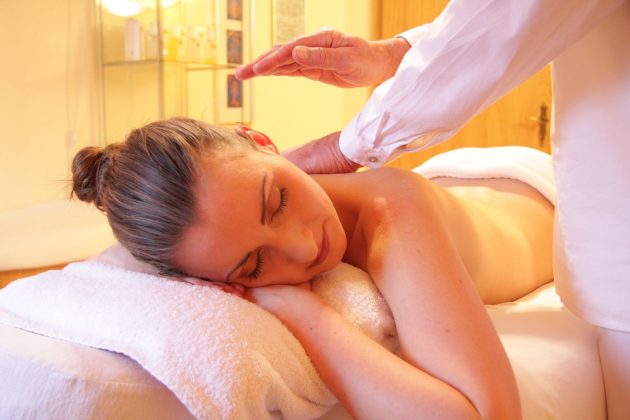 SourceSome spa treatments cost more than a girl's best friend, but are they really worth it? An Evian bath treatment can set you back around $5,000, while a emerald massage costs around $300. Spa trips have always been seen by busy Americans as more than a luxury. For many, a regular visit for a facial, massage or specific skin treatment is necessary when it comes to comfort, health and wellness. The key to getting the most out of spas is to work out exactly what you need. From anti-aging to ultra soothing, from mattifying to smoothing, these are a few treatments that may just be worth parting with your dollars for.
A Deep Cleaning Facial
If you have oily skin and blocked pores, no amount of mattifying products, exfoliants or cleansing-toning sessions will eliminate some blackheads and whiteheads. Sometimes, pores need to be physically emptied, but this has to be done professionally to ensure you don't scar or over-stress skin. A deep cleansing facial involves cleansing and steaming skin so that pores become clear and tight. Your therapist may then apply a pore tightening mask made with clay or charcoal, gently wiping off the product and applying a serum and oil-free moisturizer afterwards. Why do you need this facial? Because keeping pores clean and tight is something you need to work on regularly, and because physically removing blockages can be difficult when you don't have the proper lighting or angle.
Customized Facials
Because each complexion has its own virtues and issues, few things beat a completely personalized facial, which may include extractions, moisturization, targeted sun protection, dual cleansing and a mask (which might be firming, hydrating, purifying or lifting). Customization in any service can be pricey, particularly in big cities like New York, Los Angeles and Las Vegas. These cities are home to the greatest number of luxury hotels, which is where many top spas are located. If you are traveling to other areas of the U.S. this summer, check out dedicated spas that are not housed in luxury hotels, but which do offer top level treatments and products. You might find the best facial in Austin at half the price of what you might pay in New York, or experience a gorgeous pampering wax pedicure in a dedicated foot spa in Indiana. Take advantage of moments in which you are traveling for business or pleasure to find top spots for health and beauty.
Deep Tissue Massage
Most people have aches and pains in one or more regions of the body. As noted by the American Heart Association, sedentary jobs in America have increased 83% since 1950, and that means that many people are staring at computers all day long. This can stress areas like the neck, back and hips. A deep tissue massage will do more than relax and soothe; it will also address chronic pain and muscle and sports-related injuries, through firm pressure and slow strokes that actually reach the deeper layers of muscle.
Mesotherapy Facials
If you already have a good skin routine you're happy with, a mesotherapy facial can help deliver anti-aging products deeper into your skin. It isn't a delicious, relaxing facial, but if you want results, this is definitely one to go for. During the procedure, a doctor uses tiny injections to deliver antioxidants, enzymes, and other active ingredients to encourage the production of collagen and elastin – the building blocks of skin. This treatment can be useful for firming skin, eliminating fatty areas and pigmentation.
Laser Facials
Laser can be necessary if you have stubborn lines and wrinkles or pigmentation and spots that are resistant to surface skincare. Treatments like Fraxel and Fractora are sometimes incorporated into facial treatments in order to rid the skin of acne scars, active acne, deep lines and other issues. There are also dedicated laser light facials that target pores, dullness and uneven texture. These are lighter than Fraxel and Fractora, and rely on a combination of nd:YAG laser and IPL. You might want to try out this lighter facial before proceeding to Fraxel or Fractora for more dramatic results.
From a deep cleansing facial to cutting edge later, spa treatments can make a big difference to your skin. They can also boost your self-confidence, helping you feel younger and more relaxed than you have been in some time.