Hey my beautiful ladies! Every year around this time, I am sure you find yourselves on a constant Google search for a fun Halloween costume. (There is nothing worse than being unprepared and freaking out over trying to decide on a last minute costume idea.) And since there are various costumes and masks to choose from, you may find yourself in doubt about what is the best choice for you. Besides the costume, a makeup can help you achieve the perfect scary look or in some cases you can opt for a makeup look that doesn't even require a costume. So, today, I have searched around the web and have gathered a collection of 15 Halloween Makeup Tutorials that you may find as an inspiration for your Halloween look this year. I've compiled a variety of makeup looks from pretty to fun, to sexy, to downright gruesome, which should help you take your pick. Whether you want to become a zombie, a cracked Doll, a leopard, an owl, a twisted fairy or anything else, I've got you covered with the following makeup tutorials. While some may look impossible to do, trust me, with the right products (most of the makeup products that you should use are already in your makeup bag) and these easy step-by-step tutorials you will be stress free and Halloween ready.
Tip: Make sure to start the makeup look with a clean, moisturized face and finish with a spritz of setting spray so that your Halloween look can last all night long.
Take a look at my choices above, and tell me what you're going to be for Halloween this year in the comments section below! Enjoy!
Easy Halloween Look: Weeping Nun Makeup Tutorial
Skeleton Makeup
Lichtenstein Inspired Halloween Makeup Tutorial
Sugar Skull Makeup Tutorial
All Dolled Up Makeup Tutorial
Creepy Zombie Makeup Tutorial
Fox Halloween Makeup Tutorial
DIY Vampire Tutorial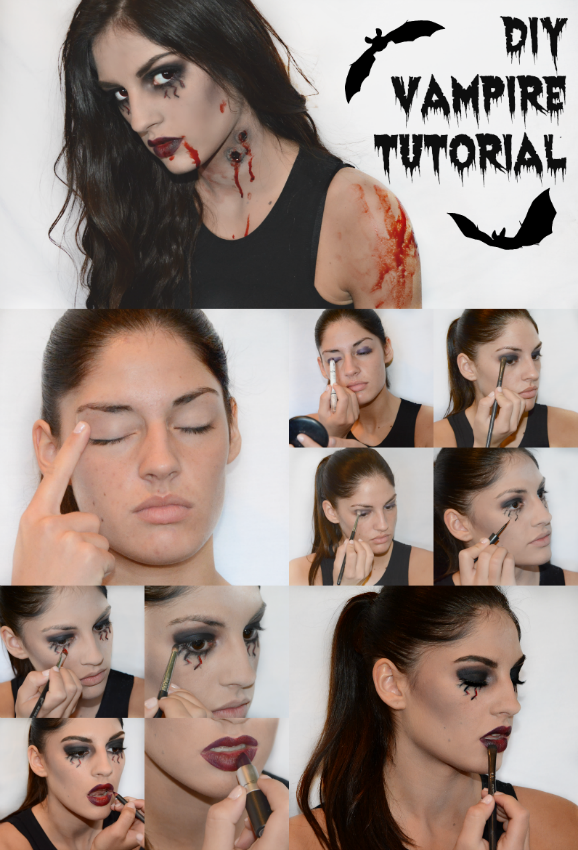 How to: Make A Vampire Bite
Damsel of Death
Cracked Doll Makeup Tutorial
Edgy Half Face Skull
Zipper Face
Owl Makeup Tutorial
Leopard Makeup Tutorial
Thank you for reading and don't forget to stay up to date with the content of Fashionsy to find many other interesting ideas for Halloween as well as for all the other upcoming holidays.